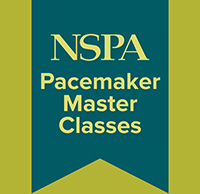 NSPA recently named 24 high school and middle school yearbooks as Pacemaker winners — the association's preeminent award.
How were the winners selected?
What sets these Pacemaker-winners apart from the hundreds of others that were entered?
NSPA associate director Gary Lundgren moderates this May 27, 2020, Pacemaker Master Class that features insights from some of the judges and highlights of the Pacemaker winners.
Mary Kay Downes, Chantilly High School, Virginia
Kristi Rathbun, Rock Canyon High School, Colorado
Mitch Ziegler, Redondo Union High School, California
RESOURCES
NSPA Pacemaker Master Classes & Town Halls
2019 Yearbook Pacemaker Awards | Finalists
WATCH | Feedback from the 2019 NSPA yearbook Pacemaker judges
The Pacemaker Master Class is a remote-learning series on coverage, trends and fundamentals across a spectrum of topics.
Future master classes, to be offered for a nominal fee, will focus on trends and fundamentals.