Summer Reading List
It's almost summer! Some of you have already ended your school year, while others have a few weeks left. But even during break, you can use your free time to brush up on your writing skills or learn new things.
We've compiled this list of books to prepare you and your students for the start of the school year. (Thanks to our advisory committee for contributing ideas.)
Design
The Newspaper Designer's Handbook – Tim Harrower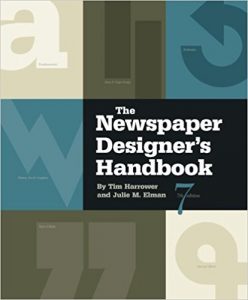 Throughout the seven editions of this book, Harrower has successfully deconstructed the process of laying out newspaper pages. For journalism students and professionals alike, countless designers have used this book to learn how to design and improve their skills as visual communicators. Harrower's unique voice and quirky sense of humor are still very much alive in the seventh edition.
Best Practices For Graphic Designers: Grids and Page Layouts – Amy Graver, Ben Jura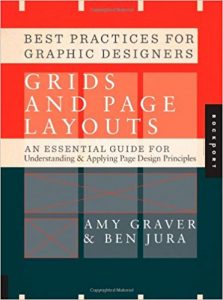 This unique, go-to guide for designers fully details the essential layout and design skills needed to succeed. With fun and practical application, it offers valuable insight into strategy and business when working in the real world with real clients, starting with basic information on layout principles before delving more deeply into theory and application on a project-by-project basis. Illustrated with real-world assignments and case studies, this guide offers a behind-the-scenes take on the entire process and steps necessary to go from concept to final outcome, including how to overcome challenges presented along the way.
Cool Infographics – Randy Krum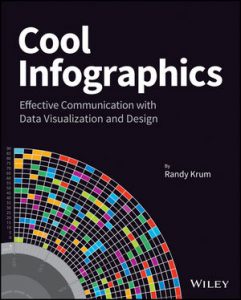 Research shows that visual information is more quickly and easily understood — and much more likely to be remembered. This innovative book presents the design process and the best software tools for creating infographics that communicate. Including a special section on how to construct the increasingly popular infographic resume, the book offers graphic designers, marketers and business professionals vital information on the most effective ways to present data. You can download a free chapter here.
Writing
Writing Feature Stories – Matthew Ricketson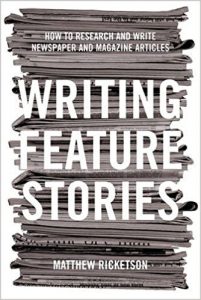 A systematic and user-friendly approach to journalistic feature story writing for journalism students, professionals, freelancers and beginners is provided in this guide. Writers will learn to move beyond conventional news stories and embrace their creativity to create compelling features. Generating fresh ideas, gathering factual information, sifting through raw material, choosing the best angle and working with editors are all explored. Discussion questions and exercises reinforce the ideas presented in each chapter. Pop culture examples and recently published articles are used to make concepts memorable and easily accessible.
Writing Tools – Roy Peter Clark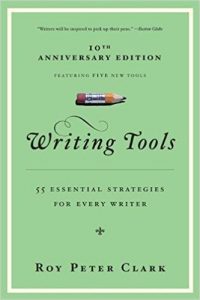 Organized into four sections, "Nuts and Bolts," "Special Effects," "Blueprints for Stories," and "Useful Habits," Writing Tools is infused with more than 200 examples from journalism and literature. The new edition includes five new tools. Accessible, entertaining, inspiring and above all useful for every type of writer, from high school student to novelist, Writing Tools is essential reading.
On Writing – Stephen King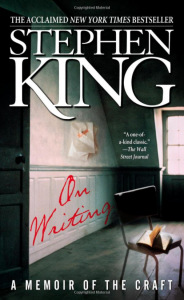 Part memoir, part master class by one of the bestselling authors of all time, this book is a revealing and practical view of the writer's craft, comprising the basic tools of the trade every writer must have. King's advice is grounded in his vivid memories from childhood through his emergence as a writer, from his struggling early career to his widely reported, near-fatal accident in 1999 — and how the inextricable link between writing and living spurred his recovery. Brilliantly structured, friendly and inspiring, On Writing will empower and entertain everyone who reads it — fans, writers and anyone who loves a great story well told.
Journalism
What are Journalists For? – Jay Rosen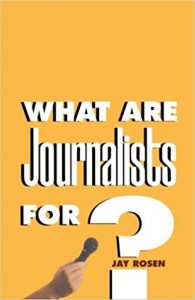 American journalists in the 1990s confronted disturbing trends — an erosion of trust in the news media, weakening demand for serious news, flagging interest in politics and civic affairs, and a discouraging public climate that seemed to be getting worse. In response, some news professionals sought to breach the growing gap between press and public with an experimental approach — public journalism. This book is an account of the movement for public journalism, or civic journalism, told by Jay Rosen, one of its leading developers and defenders. Rosen recalls the events that led to the movement's founding and gives a range of examples of how public journalism is practiced in American newsrooms. He traces the intellectual roots of the movement and shows how journalism can be made vital again by rethinking exactly what journalists are for.
The Elements of Journalism – Bill Kovach, Tom Rosenstiel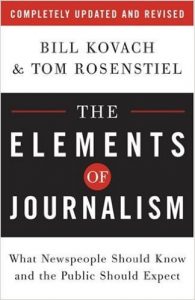 "What this book does better than any single book on media history, ethics, or practice is
weave . . . [together] why media audiences have fled and why new technology and megacorporate ownership are putting good journalism at risk." —Rasmi Simhan, Boston Globe
"Kovach and Rosenstiel's essays on each [element] are concise gems, filled with insights worthy of becoming axiomatic. . . . The book should become essential reading for journalism professionals and students and for the citizens they aim to serve." —Carl Sessions Stepp, American Journalism Review
The New Ethics of Journalism: Principles for the 21st Century – Kelly McBride, Tom Rosenstiel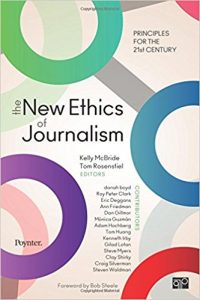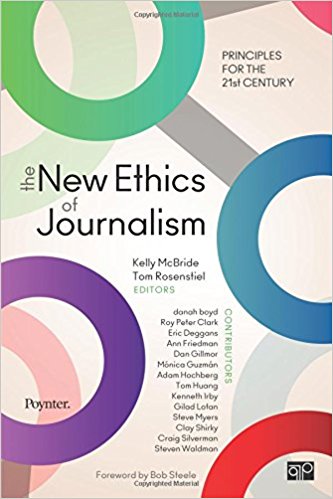 The New Ethics of Journalism: A Guide for the 21st Century by Kelly McBride and Tom Rosenstiel provides an authoritative and practical book on Poynter's "green light" process in ethical decision making for journalists and journalism students. The work includes chapters on the roles and responsibilities of journalists (e.g., values, newsroom culture, decision making models), the landscape (e.g., owners, audiences, economics, citizens), and pressure points (e.g., accuracy, conflicts of interest, bias, and coverage of vulnerable people). It also includes variety of case studies: "raw," workshop style, deconstructed and in dialogue.
Digital
Journalism Next – Mark Briggs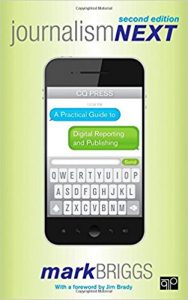 The media landscape changes with such ferocious speed that as soon as new technologies gain a foothold, older ones become obsolete. To keep ahead and abreast of these ever-evolving tools and techniques, Briggs offers practical and timely guidance for both the seasoned professional looking to get up to speed and the digital native looking to root their tech know-how in real journalistic principles. Learn how to effectively blog, crowdsource, use mobile applications, mine databases and expertly capture audio and video to report with immediacy, cultivate community and tell compelling stories.
Engaged Journalism – Jake Batsell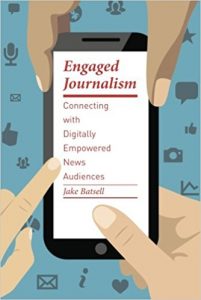 Engaged Journalism explores the changing relationship between news producers and audiences and the methods journalists can use to secure the attention of news consumers. Based on Jake Batsell's extensive experience and interaction with more than twenty innovative newsrooms, this book shows that, even as news organizations are losing their agenda-setting power, journalists can still thrive by connecting with audiences through online technology and personal interaction.
Ethics for Digital Journalists – Lawrie Zion, David Craig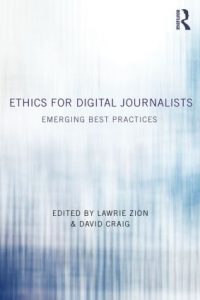 In Ethics for Digital Journalists, Lawrie Zion and David Craig draw together the international expertise and experience of journalists and scholars who have all been part of the process of shaping best practices in digital journalism. Drawing on contemporary events and controversies like the Boston Marathon bombing and the Arab Spring, the authors examine emerging best practices in everything from transparency and verification to aggregation, collaboration, live blogging, tweeting and the challenges of digital narratives. At a time when questions of ethics and practice are challenged and subject to intense debate, this book is designed to provide students and practitioners with the insights and skills to realize their potential as professionals.
Photography
The Photographer: Into War-torn Afghanistan with Doctors Without Borders – Emmanuel Guibert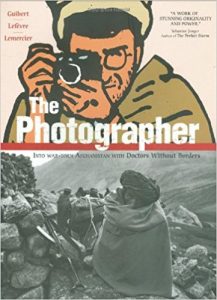 In 1986, Afghanistan was torn apart by a war with the Soviet Union. This graphic novel/photo-journal is a record of one reporter's arduous and dangerous journey through Afghanistan accompanying the Doctors Without Borders. Didier Lefèvre's photography, paired with the art of Emmanuel Guibert, tells the powerful story of a mission undertaken by men and women dedicated to mending the wounds of war.
Associated Press Guide to Photojournalism – Brian Horton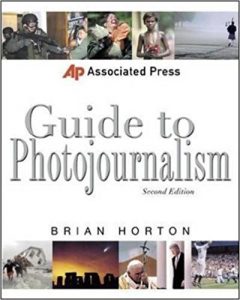 Written by noted AP photographer and photo editor Brian Horton, this is an insider's manual to one of the most glamorous and exciting media professions. Emphasizing the creative process behind the photojournalist's art, Brian Horton draws upon his three decades of experience, as well as the experiences of other award-winning photojournalists, to instruct readers in the secrets of snapping memorable news photos every time. With the help of more than 100 photographs from the AP archives, he analyzes what constitutes successful news photos of every type, including portraits, tableaux, sports shots, battlefield scenes and more, as well as offering tips on how to develop a style of your own.
Photojournalism: An Ethical Approach – Paul Martin Lester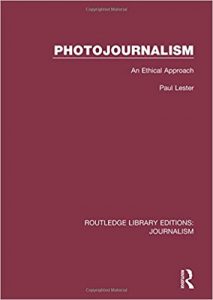 This book addresses ethics in photojournalism in depth, with sections on the philosophy in the discipline, on pictures of victims or disaster scenes, on privacy rights and on altering images. As important and interesting today as when it was first in print.
Broadcast
On Camera – Nancy Reardon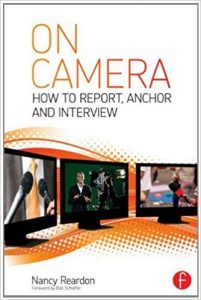 Reardon's On Camera: How to Report, Anchor & Interview teaches you how to become professional and effective on camera. You'll learn how to appear and feel at ease whether doing an interview, reporting in the field, reading from a prompter or giving a video presentation. It'll give you the nuts and bolts of how to do the job at the network level or as a backpack journalist, so you feel confident that when you're standing in front of the camera you will know what you're doing. Whether new to television or experienced in front of a camera, you will improve on your current skills through career-focused tips and tried-and-true principles ― all oriented to skills development ― in this book.
Advancing the Story – Debora Halpern Wenger, Deborah Potter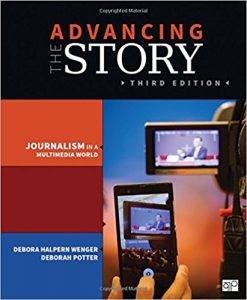 Advancing the Story helps students understand the strengths of each medium, with depth, interactivity and immediacy all playing a different role as content is separated from container. One approach does not fit all media – Wenger and Potter show students specific techniques and strategies for maximizing the advantages of each platform. In every chapter, the authors provide: Know and Tell reports, a distinctive feature in which dozens of professional journalists lend their expertise and insight on multiplatform approaches, trends and industry changes.
Writing for Broadcast Journalists – Rick Thompson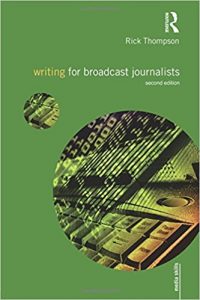 Writing for Broadcast Journalists guides readers through the significant differences between the written and the spoken versions of journalistic English. It will help broadcast journalists at every stage of their careers to avoid such pitfalls as the use of newspaper-English, common linguistic errors and Americanised phrases, and gives practical advice on accurate terminology and pronunciation, while encouraging writers to capture the immediacy of the spoken word in their scripts.