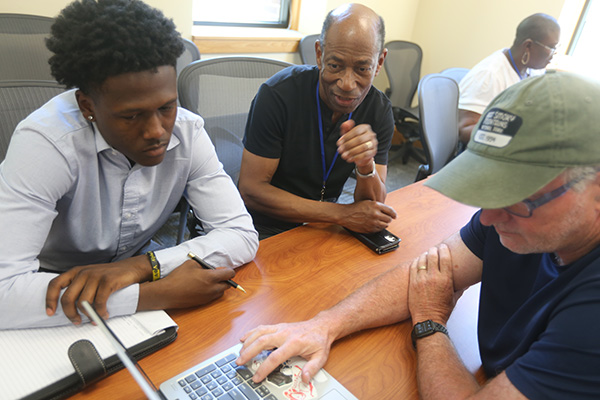 Collegiate advisers face challenges like never before — budgets, technology and administrative obstacles —
all while supporting student journalists covering breathtaking change.
That's why Associated Collegiate Press is convening its inaugural Advisers Academy, Aug. 4-6, 2023, preceding the Association for Education in Journalism and Mass Communication national convention, in Washington, D.C.
Over three days, a team of some of the nation's top advisers will help their fellow advisers navigate the year ahead. We're building a workshop curriculum that focuses on our shared experiences — and on your specific challenges.
We'll get to know each other, share insights with each other and pitch and present ideas to address our challenges as advisers. Each day will have a theme that will channel the academy's work —
Tools • Topics • Takeaways
On Friday, we'll explore the many tools at our disposal. We'll ask you to share what's in your adviser toolbox, and we'll share possibilities to expand it.
On Saturday, we dive into the many skills and qualities that advisers need, and we'll explore how those are tested with both expected and unexpected challenges.
On Sunday morning, we gather the takeaways from our experience together, with a helpful dose of inspiration for the year ahead.
Woven into the schedule will be discussions on student-media law and ethics, with a special focus on the rights and responsibilities of advisers. We'll tackle hot-button issues such as news deserts in our communities, threats of budget cuts and restricted access to administrative and sports sources.
We're planning an informal, constructive workshop that develops common-sense approaches in a supportive, encouraging environment for advisers.
Get a good start on the year ahead. Register now and join us.