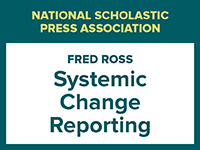 Sept. 14, 2023
In its inaugural year, the Fred Ross Systemic Change Student Journalism Competition received over 120 entries from high school journalism students from coast to coast. The competition is led by The Foundation for Systemic Change, in partnership with National Scholastic Press Association.
The competition finalists below were recently announced by NSPA as part of its Individual Awards competition. The 10 finalists will be recognized at the JEA/NSPA Fall National High School Journalism convention, in Boston, at the 3:30 p.m. awards ceremony Saturday, Nov. 4.
At that time, the top five winners will be named for the first time. The winners will receive cash prizes of $1,000 for first place, $750 for second place, $500 for third place, $300 for fourth place and $200 for fifth place. Additionally, finalists will be featured in NSPA publications, as well as on the FSC and NSPA websites.
Launched in November 2022, the Fred Ross Systemic Change Student Journalism Competition seeks to foster a new generation of journalists who focus their reporting on sustainable, systemic solutions to today's most pressing issues. Recognizing the crucial role that journalism plays in upholding democratic values and sparking positive changes, the competition invited high school journalists to report on the systemic strategies being harnessed in their own communities — whether it be to address climate change, violence, political polarization, LGBTQ+ issues and more. Submissions included pieces concerning union negotiations, transgender policies, political hypocrisy, climate activism and more.
"We are thrilled with this year's submissions," said John Heffernan, president of the Systemic Change Foundation. "We established the competition to highlight the type of journalism that tells stories of changemakers like Fred Ross Sr."
The winners, selected by a panel of judges, were chosen for their exceptional insights, storytelling and dedication to reporting on systemic change strategies. This year's competition will honor five finalists and five honorable mentions.
"The quality of the entries was outstanding and we were very pleased to receive 120 in the first year of the competition," Gary Lundgren, NSPA associate director, said. "Journalism plays a critical role in telling these important stories."
The competition receives its name after the grassroots organizer who trained and mentored iconic leaders like Cesar Chavez and Dolores Huerta. Ross demonstrated how to channel anger and frustration into building member-led movements to change institutions and policies in meaningful ways that improve lives. He worked from the understanding that persistence and organization are required in order to build power and give people a voice in the decisions that shape their lives.
The competition is in-conjunction with the Fred Ross Project, a new documentary that illustrates the ways in which organized collective action can combat racism, bigotry.
About the Foundation for Systemic Change
The Foundation of Systemic Change is a family foundation deeply embedded in human rights, social justice, and humanitarian efforts. The organization offers dynamic grant funding to drive creative projects – documentaries, podcasts, articles, theater, and more —spotlighting persistent global disparities and the need for comprehensive solutions to entrenched challenges. Their mission is to foster widespread comprehension of pressing global issues, empowering collaborative actions that bring about enduring, systemic transformations. FSC's co-founder, John Heffernan, draws from his decades-long experience to emphasize that sustainable impact stems from addressing root causes through systemic change.
About National Scholastic Press Association
NSPA, the nation's largest association of scholastic media, provides training and recognition of achievement to high school and middle school journalists. It serves hundreds of students and their advisers with two national conventions each year. NSPA's renowned Pacemakers honor the top scholastic newspapers, yearbooks, magazines, websites and broadcasts, and its individual awards celebrate student work through dozens of specific categories.

3:30 p.m. Saturday, Nov. 4, awards ceremony
Winners announced —
Individual Awards
Broadcast Pacemaker
Newspaper/Newsmagazine Pacemaker
Specialty Magazine Pacemaker
Best of Show
Best of Show
Schools and students attending the convention are eligible. Categories, rules and entry deadlines will be announced on the convention site.
Spring Pacemakers
Pacemakers in Innovation, Literary Arts Magazine, Online and Yearbook will be presented at the Kansas City, Missouri, convention, April 4-6, 2024.
Individual Award finalists
Diversity, Equity and Inclusion Awards
Fred Ross Systemic Change Student Journalism Competition
Local Climate Change Reporting