Top collegiate online sites announced
ACP names 41 Pacemaker finalists as entries increase 82%

Sept. 30, 2019
MINNEAPOLIS —The Associated Collegiate Press has recognized 41 online broadcast, news and magazine sites as finalists in the Online Pacemaker competition.
"The Pacemaker is the association's preeminent award," Laura Widmer, executive director, said. "ACP is honored to recognize the best of the best."
Both online and print Pacemaker finalists will be recognized and the Pacemaker winners announced at the ACP/CMA National College Media Convention, Oct. 31-Nov. 3, 2019, in Washington, D.C.
RELATED:
ACP names 46 newspapers as 2019 Pacemaker finalists
ACP announces 2019 Individual Award finalists
Register for the Fall National College Media Convention.
The 41 online finalists represent 38 states and Canada. California set the pace with 11 finalists followed by Texas with four.
ACP received approximately 182 entries in 2019, which marked a 82-percent increase from approximately 100 in 2018.
Of the 41 finalists, 20 will earn Pacemaker honors. Roughly 23 percent of the entries are finalists with roughly 10 percent earning Pacemaker honors.
To select the finalists, respected professionals including professors and current digital media professionals analyzed each entry in categories based on student enrollment.
"Today's best online sites are platforms for rich multimedia storytelling," Gary Lundgren, associate director and coordinator of the Pacemaker competition, said. "Deep and diverse coverage with strong engagement and interactivity distinguish the best student-produced sites."
Insights and observations from the judges about the Pacemaker winning online sites will be posted after the Pacemaker winners are announced, along with the names and professional bios of the judges. The judges have provided written summaries about each Pacemaker winner.

In this competition, only the online product was judged. Print newspapers compete in a separate competition. The ACP Newspaper Pacemaker finalists were announced in early September.
Finalists are presented below in alphabetical order by state.
Two-year schools
---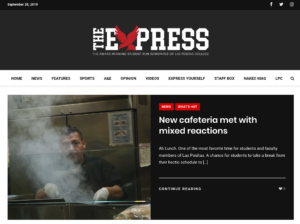 The Express
Las Positas College
Livermore, California
Editors: Kirstie Burgess, Emily Forschen, Jennifer Snook
Advisers: Melissa Korber, Marcus Thompson II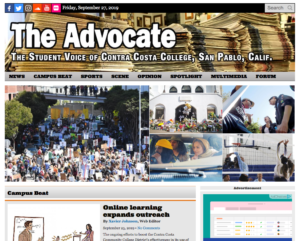 The Advocate
Contra Costa College
San Pablo, California
Editor: Michael Santone
Adviser: Paul DeBolt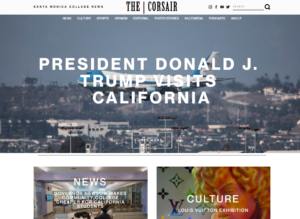 The Corsair
Santa Monica College
Santa Monica, California
Editors: Blake Atwell, Dakota Castets-Didier, Casey Contreras, Dylan Cortez, Lauri Helin, Yasser Marte, Nicole Washington, Pyper Witt
Advisers: Ashanti Blaize-Hopkins, Gerard Burkhart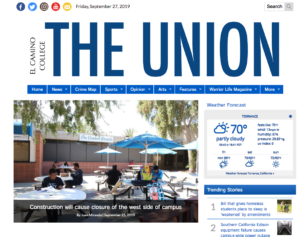 The Union
El Camino College
Torrance, California
Editor: Staff
Adviser: Stefanie Firth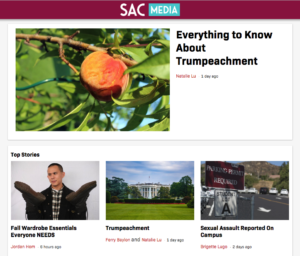 SAC.Media
Mt. San Antonio College
Walnut, California
Editors: Angelica Cruz, Joseph Harvey, Alinna Boonklun
Adviser: Toni Albertson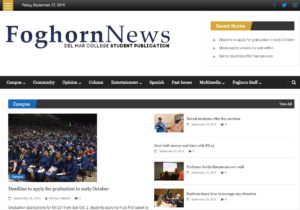 Foghorn News
Del Mar College
Corpus Christi, Texas
Editor: Cat Herndon
Advisers: Scott Beckett, Robert Muilenburg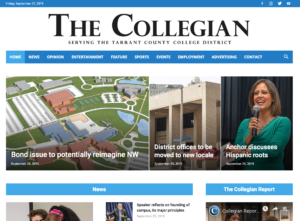 The Collegian
Tarrant County College
Hurst, Texas
Editors: J.W. McNay, Kathryn Kelman
Adviser: Christopher Whitley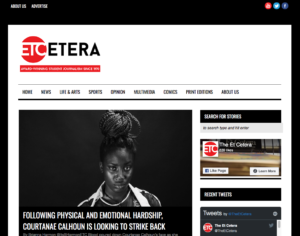 Et Cetera
Eastfield College
Mesquite, Texas
Editors: Aria Jones, Anthony Lazon, David Silva
Advisers: Lori Dann, Beth Langton, Sarah Sheldon
Four-year schools
---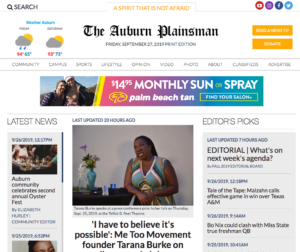 The Auburn Plainsman
Auburn University
Auburn, Alabama
Editor: Chip Brownlee
Adviser: Alec Harvey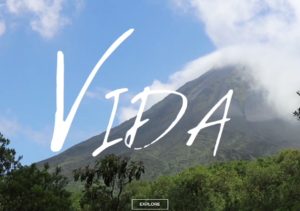 Vida
The University of Alabama
Tuscaloosa, Alabama
Editor: Mary Katherine Carpenter
Adviser: Kim Bissell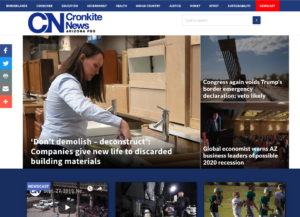 Cronkite News Arizona PBS
Arizona State University
Phoenix, Arizona
Editor: Christina Leonard
Adviser: Maureen West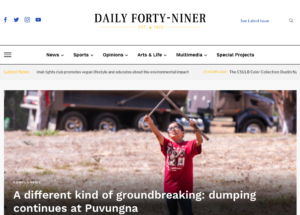 Daily 49er
California State University, Long Beach
Long Beach, California
Editors: Samantha Diaz, Paula Kiley, Kat Schuster
Advisers: Barbara Kingsley-Wilson, Gary Metzker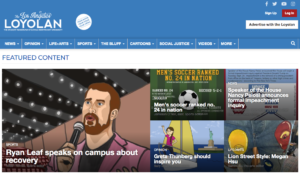 Los Angeles Loyolan
Loyola Marymount University
Los Angeles, California
Editors: Kellie Chudzinski, Jacob Cornblatt
Adviser: Tom Nelson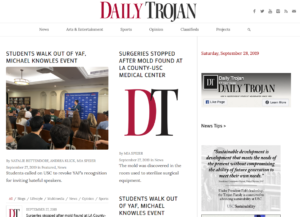 Daily Trojan
University of Southern California
Los Angeles, California
Editor: Allen Pham
Adviser: Mona Cravens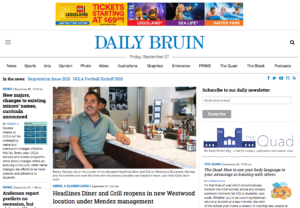 Daily Bruin
University of California, Los Angeles
Los Angeles, California
Editors: Dustin Newman, Jacob Preal
Adviser: Abigail Goldman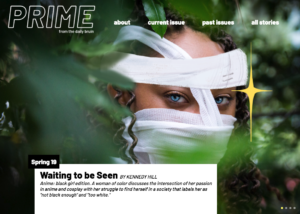 PRIME
University of California, Los Angeles
Los Angeles, California
Editors: Juliette Le Saint, Jacob Preal
Adviser: Abigail Goldman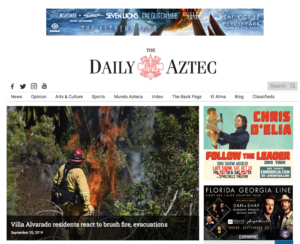 The Daily Aztec
San Diego State University
San Diego, California
Editor: Will Fritz
Adviser: Jay Harn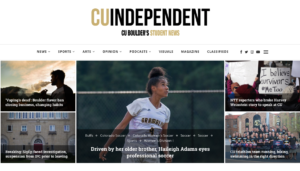 CU Independent
University of Colorado
Boulder, Colorado
Editor: Heidi Harris
Adviser: Gil Asakawa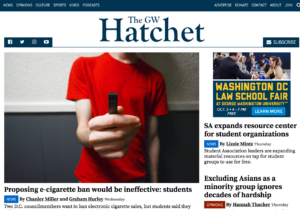 The GW Hatchet
The George Washington University
Washington, D.C.
Editor: Liz Provencher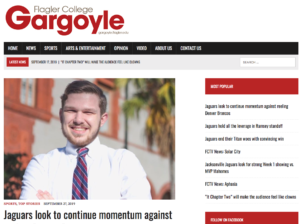 The Gargoyle
Flagler College
St. Augustine, Florida
Editor: Katie Garwood
Adviser: Brian Thompson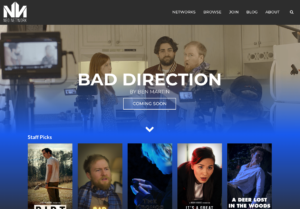 NeoNetwork
Georgia State University
Atlanta, Georgia
Editor: Katie Leaman
Adviser: Bryce McNeil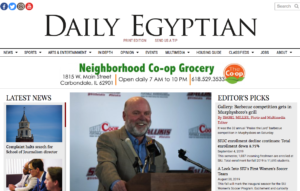 Daily Egyptian
Southern Illinois University
Carbondale, Illinois
Editor: Brian Munoz
Adviser: Eric Fidler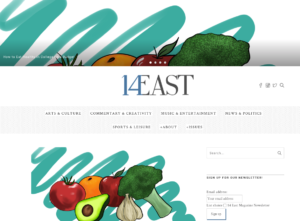 14 East
DePaul University
Chicago, Illinois
Editors: Cody Corrall, Madeline Happold, Marissa Nelson
Adviser: Amy Merrick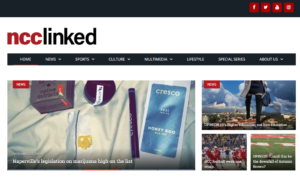 NCClinked
North Central College
Naperville, Illinois
Editor: Lexi Heinitz
Adviser: Kay O'Donnell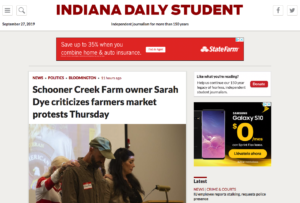 Indiana Daily Student
Indiana University
Bloomington, Indiana
Editor: Matt Rasnic
Advisers: Malinda Aston, Jim Rodenbush, Ruth Witmer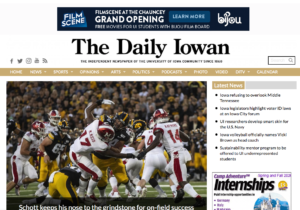 The Daily Iowan
University of Iowa
Iowa City, Iowa
Editor: Gage Miskimen
Adviser: Jason Brummond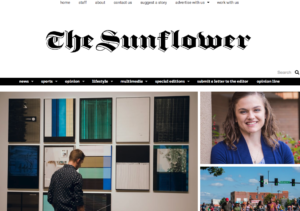 The Sunflower
Wichita State University
Wichita, Kansas
Editor: Matthew Kelly
Adviser: Amy DeVault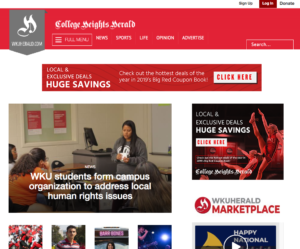 College Heights Herald
Western Kentucky University
Bowling Green, Kentucky
Editor: Evan Heichelbech
Advisers: Chuck Clark, Carrie Pratt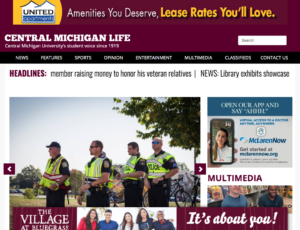 Central Michigan Life
Central Michigan University
Mount Pleasant, Michigan
Editors: Emma Dale, Jordyn Hermani
Adviser: David Clark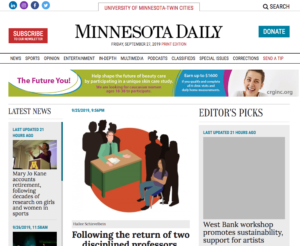 Minnesota Daily
University of Minnesota
Minneapolis, Minnesota
Editor: Kelly Busche
Adviser: Charlie Weaver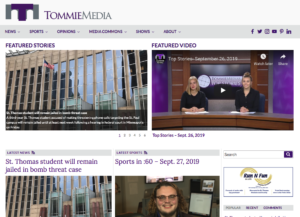 TommieMedia
University of St. Thomas
St. Paul, Minnesota
Editors: Noah Brown, Solveig Rennan
Advisers: Peter Gregg, John Keston, Mark Neuzil, Michael O'Donnell, Greg Vandegrift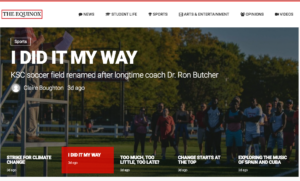 The Equinox
Keene State College
Keene, New Hampshire
Editors: Erin McNemar, Sebastien Mehegan
Advisers: Julio DelSesto, Rodger Martin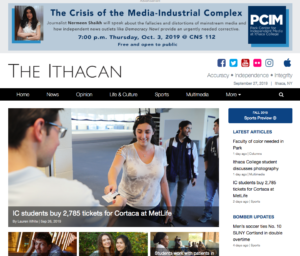 The Ithacan
Ithaca College
Ithaca, New York
Editor: Grace Elletson
Adviser: Michael Serino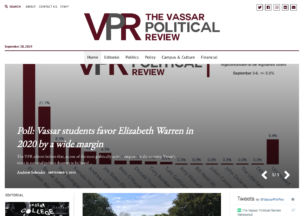 The Vassar Political Review
Vassar College
Poughkeepsie, New York
Editor: Andrew Solender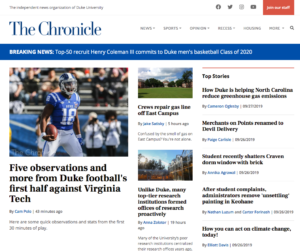 The Chronicle
Duke University
Durham, North Carolina
Editor: Bre Bradham
Adviser: Chrissy Beck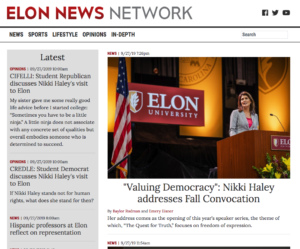 Elon News Network
Elon University
Elon, North Carolina
Editor: Emmanuel Morgan
Adviser: Kelly Furnas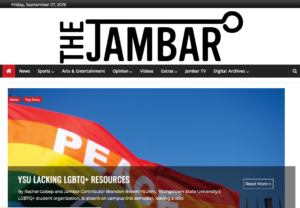 The Jambar
Youngstown State University
Youngstown, Ohio
Editor: Morgan Petronelli
Adviser: Dave Davis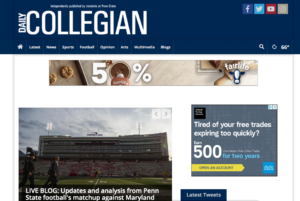 The Daily Collegian
Penn State University
State College, Pennsylvania
Editor: Kelly Powers
Adviser: Wayne Lowman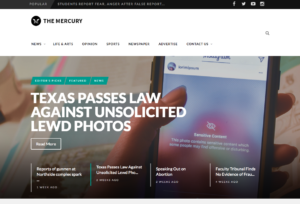 The Mercury
The University of Texas at Dallas
Richardson, Texas
Editor: Bhargav Arimilli
Adviser: Chad Thomas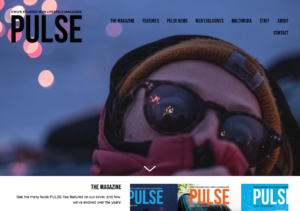 PULSE
Central Washington University
Ellensburg, Washington
Editor: Bailee Wicks
Adviser: Jennifer Green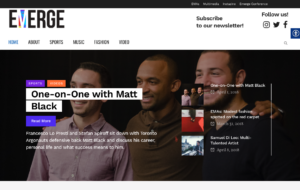 EMERGE
University of Guelph-Humber
Toronto, Ontario, Canada
Staff
Advisers: Kimberley Noble, Nick Farnell, Marc Tavares