ACP membership is the tried-and-trusted foundation upon which to build and improve collegiate media. 
Membership is by publication, not by school or individual. When a publication joins, all students on staff and advisers of that publication are covered under that membership. You can join at any time and your membership will be active for the school year.
As a member, your staff will be notified of all contests, conventions, workshops and deadlines.
ACP MEMBERSHIP GUIDE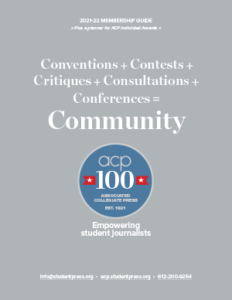 Download our membership guide —
with a handy planner to organize your Individual Award entries.
HONORS AND RECOGNITION
ACP offers competition opportunities to fit your specific staff.
Its top awards, the prestigious Pacemaker Awards, are renowned as the Pulitzer Prizes of collegiate journalism. The nation's top individual honors in student journalism include the ACP Individual Awards, in multiple categories in print and digital.
Through our conventions (and now remotely), our Best of Show Awards allow current staffs to showcase their work.
Through our critique service, you can also earn an All-American rating and establish a tradition of excellence for your publication. Extended achievement earns your publication recognition in ACP's prestigious Hall of Fame.

NEW FOR 2021-22:
SPJ GROUP MEMBERSHIPS
The Society of Professional Journalists now offers newsroom affiliation to ACP member organizations. Add $100 to your ACP membership, and any student in your organization can join SPJ — a significant savings from SPJ's $37.50 rate per student member.
Why join SPJ? You'll join a network of thousands of journalists and get the member rate for SPJ awards and conferences. That SPJ membership opens doors to internships and careers as well.
If you have any additional questions about this add-on, please reach out to jshertzer@hq.spj.org.
FEEDBACK ON IMPROVING YOUR PUBLICATION
We offer a range of critiques for publications and websites. They give your staff helpful, constructive insight from an impartial, experienced source.
Our critique service offers traditional written critiques, plus digital critiques and expanded super-critiques with feedback presented on your publication. If you attend an ACP convention, be sure to register for an on-site critique, often one of the highlights of the convention experience.
Regardless of the form, your critique is an invaluable stepping stone to improvement.
TRAINING & NETWORKING
WITH PEERS & ADVISERS
By attending an ACP convention, workshop or webinar, you'll interact with student journalists and advisers from across the nation.
We're now offering the Pacemaker Master Class series of webinars to connect you with experts and colleagues across the country on both trends and fundamentals.
Get even more networking through our social media:
on Facebook,
@acpress on Twitter and
collegiatepresson Instagram.