FIRST • 32 Pacemakers / 7 Pacemaker finalists
Royal Purple
Yearbook
Kansas State University
Manhattan, Kansas
SECOND • 22 Pacemakers / 12 Pacemaker finalists
Daily Texan
Newspaper
University of Texas at Austin
Austin, Texas
THIRD • 22 Pacemakers / 8 Pacemaker finalists
Indiana Daily Student
Newspaper
Indiana University
Bloomington, Indiana
FOURTH • 22 Pacemakers / 7 Pacemaker finalists
Minnesota Daily
Yearbook
school
location
FIFTH • 21 Pacemakers / 8 Pacemaker finalists
Auburn Plainsman
Newspaper
Auburn University
Auburn, Alabama
SIXTH • 16 Pacemakers / 11 Pacemaker finalists
College Heights Herald
Newspaper
Western Kentucky University
Bowling Green, Kentucky
SEVENTH • 17 Pacemakers / 8 Pacemaker finalists
The Advocate
Newspaper
Contra Costa College
San Pablo, California
EIGHTH • 19 Pacemakers / 4 Pacemaker finalists
The State News
Newspaper
Michigan State University
East Lansing, Michigan
NINTH • 14 Pacemakers / 3 Pacemaker finalists
The Daily Tar Heel
Newspaper
University of North Carolina at Chapel Hill
Chapel Hill, North Carolina
TENTH • 19 Pacemakers / 2 Pacemaker finalists
Flux
Magazine
University of Oregon
Eugene, Oregon
To celebrate its centennial year,
Associated Collegiate Press announces
its top 100 Pacemaker award winners
Associated Collegiate Press — home of the prestigious Pacemakers — proudly recognizes its top 100 publications as part of its centennial celebration.
Founded in 1921, ACP has trained and honored collegiate journalists through conventions, workshops and awards.
First presented in 1927 as the Pace-Maker, the Pacemaker awards are now recognized as the top prizes in collegiate journalism. They honor the very best collegiate broadcasts, magazines, newspapers, online publications, and yearbooks. In 2020, Pacemaker awards for Business and Innovation were introduced.
"The Pacemaker really represents the best of the best and it is appropriate that we recognize the rich tradition this award has in collegiate journalism as part of our centennial celebration," ACP associate director Gary Lundgren said.
The Pacemaker 100 represents a one-time snapshot of the top 100 publications recognized in the competition during its history. Each Pacemaker finalist was awarded five points and each Pacemaker earned 10 points. The results were tabulated in June 2021.
The Pacemaker 100 winners are listed in alphabetical order by state.
The Pacemaker 100 were honored at MediaFest22, the Fall National College Media Convention, Oct. 26-30, 2022, in Washington, D.C.
Also announced at the convention were the Top 10 of the Pacemaker 100. The top winners will be in ranked order along with the number of Pacemaker and Pacemaker finalists awards the publication earned over the last century.
"It was fun to reflect on the history of the award and to recognize the publications during the past century with a rich Pacemaker history — this is a remarkable achievement," he said. Since 1927, there have been 1,800 Pacemaker awards presented to collegiate publications. An additional 1,450 Pacemaker finalists have been awarded over the years.
"While it is certainly a remarkable achievement to earn a dozen or more Pacemakers, it is also exciting to see the many publications that earned a single Pacemaker over the last century," Lundgren said. "Their hard work and excellence landed them a place in collegiate journalism history, and that's also worth celebrating."
---
Download a badge
for your publication's masthead.
Click on the image and then right-click to save.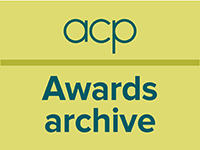 Auburn Plainsman
Newspaper
Auburn University
Auburn, Alabama
Corolla
Yearbook
University of Alabama
Tuscaloosa, Alabama
The Crimson White
Newspaper
University of Alabama
Tuscaloosa, Alabama
Arizona Daily Wildcat Online
Online
University of Arizona
Tucson, Arizona
Ouachitonian
Yearbook
Ouachita Baptist University
Arkadelphia, Arkansas
Razorback
Yearbook
University of Arkansas
Fayetteville, Arkansas
American River Review
Magazine
American River College
Sacramento, California
The Orion
Newspaper
California State University, Chico
Chico, California
The Advocate
Newspaper
Contra Costa College
San Pablo, California
Warwhoop
Newspaper
El Camino College
Torrance, California
Junior Collegian/Los Angeles Collegian
Newspaper
Los Angeles City College
Los Angeles, California
Oasis/Currents
Magazine
Pepperdine University
Malibu, California
The Graphic
Newspaper
Pepperdine University
Malibu, California
Golden Gater/Golden Gate Xpress
Newspaper
San Francisco State University
San Francisco, California
The Golden Gate Xpress Online
Online
San Francisco State University
San Francisco, California
El Don
Newspaper
Santa Ana College
Santa Ana, California
Southwestern Sun
Newspaper
Southwestern College
Chula Vista, California
The Daily Bruin
Newspaper
University of California, Los Angeles
Los Angeles, California
Daily Trojan
Newspaper
University of Southern California
Los Angeles, California
The Review
Newspaper
University of Delaware
Newark, Delaware
The GW Hatchet
Newspaper
George Washington University
Washington, District of Columbia
Falcon Times
Newspaper
Miami-Dade Community College North
Miami, Florida
Metropolis
Newspaper
Miami-Dade Community College Wolfson
Miami, Florida
Distraction
Magazine
University of Miami
Coral Gables, Florida
Ibis
Yearbook
University of Miami
Coral Gables, Florida
The Emory Wheel
Newspaper
Emory University
Atlanta, Georgia
The Red & Black
Newspaper
University of Georgia
Athens, Georgia
Cardinal Review/The Sentinel
Newspaper
North Idaho College
Coeur d'Alene, Idaho
Echo
Magazine
Columbia College Chicago
Chicago, Illinois
The Columbia Chronicle
Newspaper
Columbia College Chicago
Chicago, Illinois
The Columbia Chronicle Online
Online
Columbia College Chicago
Chicago, Illinois
The Daily Northwestern
Newspaper
Northwestern University
Evanston, Illinois
F Newsmagazine
Newspaper
School of the Art Institute of Chicago
Chicago, Illinois
Daily Illini Online
Online
University of Illinois
Champaign, Illinois
Ball State Daily News
Newspaper
Ball State University
Muncie, Indiana
Expo/Ball Bearings
Magazine
Ball State University
Muncie, Indiana
Orient
Yearbook
Ball State University
Muncie, Indiana
Arbutus
Yearbook
Indiana University
Bloomington, Indiana
Indiana Daily Student
Newspaper
Indiana University
Bloomingon, Indiana
Indiana Daily Student Online
Online
Indiana University
Bloomington, Indiana
Drake Magazine
Magazine
Drake University
Des Moines, Iowa
The Daily Iowan
Newspaper
University of Iowa
Iowa City, Iowa
Kansas State Collegian
Newspaper
Kansas State University
Manhattan, Kansas
Royal Purple
Yearbook
Kansas State University
Manhattan, Kansas
Kanza
Yearbook
Pittsburg State University
Pittsburg, Kansas
The University Daily Kansan
Newspaper
University of Kansas
Lawrence, Kansas
The University Daily Kansan Online
Online
University of Kansas
Lawrence, Kansas
The Eastern Progress
Newspaper
Eastern Kentucky University
Richmond, Kentucky
The Murray State News
Newspaper
Murray State University
Murray, Kentucky
The Kentucky Kernel
Newspaper
University of Kentucky
Lexington, Kentucky
College Heights Herald
Newspaper
Western Kentucky University
Bowling Green, Kentucky
Talisman
Yearbook/Magazine
Western Kentucky University
Bowling Green, Kentucky
The Maroon
Newspaper
Loyola University
New Orleans, Louisiana
Hullabaloo
Newspaper
Tulane University
New Orleans, Louisiana
The News-Letter
Newspaper
Johns Hopkins University
Baltimore, Maryland
The Bridge
Magazine
Bridgewater State University
Bridgewater, Massachusetts
The Harvard Crimson
Newspaper
Harvard University
Cambridge, Massachusetts
The Harvard Crimson Online
Online
Harvard University
Cambridge, Massachusetts
NECC Observer
Newspaper
Northern Essex Community College
Haverhill, Massachusetts
Central Michigan Life
Newspaper
Central Michigan University
Mount Pleasant, Michigan
The State News
Newspaper
Michigan State University
East Lansing, Michigan
Minnesota Daily
Newspaper
University of Minnesota
Minneapolis, Minnesota
Minnesota Daily Online
Online
University of Minnesota
Minneapolis, Minnesota
The Chart
Newspaper
Missouri Southern State University
Joplin, Missouri
Tower
Yearbook
Northwest Missouri State University
Maryville, Missouri
The Maneater
Newspaper
University of Missouri
Columbia, Missouri
Daily Nebraskan
Newspaper
University of Nebraska
Lincoln, Nebraska
The Ithacan
Newspaper
Ithaca College
Ithaca, New York
The Ithacan Online
Online
Ithaca College
Ithaca, New York
SALT/MPJ: Military Photojournalism
Magazine
Syracuse University
Syracuse, New York
The Daily Orange
Newspaper
Syracuse University
Syracuse, New York
The Daily Orange Online
Online
Syracuse University
Syracuse, New York
Rebel
Magazine
East Carolina University
Greenville, North Carolina
Agromeck
Yearbook
North Carolina State University
Raleigh, North Carolina
Windhover
Magazine
North Carolina State University
Raleigh, North Carolina
The Daily Tar Heel
Newspaper
University of North Carolina at Chapel Hill
Chapel Hill, North Carolina
The Daily Tar Heel Online
Online
University of North Carolina at Chapel Hill
Chapel Hill, North Carolina
Sanskrit
Magazine
University of North Carolina at Charlotte
Charlotte, North Carolina
Yahnseh
Yearbook
Oklahoma Baptist University
Shawnee, Oklahoma
Sooner
Yearbook
University of Oklahoma
Norman, Oklahoma
The Oklahoma Daily
Newspaper
University of Oklahoma
Norman, Oklahoma
Flux
Magazine
University of Oregon
Eugene, Oregon
Oregon Daily Emerald
Newspaper
University of Oregon
Eugene, Oregon
The Tartan
Newspaper
Carnegie Mellon University
Pittsburgh, Pennsylvania
La Vie
Yearbook
Pennsylvania State University
University Park, Pennsylvania
The Daily Collegian
Newspaper
Pennsylvania State University
University Park, Pennsylvania
The Daily Pennsylvanian
Newspaper
University of Pennsylvania
Philadelphia, Pennsylvania
The Volante
Newspaper
University of South Dakota
Vermillion, South Dakota
The Et Cetera
Newspaper
Eastfield College
Mesquite, Texas
The Ranger
Newspaper
San Antonio College
San Antonio, Texas
The Collegian
Newspaper
Tarrant County College
Hurst, Texas
La Ventana
Yearbook
Texas Tech University
Lubbock, Texas
The Shorthorn
Newspaper
University of Texas at Arlington
Arlington, Texas
Daily Texan
Newspaper
University of Texas at Austin
Austin, Texas
UTMost
Magazine
University of Texas at Austin
Austin, Texas
The Bluestone
Yearbook
James Madison University
Harrisonburg, Virginia
The Breeze
Newspaper
James Madison University
Harrisonburg, Virginia
The Clarion
Newspaper
Madison Area Technical College
Madison, Wisconsin
The MATC Times
Newspaper
Milwaukee Area Technical College
Milwaukee, Wisconsin
Spectator
Newspaper
University of Wisconsin-Eau Claire
Eau Claire, Wisconsin