2020 Best of Show / College Media Convention / SF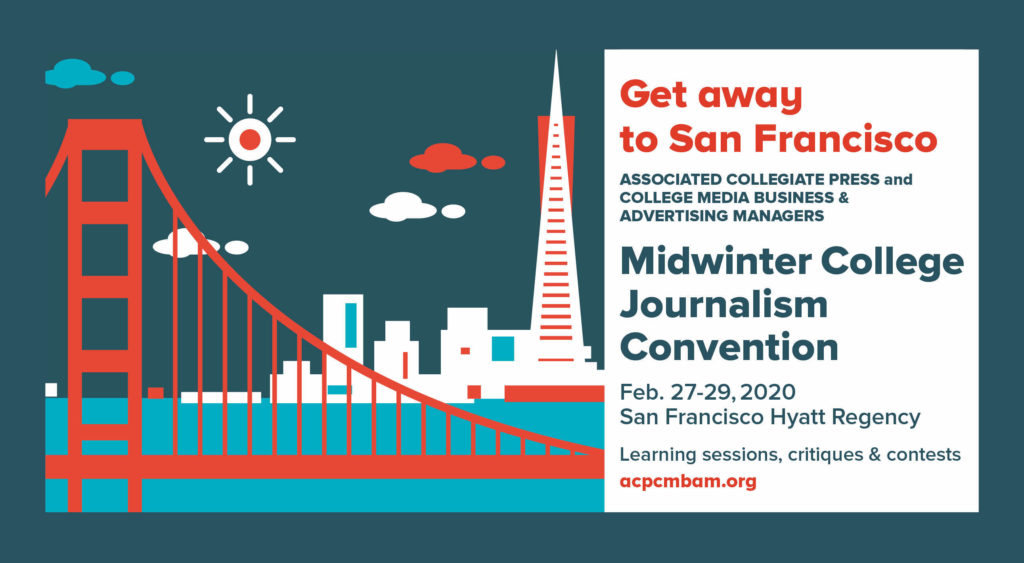 Announced at the ACP/College Media Business and Advertising Managers College Journalism Convention, Feb. 29, 2020, in San Francisco.
Competing were entries of current work submitted by collegiate-media groups attending the convention. Our first-ever People's Choice winners were top voter-getters among student staffs in the attendance, with each staff getting six votes.
RELATED / Recent Best of Shows: Minneapolis 2020 | DC 2019
Print Advertisement
1. Wasatch, University of Utah
2. Central Michigan Life, Central Michigan University
3. Mustang Media Group, Cal Poly San Luis Obispo
4. Distraction, University of Miami
5. Ibis, University of Miami
Video Advertisement
1. Central Michigan Life, Central Michigan University
2. Mustang Media Group, Cal Poly San Luis Obispo
Rate Card
1. Mustang Media Group, Cal Poly San Luis Obispo
2. Pepperdine Graphic Media, Pepperdine University
3. Lancer Media Group, California Baptist University
4. University of Utah Student Media, University of Utah
5. Northwest Student Media, Northwest Missouri State University
Newspaper Advertising Special Section/Edition
1. Mustang Media Group, Cal Poly San Luis Obispo
2. Utah Chronicle, University of Utah
3. Northwest Missourian, Northwest Missouri State University

Broadcast News Story
1. The Review, Utah Valley University
2. The State Hornet, California State University, Sacramento
3. Owl Magazine, Harford Community College
4. Pepperdine Graphic Media, Pepperdine University
5. Mustang News, Cal Poly San Luis Obispo
Multimedia Package
1. Daily Forty-Niner, California State, Long Beach
2. The Miami Hurricane, University of Miami
3. Pulse, Central Washington University
4. The State Hornet, California State University, Sacramento
5. Coyote Chronicle, California State University, San Bernardino
6. Mustang News, Cal Poly San Luis Obispo
7. The Southwestern College Sun, Southwestern College
8. Dixie Sun News, Dixie State University
9. The Daily Aztec, San Diego State University
10. Substance.Media, Mt. San Antonio College
Website (two-year campus)
1. The Renegade Rip, Bakersfield College
2. SAC.Media, Mt. San Antonio College
3. The Breeze Paper, Chaffey College
4. Talon Marks, Cerritos College
5. Clark Indy, Clark College
6. The Southwestern College Sun, Southwestern College
7. Substance.Media, Mt. San Antonio College
8. The Clackamas Print, Clackamas Community College
Website
four-year, 10,000 students or less
1. The Berkeley Beacon, Emerson College
2. The Banner, California Baptist University
3. The Graphic, Pepperdine University
4. The Chimes, Biola University
5. The Oracle, Hamline University
6. Horizons-Embry-Riddle Prescott, Embry-Riddle Aeronautical University
Website
four-year more than 10,000 students
1. Central Michigan Life, Central Michigan University
2. Mustang News, Cal Poly San Luis Obispo
3. Daily Forty-Niner, California State University, Long Beach
4. The Daily Utah Chronicle, University of Utah
5. Distraction, University of Miami
6. The Miami Hurricane.com, University of Miami
7. The Observer, Central Washington University
8. The Daily Aztec, San Diego State University
9. The State Hornet, California State University, Sacramento
10. The Observer, Case Western Reserve University

Feature Magazine
1. Ball Bearings, Ball State University
2. Distraction, University of Miami
3. Pulse, Central Washington University
4. Access, San Jose State University
5. Currents, Pepperdine University
6. Pursuit, California Baptist University
7. Word, University of California, Santa Barbara
8. Insight, University of Nevada Reno
9. Converge, California State University, Bakersfield

Literary Arts Magazine
1. The Traveler, Glendale Community College
2. The Chaffey Review, Chaffey College

Yearbook
1. Ibis, University of Miami
2. Royal Purple, Kansas State University
3. Angelos, California Baptist University
4. Spires, Gonzaga University
5. Tower, Northwest Missouri State University

Newspaper News Special Section/Edition
1. The Southwestern College Sun, Southwestern College
2. Spartan Daily, San Jose State University
3. The Graphic, Pepperdine University
4. The Review, Utah Valley University
5. Mustang News, Cal Poly San Luis Obispo
6. The Oracle, Hamline University
7. The Miami Hurricane, University of Miami

Newspaper/Magazine
two-year
1. The Southwestern College Sun, Southwestern College
2. The Other Press, Douglas College
3. Indy, Clark College
4. Talon Marks, Cerritos College
5. The Renegade Rip, Bakersfield College
6. Ka Mana`o, Leeward Community College
7. The Breeze, Chaffey Community College
8. The Print, Clackamas Community College
9. The Voice, Glendale Communty College

Newspaper
four-year, less than weekly
1. The Banner, California Baptist University
2. The Observer, Fordham University
3. Chimes, Biola University
4. Coyote Chronicle, California State University, San Bernardino
5. Review, Utah Valley University
6. The Runner, California State University, Bakersfield
7. The Pace Press, Pace University
8. Horizons Newspaper, Embry-Riddle Aeronautical University

Newspaper
four-year, weekly or more frequent
1. Mustang News, Cal Poly San Luis Obispo
2. Central Michigan Life, Central Michigan University
3. Northwest Missourian, Northwest Missouri State University
4. The Pepperdine Graphic, Pepperdine University
5. The Gonzaga Bulletin, Gonzaga University
6. The Miami Hurricane, University of Miami
7. The Observer, Central Washington University
8. The Daily Aztec, San Diego State University

People's Choice: Yearbook
1. Ibis, University of Miami
2. Angelos, California Baptist University
3. Spires, Gonzaga University
4. Tower, Northwest Missouri State University
5. Royal Purple, Kansas State University

People's Choice: Magazine
1. Distraction, University of Miami
2. Pursuit, California Baptist University
3. Word, University of California, Santa Barbara
4. Manhappenin', Kansas State University
5. Insight, University of Nevada Reno

People's Choice: Newspaper
1. Daily Forty-Niner, California State University, Long Beach
2. Playboy Press by The Other Press, Douglas College
3. Chimes, Biola University
4. Spartan Daily, San Jose State University
5. Indy, Clark College
6. Mustang News, Cal Poly San Luis Obispo
7. The Print, Clackamas Community College
8. The Breeze, Chaffey Community College
9. Avion, Embry-Riddle Aeronautical University
10. The Southwestern College Sun, Southwestern College

People's Choice: Overall
1. Daily Forty-Niner, California State University, Long Beach
2. Playboy Press by The Other Press, Douglas College
3. Chimes, Biola University
4. Spartan Daily, San Jose State University
5. Distraction, University of Miami