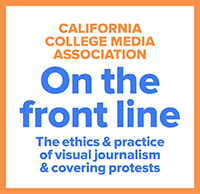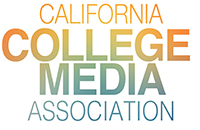 This June 19, 2020, panel discussion features examples and insights from student journalists and perspectives of professional journalists.
It's sponsored by by California College Media Association, and co-sponsored by Associated Collegiate Press.
Introducing the panel is Elizabeth Smith, Pepperdine University, adviser to the Pepperdine Graphic, CCMA president and board member of ACP/National Scholastic Press Association.
Moderating is Gary Metzker, CSU Long Beach, adviser to the Daily 49er and ACP advisory-council member.
Student panelists include Brigette Lugo, Madalyn Amado, Pablo Unzueta, Julia Terbeche and Richard Grant.
The professional panelists —
Calvin Hom, director of photography, Los Angeles Times
Monica Almeida, photojournalist and journalism instructor, Cal State Long Beach
Lynn Walsh, ethics chair, Society of Professional Journalists
Arvli Ward, publisher, The Sundial, Cal State Northridge