2020 online Pacemaker finalists announced
NSPA honors 28 high school news sites for journalistic excellence
MINNEAPOLIS — Honoring the nation's best, the National Scholastic Press Association has named 28 scholastic news sites as finalists in its prestigious Pacemaker competition.
While the judges have named the Pacemaker finalists, the Pacemaker winners have not been selected.
"The judging teams will now continue to study the sites named as Pacemaker finalists on a frequent basis," said Gary Lundgren, associate director and coordinator of the Pacemaker competition. "The Pacemaker winners will be selected shortly before they are named on April 18, so for the 28 schools we are naming as finalists today, the competition is really just heating up."
Pacemaker finalists will be recognized with plaques at 7 p.m. Thursday, April 16, at the opening ceremony of the Spring National High School Journalism Convention in Nashville.
Only Pacemaker winners will be announced and will receive plaques on at 3:30 p.m. Saturday, April 18, at the convention's closing awards ceremony, where both NSPA and Journalism Education Association honors will be presented.
RELATED
2019 Yearbook Pacemaker Finalists
2019 Newspaper/Newsmagazine Pacemaker Awards
2019 Broadcast Pacemaker Awards
The NSPA Pacemaker Award has a rich tradition, and the association started presenting the award to high school newspapers a few years after the organization was founded in 1921. Throughout the years, yearbooks, magazines, online sites and broadcast programs were added to the competition.
"The Pacemaker is the association's preeminent award," NSPA executive director Laura Widmer said. "NSPA is honored to recognize the best of the best."
The 28 Pacemaker finalists represent 12 states. California, Missouri and Texas set the pace with five finalists each.
To select the 28 Pacemaker finalists, judges carefully studied approximately 185 sites submitted from 30 states and three countries. The number of entries dropped slightly from 2019 when approximately 200 sites completed.
The sites competed in two categories, based on school population. Two teams of three judges studied every entry and analyzed its strengths. The status of each entry was agreed upon by at least two of the three judges.
In this competition, only the online news product was judged. The news sites were either digital companions to print newspapers and newsmagazines or online-only products. In all, 108 sites were companions to print newspapers and newsmagazines and 78 were online-only products.
A separate NSPA 2019 Newspaper/Newsmagazine Pacemaker competition recognized 49 print news publications in November. Nine schools earned Pacemaker recognition for both their print and online products.
Written comments from the judges about each of the Pacemaker-winning sites will be posted after the winners are announced along with overall comments and observations from all six judges. The professional bios of the judges will also be included.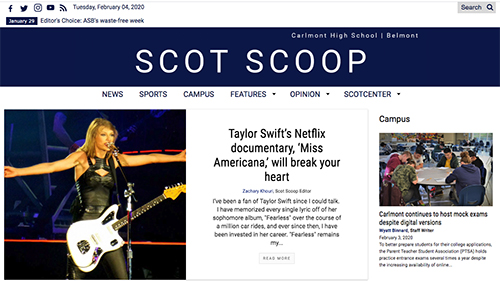 Scot Scoop
scotscoop.com
Carlmont High School
Belmont, California
Editor: Veronica Roseborough
Adviser: Justin Raisner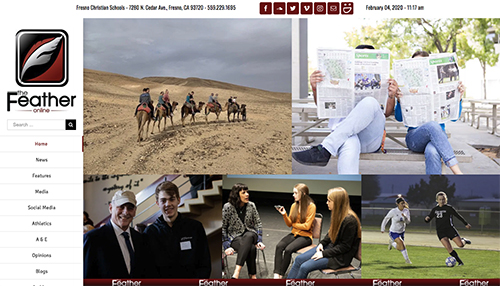 The Feather Online
thefeather.com
Fresno Christian High School
Fresno, California
Editors: Addison Schultz, Vijay Stephen
Advisers: Kori Friesen, Greg Stobbe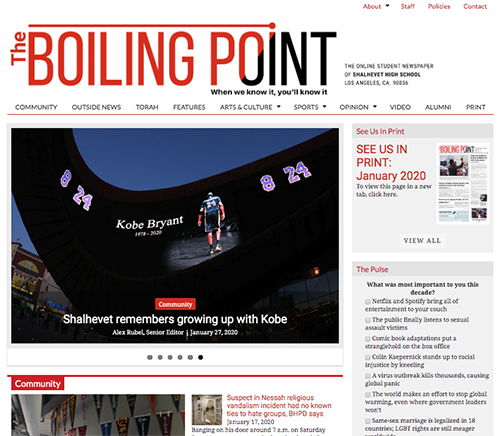 The Boiling Point
shalhevetboilingpoint.com
Shalhevet High School
Los Angeles, California
Editors: Jacob Joseph, Lefkowitz Brooks, Gilad Spitzer
Adviser: Joelle Keene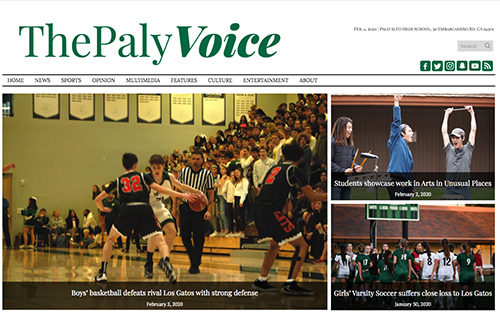 The Paly Voice
palyvoice.com
Palo Alto Senior High School
Palo Alto, California
Editors: Allie Feitzinger, Amy Lin, Ryan Wisowaty
Adviser: Paul Kandell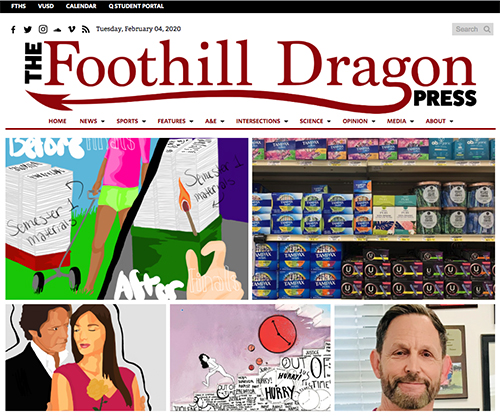 The Foothill Dragon Press
foothilldragonpress.org
Foothill Technology High School
Ventura, California
Editors: Jill Vallance
Adviser: Yiu Hung Li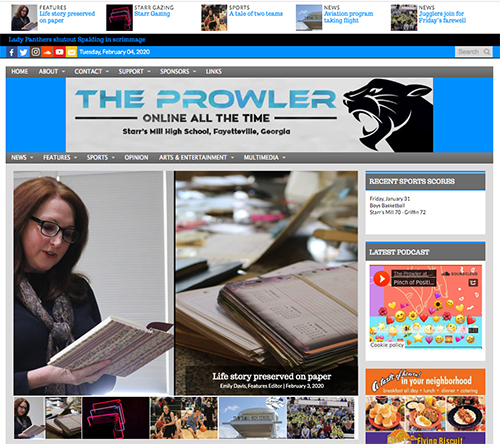 The Prowler
theprowlernews.org
Starr's Mill High School
Fayetteville, Georgia
Editors: Caylee Cicero
Advisers: Justin Spencer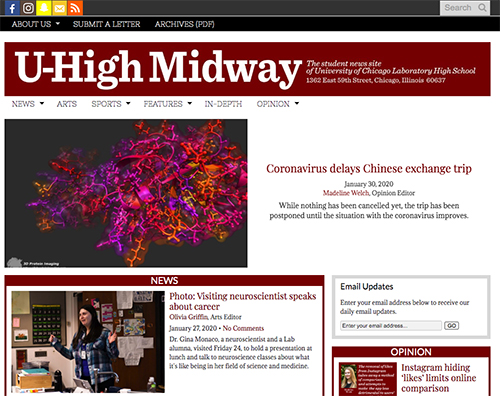 U-High Midway
uhighmidway.com
University of Chicago Laboratory High School
Chicago, Illinois
Editors: Leland Culver, Nikhil Patel, Abigail Slimmon
Adviser: Logan Aimone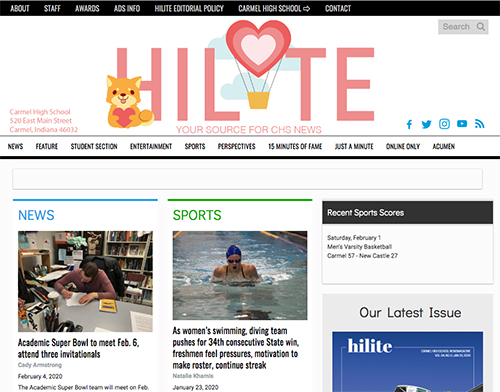 HiLite
hilite.org
Carmel High School
Carmel, Indiana
Editor: Da-Hyun Hong
Adviser: Jim Streisel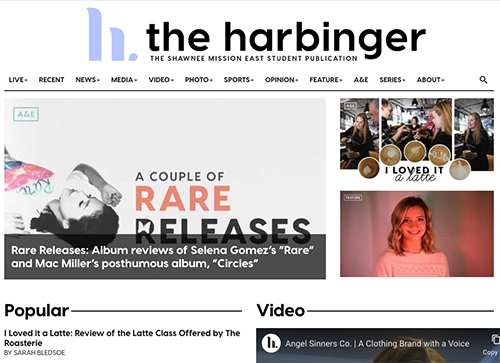 The Harbinger
smeharbinger.net
Shawnee Mission East High School
Prairie Village, Kansas
Editors: Jackie Cameron, Ben Henschel
Adviser: Dow Tate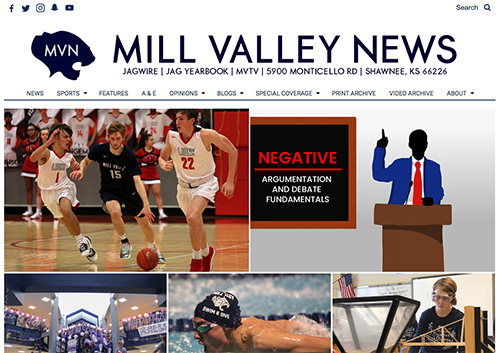 Mill Valley News
mvnews.org
Mill Valley High School
Shawnee, Kansas
Editors: Anna Owsley, Ben Wieland
Adviser: Kathy Hill Habiger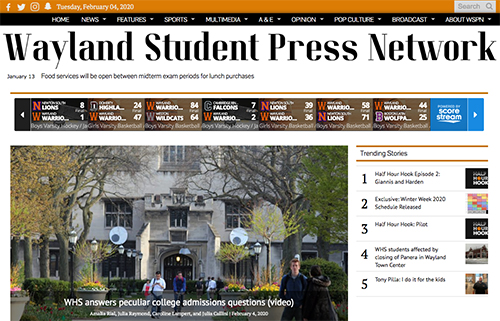 Wayland Student Press Network
waylandstudentpress.com
Wayland High School
Wayland, Massachusetts
Editors: Charles Moore, Kevin Wang
Advisers: Mary Barber, Brian Keaney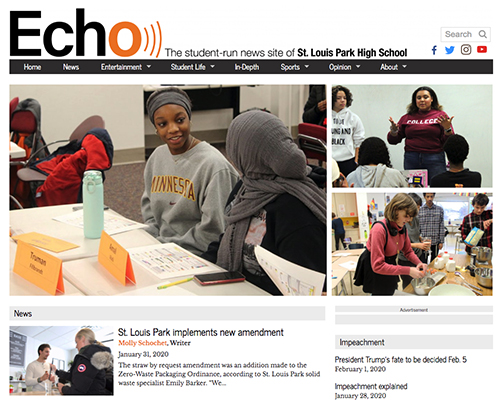 Echo
slpecho.com
St. Louis Park High School
St. Louis Park, Minnesota
Editors: Marta Hill, Dani Orloff
Adviser: Lori Keekley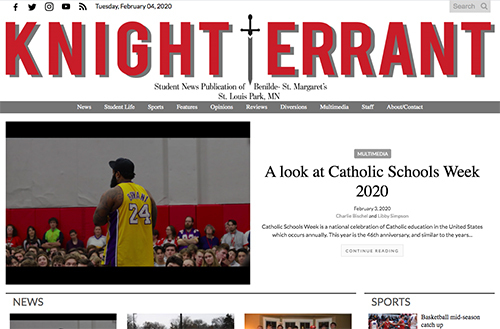 Knight Errant
bsmknighterrant.org
Benilde-St. Margaret's School
St. Louis Park, Minnesota
Editors: Harry Madden, Kaitlyn McTigue, Zach Zeman
Advisers: Ryan Hogan, Kari Koshiol, Tiffany Joseph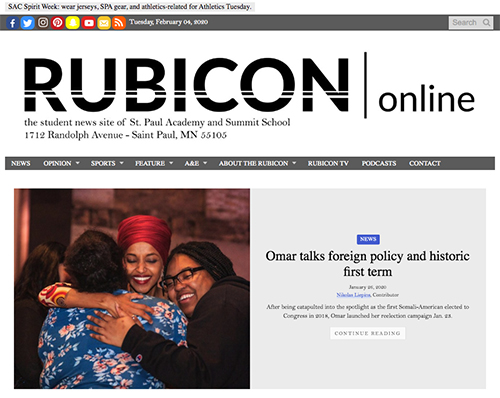 Rubicon Online
rubiconline.com
St. Paul Academy and Summit School
St. Paul, Minnesota
Editor: Melissa Nie
Adviser: Kathryn Campbell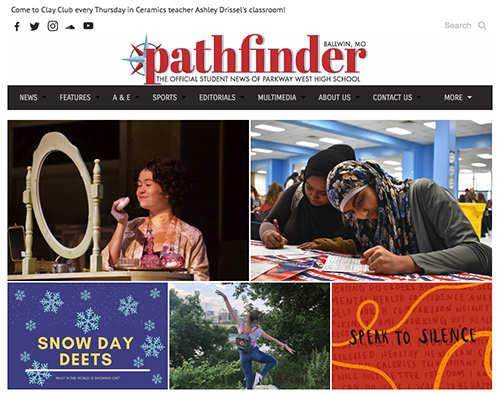 Pathfinder
PWestPathfinder.com
Parkway West High School
Ballwin, Missouri
Editors: Carly Anderson, Sabrina Bohn
Adviser: Debra Klevens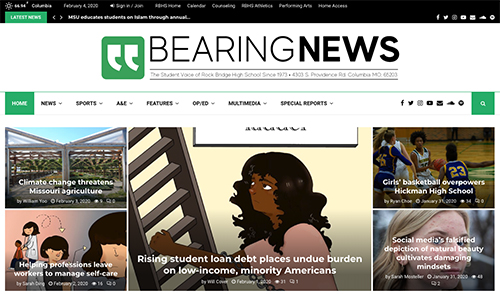 Bearing News
rbhs.bearingnews.org
Rock Bridge High School
Columbia, Missouri
Editors: Bailey Stover, Anna Xu
Adviser: Robin Stover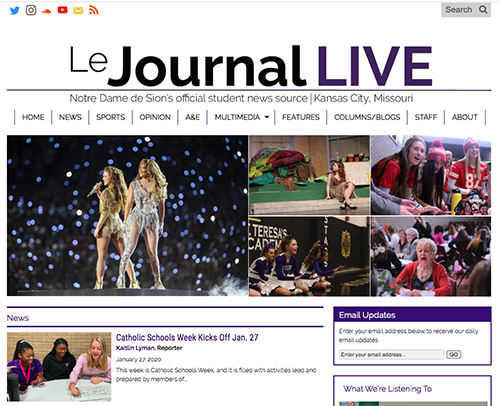 Le Journal Live
lejournallive.com
Notre Dame de Sion High School
Kansas City, Missouri
Editor: Maleah Downton
Adviser: Alison Long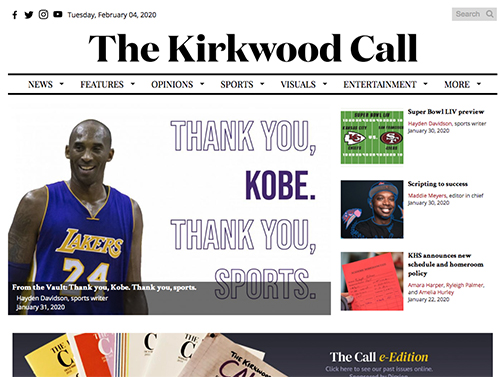 The Kirkwood Call
TheKirkwoodCall.com
Kirkwood High School
Kirkwood, Missouri
Editors: Megan Cleveland, Charlotte Heinrich, Emma Lingo, Maddie Meyers
Adviser: Mitch Eden
WG ECHO
wgecho.org
Webster Groves High School
Webster Groves, Missouri
Editor: Cole Schnell
Adviser: Donald Johnson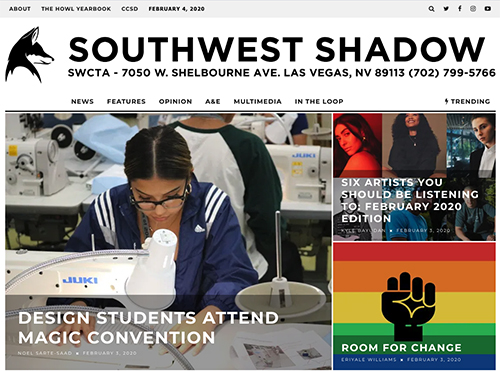 Southwest Shadow
Southwestshadow.com
Southwest Career and Technical Academy
Las Vegas, Nevada
Editors: Shareen Basyari, Kyle Bayudan
Adviser: Matthew LaPorte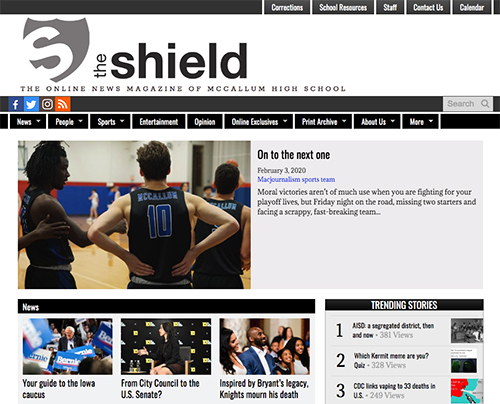 The Shield
macshieldonline.com
McCallum High School
Austin, Texas
Editor: Max Rhodes
Adviser: Dave Winter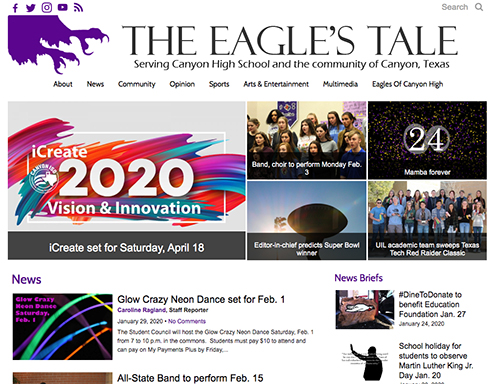 The Eagle's Tale
eaglestaleonline.com
Canyon High School
Canyon, Texas
Editors: Luke Bruce, Macy McClish, Claire Meyer
Adviser: Laura Smith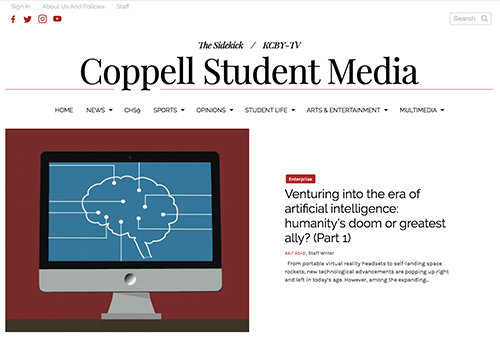 Coppell Student Media
coppellstudentmedia.com
Coppell High School
Coppell, Texas
Editor: Anthony Cesario
Advisers: Irma Kennedy, Chase Wofford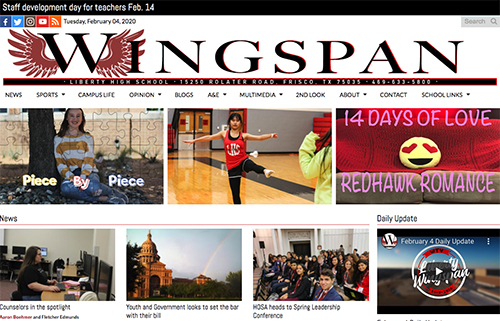 Wingspan
libertywingspan.com
Liberty High School
Frisco, Texas
Editors: Lucas Barr, Kasey Harvey
Adviser: Brian Higgins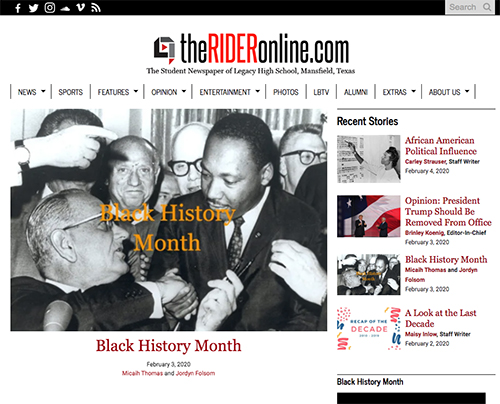 The Rider Online
therideronline.com
Legacy High School
Mansfield, Texas
Editors: Brinley Koenig, Ryland Mallett
Advisers: Rachel Dearinger, Leland Mallett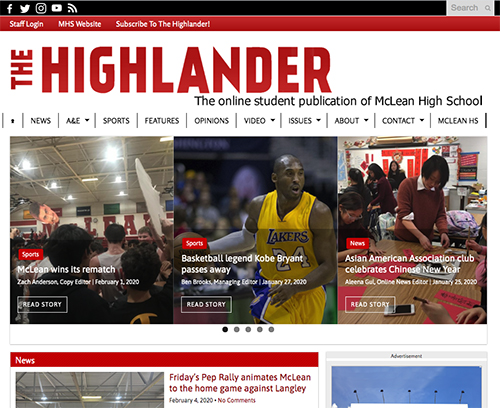 The Highlander
thehighlandernews.com
McLean High School
McLean, Virginia
Editor: Dasha Makarishcheva
Adviser: Lindsay Benedict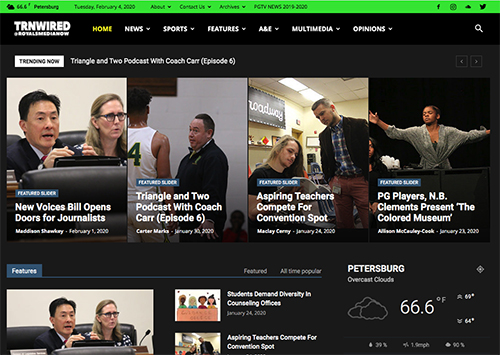 TRNWIRED
trnwired.org
Prince George High School
Prince George, Virginia
Editor: Carter Marks
Adviser: Chris Waugaman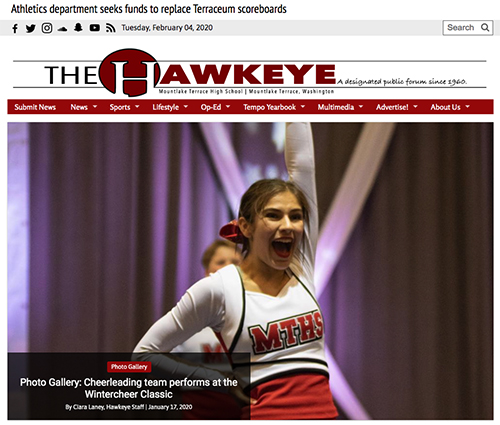 The Hawkeye
thehawkeye.org
Mountlake Terrace High School
Mountlake Terrace, Washington
Editor: Nolan DeGarlais
Adviser: Vincent DeMiero