FIRST • 23 Pacemakers / 3 Pacemaker finalists
Lair
Yearbook
Shawnee Mission Northwest High School
Shawnee, Kansas
SECOND • 20 Pacemakers / 7 Pacemaker finalists
Decamhian
Yearbook
Del Campo High School
Fair Oaks, California
THIRD • 22 Pacemakers / 2 Pacemaker finalists
Wings
Yearbook
Arrowhead Christian Academy
Redlands, California
FOURTH • 18 Pacemakers / 4 Pacemaker finalists
Indian
Yearbook
Shawnee Mission North High School
Overland Park, Kansas
FIFTH (tie) • 16 Pacemakers / 7 Pacemaker finalists
Rampages
Yearbook
Casa Roble High School
Orangevale, California
FIFTH (tie) • 16 Pacemakers / 7 Pacemaker finalists
Pioneer
Yearbook
Kirkwood High School
Kirkwood, Missouri
SEVENTH • 15 Pacemakers / 8 Pacemaker finalists
Paragon
Yearbook
Munster High School
Munster, Indiana
EIGHTH • 15 Pacemakers / 6 Pacemaker finalists
The Little Hawk
Newspaper/Newsmagazine
Iowa City High School
Iowa City, Iowa
NINTH (tie) • 15 Pacemakers / 5 Pacemaker finalists
Hauberk
Yearbook
Shawnee Mission East High School
Prairie Village, Kansas
NINTH (tie) • 15 Pacemakers / 5 Pacemaker finalists
HTV Magazine
Broadcast
Hillcrest High School
Springfield, Missouri
NINTH (tie) • 15 Pacemakers / 5 Pacemaker finalists
Spark
Newspaper/Newsmagazine
Lakota East High School
Liberty Township, Ohio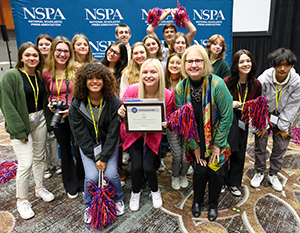 VIEW photos of the Nov. 13, 2023, celebration in St. Louis.
WATCH the original May 20, 2021, announcement.
---
To celebrate its centennial year,
National Scholastic Press Association announces
its top 100 Pacemaker award winners
National Scholastic Press Association — home of the prestigious Pacemaker awards — proudly recognizes its top 100 publications as it launches its centennial celebration.
Founded in 1921, NSPA has trained and honored student journalists through conventions, workshops and awards.
First presented in 1927 as the Pace-Maker, the Pacemaker awards are now recognized as the top prizes in scholastic journalism. They honor the very best scholastic broadcasts, literary arts magazines, newspapers/newsmagazines, online publications, specialty magazines and yearbooks.
"The Pacemaker really represents the best of the best and it is appropriate that we recognize the rich tradition this award has in scholastic journalism as part of our centennial celebration," NSPA associate director Gary Lundgren said.
The Pacemaker 100 represents a one-time snapshot of the top 100 publications recognized in the competition during its history. Each Pacemaker finalist was awarded five points and each Pacemaker earned 10 points. The results were tabulated in May 2021.
The Pacemaker 100 will be honored in alphabetical order by state followed by the announcement of the top 10 publications. Just like the Pacemaker competition, online sites are recognized separately from the print newspaper/newsmagazine.
"It was fun to reflect on the history of the award and to recognize the publications during the past century with a rich Pacemaker history — this is a remarkable achievement," he said.
Since 1927, there have been 2,700 Pacemaker awards presented to high school and middle school publications. An additional 2,300 Pacemaker finalists have been awarded over the years.
There are three publications that have earned at least 20 or more Pacemakers and dozens that have earned 10 or more.
"While it is certainly a remarkable achievement to earn a dozen or more Pacemakers, it is also exciting to see the many publications that earned a single Pacemaker over the last century," Lundgren said. "Their hard work and excellence landed them a place in scholastic journalism history and that's also worth celebrating."
Associated Collegiate Press, the collegiate division of NSPA, has also awarded Pacemakers since 1927 and plans to recognize The Pacemaker 100 for collegiate publications.
During the upcoming school year, a searchable database of member publications earning Pacemaker recognition will be added to both the NSPA and ACP websites.
The Pacemaker 100 will be honored and presented awards during the next on-site NSPA convention, and the Pacemaker 100 will be showcased in "Empowering Student Journalists," a commemorative book documenting and celebrating the role of NSPA and ACP in educating, influencing and promoting the student press. "Empowering Student Journalists" will be released at the Philadelphia convention, as well as at the ACP/CMA New Orleans convention in October 2021.
---
Download a badge for your publication's masthead.
Click on the image and then right-click to save.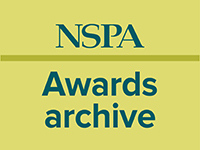 CS Press
Newspaper/Newsmagazine
Cactus Shadows High School
Cave Creek, Arizona
Crusader
Newspaper/Newsmagazine
Salpointe Catholic High School
Tucson, Arizona
Hornet
Yearbook
Bryant High School
Bryant, Arkansas
Connotations
Literary Arts Magazine
Fayetteville High School
Fayetteville, Arkansas
Titanium
Yearbook
Antelope High School
Antelope, California
Epic
Yearbook
Center High School
Antelope, California
The Epitaph
Newspaper/Newsmagazine
Homestead High School
Cupertino, California
El Estoque
Newspaper/Newsmagazine
Monta Vista High School
Cupertino, California
El Estoque Online
Online
Monta Vista High School
Cupertino, California
Decamhian
Yearbook
Del Campo High School
Fair Oaks, California
The Feather Online
Online
Fresno Christian High School
Fresno, California
The Gazette
Newspaper/Newsmagazine
Granite Bay High School
Granite Bay, California
Wingspan
Yearbook
James C. Enochs High School
Modesto, California
Rampages
Yearbook
Casa Roble High School
Orangevale, California
Campanile
Newspaper/Newsmagazine
Palo Alto High School
Palo Alto, California
The Paly Voice
Online
Palo Alto High School
Palo Alto, California
Verde
Newspaper/Newsmagazine
Palo Alto High School
Palo Alto, California
Wings
Yearbook
Arrowhead Christian Academy
Redlands, California
Pilot
Yearbook
Redondo Union High School
Redondo Beach, California
Tonitrus
Yearbook
Rocklin High School
Rocklin, California
Details
Yearbook
Whitney High School
Rocklin, California
Lowell
Newspaper/Newsmagazine
Lowell High School
San Francisco, California
The American
Yearbook
Independence High School
San Jose, California
Stagg Line
Newspaper/Newsmagazine
Amos Alonzo Stagg High School
Stockton, California
The Chronicle
Newspaper/Newsmagazine
Harvard-Westlake School
Studio City, California
Cub Trax
Yearbook
Cupertino Middle School
Sunnyvale, California
Cayuse
Yearbook
Walnut High School
Walnut, California
Union Street Journal
Newspaper/Newsmagazine
Cherry Creek High School
Greenwood Village, Colorado
The Prowl
Yearbook
Powell Middle School
Littleton, Colorado
Eagle Eye View
Yearbook
Sierra Middle School
Parker, Colorado
Literary and Visual Arts
Literary Arts Magazine
Maret School
Washington, D.C.
The Southerner
Newspaper/Newsmagazine
Midtown High School
Atlanta, Georgia
U-High Midway
Newspaper/Newsmagazine
University of Chicago Laboratory High School
Chicago, Illinois
Renaissance
Literary Arts Magazine
University of Chicago Laboratory High School
Chicago, Illinois
New Pennies
Literary Arts Magazine
DeKalb High School
DeKalb, Illinois
Etruscan
Yearbook
Glenbrook South High School
Glenview, Illinois
Lion
Newspaper/Newsmagazine
Lyons Township High School
La Grange, Illinois
The Central Times
Newspaper/Newsmagazine
Naperville Central High School
Naperville, Illinois
HiLite
Newspaper/Newsmagazine
Carmel High School
Carmel, Indiana
HiLite Online
Online
Carmel High School
Carmel, Indiana
Log
Yearbook
Columbus North High School
Columbus, Indiana
Paragon
Yearbook
Munster High School
Munster, Indiana
The Little Hawk
Newspaper/Newsmagazine
Iowa City High School
Iowa City, Iowa
Eagle/Stampede
Yearbook
Maize Intermediate School/Maize South Middle School
Maize, Kansas
Indian
Yearbook
Shawnee Mission North High School
Overland Park, Kansas
Hauberk
Yearbook
Shawnee Mission East High School
Prairie Village, Kansas
The Harbinger
Newspaper/Newsmagazine
Shawnee Mission East High School
Prairie Village, Kansas
The Harbinger Online
Online
Shawnee Mission East High School
Prairie Village, Kansas
Lair
Yearbook
Shawnee Mission Northwest High School
Shawnee, Kansas
The Northwest Passage
Newspaper/Newsmagazine
Shawnee Mission Northwest High School
Shawnee, Kansas
Erehwon
Literary Arts Magazine
Winston Churchill High School
Potomac, Maryland
Silver Chips
Newspaper/Newsmagazine
Montgomery Blair High School
Silver Spring, Maryland
Colophon
Literary Arts Magazine
Towson High School
Towson, Maryland
Wayland Student Press Network
Online
Wayland High School
Wayland, Massachusetts
Ceniad
Yearbook
East Lansing High School
East Lansing, Michigan
Fentonian
Yearbook
Fenton High School
Fenton, Michigan
The Tower
Newspaper/Newsmagazine
Grosse Pointe South High School
Grosse Pointe Farms, Michigan
The Update
Newspaper/Newsmagazine
H.H. Dow High School
Midland, Michigan
Images on the Wind
Literary Arts Magazine
Edina High School
Edina, Minnesota
Central High News
Newspaper/Newsmagazine
Central High School
Minneapolis, Minnesota
West High Weekly/
West High Times
Newspaper/Newsmagazine
West High School
Minneapolis, Minnesota
Knight Errant
Online
Benilde-St. Margaret's School
Saint Louis Park, Minnesota
Echo
Newspaper/Newsmagazine
Saint Louis Park High School
Saint Louis Park, Minnesota
Cogwheel
Newspaper/Newsmagazine
Mechanic Arts High School
Saint Paul, Minnesota
Globe
Newspaper/Newsmagazine
Clayton High School
Clayton, Missouri
Pioneer
Yearbook
Kirkwood High School
Kirkwood, Missouri
The Kirkwood Call
Newspaper/Newsmagazine
Kirkwood High School
Kirkwood, Missouri
North Star
Newspaper/Newsmagazine
Francis Howell North High School
Saint Charles, Missouri
FHNtoday
Online
Francis Howell North High School
Saint Charles, Missouri
Courier
Newspaper/Newsmagazine
Normandy High School
Saint Louis, Missouri
HTV Magazine
Broadcast
Hillcrest High School
Springfield, Missouri
Westwind
Yearbook
West Henderson High School
Hendersonville, North Carolina
Yearbook
Yearbook
Bay High School
Bay Village, Ohio
John Adams Journal
Newspaper/Newsmagazine
John Adams High School
Cleveland, Ohio
Spark
Newspaper/Newsmagazine
Lakota East High School
Liberty Township, Ohio
The Axe
Newspaper/Newsmagazine
South Eugene High School
Eugene, Oregon
El Paisano
Yearbook
Westlake High School
Austin, Texas
Featherduster
Newspaper/Newsmagazine
Westlake High School
Austin, Texas
Hillcrest Hurricane
Newspaper/Newsmagazine
Hillcrest High School
Dallas, Texas
Marksmen
Yearbook
St. Mark's School of Texas
Dallas, Texas
The ReMarker
Newspaper/Newsmagazine
St. Mark's School of Texas
Dallas, Texas
Vibrato
Literary Arts Magazine
The Hockaday School
Dallas, Texas
Hoofbeats
Yearbook
Burges High School
El Paso, Texas
Stampede
Newspaper/Newsmagazine
Burges High School
El Paso, Texas
The Rider Online
Online
Legacy High School
Mansfield, Texas
The Lion
Yearbook
McKinney High School
McKinney, Texas
The Hawk
Yearbook
Pleasant Grove High School
Texarkana, Texas
The Tiger
Yearbook
Texas High School
Texarkana, Texas
Runes
Literary Arts Magazine
Brighton High School
Salt Lake City, Utah
tjToday
Newspaper/Newsmagazine
Thomas Jefferson High School for Science and Technology
Alexandria, Virginia
Odyssey
Yearbook
Chantilly High School
Chantilly, Virginia
Chatterbox
Newspaper/Newsmagazine
George Washington High School
Danville, Virginia
Sentry
Yearbook
Robinson Middle School
Fairfax, Virginia
TRNWIRED
Online
Prince George High School
Prince George, Virginia
Saga
Yearbook
Loudoun Valley High School
Purcellville, Virginia
Peninsula Outlook
Newspaper/Newsmagazine
Peninsula High School
Gig Harbor, Washington
Lincoln News
Newspaper/Newsmagazine
Lincoln High School
Tacoma, Washington
Shorewood Ripples
Newspaper/Newsmagazine
Shorewood High School
Milwaukee, Wisconsin
Washington Scroll
Newspaper/Newsmagazine
Washington High School
Milwaukee, Wisconsin
The Scroll
Newspaper/Newsmagazine
The American School in London Middle School
London, England