NSPA membership is the tried-and-trusted foundation upon which to build and improve student media. 
Membership is by publication, not by school or individual. When a publication joins, all students on staff and advisers of that publication are covered under that membership. You can join at any time and your membership will be active for the school year.
As a member, your staff will be notified of all contests, conventions, workshops and deadlines.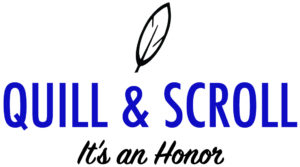 NEW FOR 2021-22:
QUILL & SCROLL GROUP MEMBERSHIPS
NSPA now offers special rates on memberships in Quill & Scroll, an independent international honor society for scholastic journalism, through the NSPA membership portal.
A Quill & Scroll membership through NSPA includes a lifetime membership, graduation cord and certificate.
5 memberships = $125
10 memberships = $250
15 memberships = $375
For a Quill and Scroll charter, add $125.
Visit the Quill & Scroll membership page for more information, and email quill-scroll@uiowa.edu with any questions.
FEEDBACK ON IMPROVING YOUR PUBLICATION
We offer a range of critiques for publications and websites. They give your staff helpful, constructive insight from an impartial, experienced source.
Our critique service offers traditional written critiques, plus digital critiques and expanded supercritiques with feedback presented on your publication. If you attend an NSPA convention, be sure to register for an on-site critique, often one of the highlights of the convention experience.
Regardless of the form, your critique is an invaluable stepping stone to improvement.
TRAINING & NETWORKING WITH PEERS
By attending an NSPA convention, workshop or webinar, you'll interact with student journalists and advisers from across the nation.
We're now offering the Pacemaker Master Class series of webinars to connect you with experts and colleagues across the country on both trends and fundamentals.
Get even more networking through our social media:
on Facebook,
@NSPA on Twitter and
nationalstudentpress  on Instagram.
FOLLOWING TRENDS
Use our award winners presented on this site and on social media for discussion and inspiration throughout the academic year, and get our annual Best of the High School Press book, which enshrines annual winners for the long term.
HONORS AND RECOGNITION
NSPA offers competition opportunities to fit your specific staff.
Its top awards, the prestigious Pacemaker Awards, are renowned as the top prizes of student journalism. The nation's top individual honors in student journalism include the NSPA Individual Awards, in multiple categories in print, online and broadcast.
Starting with 2022-23 membership year, there will be a $99 fee to participate in Individual Awards. You can select this participation fee during your membership renewal or purchase it from our online store later in the year.
Through our conventions (and now remotely), our Best of Show Awards allow current staffs to showcase their work.
Through our critique service, you can also earn an All-American rating and establish a tradition of excellence for your publication. Extended achievement earns your publication recognition in NSPA's prestigious Hall of Fame.
NSPA also recognizes individual student achievement through the NSPA Honor Roll and  the Wikoff Scholarship for Editorial Leadership. NSPA also supports scholarships to support diversity at its conventions.
NSPA MEMBERSHIP GUIDE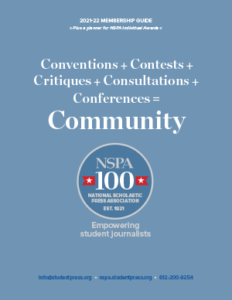 Download our membership guide — with a handy planner to compile and organize your Individual Award entries.