Three educators, who have shared their passion of scholastic journalism with students nationwide, have been recognized as National Scholastic Press Association Pioneer recipients.
Leland Mallett, Mike Simons and Margaret Sorrows will be recognized at the Journalism Education Association/NSPA awards luncheon in April in Los Angeles at the Westin Bonaventure.
The Pioneer is the highest honor NSPA awards to journalism educators. Pioneers are individuals who make substantial contributions to high school journalism programs and scholastic journalism education outside their primary employment.
"This year's class of winners is unique in that we have high school advisers as well as a retired high school adviser who is now a consultant," Laura Widmer, NSPA executive director, said.
"They are all incredible educators though, and they possess great teaching skills and a passion for student press rights," she said. "They also have earned the respect and admiration of students and colleagues nationwide. These Pioneers represent the best of the best in the country."
NSPA maintains a composite plaque of all Pioneer winners at its headquarters in Minneapolis. Candidates were nominated by previous Pioneer winners and NSPA board members. A four-person selection committee ranked the nominees.
Leland Mallett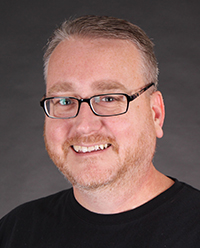 After accidentally taking newspaper in the seventh grade, Leland Mallett has worked with yearbooks and newspapers ever since. He is the newspaper and yearbook adviser at Legacy High School in Mansfield, Texas.
Legacy's publications have won Crowns, Pacemakers and Stars since the high school opened 15 years ago. Mallett, who has been advising for 22 years, won JEA's Distinguished Adviser award in 2018. In 2015 he won the Max Haddick award, Texas Journalism Adviser of the Year, from ILPC. He also won the Edith Fox King Texas journalism teacher award in 2010 and the Texas Association of Journalism Educators Trailblazer award in 2013.
In his nomination letter, Jim Jordan said Mallett is the very best of the best.
"Leland Mallett is a pioneer of scholastic journalism," Jordan said. "I give him my highest support for an NSPA Pioneer Award. I have had the privilege of spending a great deal of time with him, teaching with him, and working with his students.
"He is one of the core of amazing, hard-working, enthusiastic journalism teachers and publications advisers in the heart of their careers who are leading the way to keep the flame of scholastic journalism burning brightly during these difficult times."
In her letter of recommendation, Jeanne Acton, director of Texas' Interscholastic League Press Conference and NSPA president, said Mallett's publications have set the standard across the nation. He is also generous with sharing his expertise with others.
"Leland readily shares his secrets with anyone who asks," Acton said. "And even in 2020, when the world seems to be falling apart, he was happily working with his students trying to keep their world as normal as possible. He is always focused on them — training them to document each historical year for the students at his school."
Mallett certainly didn't think his career would be in scholastic journalism. He thought advising student publications would be a short gig and he would move to his dream job as a news reporter for a radio station.
"I was hooked in year one," Mallett said. "It's a hard feeling to describe to see students get the spark or find their voice or see the right angle. It's more than just teaching and producing quality publications. For me, it's about the relationships formed. I love to hear students say that room O102 is home full of friends. I look forward to the relationships growing and continuing after high school."

Mallett also values the relationships with advisers in this scholastic journalism family. So many people have become his mentors, friends, cheerleaders, comrades
and more.

He said the Pioneer award is both an honor and humbling.
"I'm glad to show off great things my students create that make me look good," he said. "I'm glad to know someone thought I am worthy of the honor. And I'm glad to be a part of the scholastic journalism family."
Michael Simons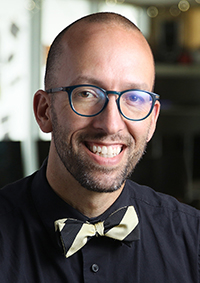 Mike Simons has advised yearbooks since December 2001, when the photography adviser at Corning-Painted Post West High School went out on maternity leave. He took the job even though he had no previous student media experience.
Now, 20 years later, he has advised four different yearbook programs in his district, where he currently advises Tesserae, the yearbook at Corning-Painted Post High School, now in its eighth year. This past August, he was named co-adviser of the broadcast program, CPPtv.
In her nomination letter, Mary Kay Downes said Simons is a phenomenal adviser. His yearbooks have been consistently receiving national attention for more than a decade.
"More importantly, he's a prolific contributor to many aspects of the world of scholastic journalism," she said. "He's a speaker, critiquer and judge. He brings students to national conventions. He actively shares information and responds to questions of those still finding their way. And he's helped lead New York's New Voices campaign to protects student press rights."
Simons was a pioneer of sorts when he started his own podcast, "The Yearbook Whys" to a very receptive audience.
"As an avid podcast listener myself, I wanted to give our community a resource featuring voices of advisers, editors and other yearbook professionals that could address everything from yearbook fundamentals to 'How'd They Do That?' features highlighting outstanding themes and content from books nationwide," he said. "Other topics have included dealing with administrative censorship, business and marketing, recruitment and stories from the careers of former JEA Yearbook Advisers of the Year. I've taken a break from the project for the last year, prioritizing my own family and yearbook staff through the pandemic, but we'll be back with new episodes soon."
In her letter, Carrie Faust also commented on Simons' podcast. She said there is simply no other adviser who is currently contributing to the world of scholastic journalism more than Simons. He is a lover of people, a lover of students, and a lover of this crazy world we call yearbook.
"Mike has a podcast which he produces out of his own pocket, to which he invites guests of all affiliations and for which he gets no compensation," she said. "In fact, when a yearbook company contacted him with the offer to sponsor the podcast, he said no. It wouldn't be fair to the other companies. In fact, Mike considers himself a 'non-denominational' lover of yearbook. He works for camps across companies. He helps any adviser who contacts him, with no care to what company they work with."
Mike has attended and taught at camps, conventions and conferences since 2008. He has served on the Columbia Scholastic Press Advisers' Association board since 2010, and earned his Master Journalism Educator certificate in 2016, the same year he received CSPA's Gold Key. This past August, he was honored to receive Journalism Education Association's Medal of Merit.
The students at Tesserae have been on the CSPA and NSPA finalist lists since the school's founding in September 2014, and currently have a four-year streak of Gold Crowns and Pacemakers. Simons said he's incredibly proud of the work they've done, all the more so through the past year and a half amidst the pandemic.
Simons said advising yearbook and student media has transformed his life.
"Teaching and mentoring the student journalists who have come through my labs has been the most challenging and rewarding work of the past 20+ years I've spent in the classroom.
I find joy in advising — teaching, questioning, challenging, prompting, and pushing my students to do their best work in journalism, design, photography, marketing and more. It's a privilege to be a part of their journeys and to support them telling authentic stories of a year in the life of their classmates, school and community. At my best, I hope that by the time they leave our program, I've touched their lives — because I know they've touched mine, many times over."
Margaret Sorrows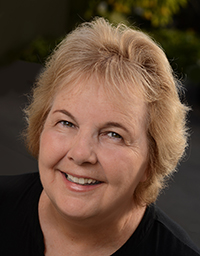 When Margaret Sorrows first started teaching, she was never going to be a career teacher, but it lasted for 36 years and is still going. She said she fell in love with teenagers and advising. The job is never boring and each day brings an interesting perspective.
Sorrows was the 2014 JEA H.L. Hall Yearbook Adviser of the Year. Publications she advised won Gold and Silver CSPA Crowns and NSPA Pacemakers, including the Hornet yearbook selection to the NSPA Hall of Fame in 2008.
Her honors include a 2019 JEA Lifetime Achievement Award, CSPA Gold Key, TAJE Texas Trailblazer Award and runner-up to Arkansas Teacher of the Year. Her students were consistent winners in Jostens Photo, NSPA Photos of the Year and Design of the Year and Quill & Scroll.
In her nomination letter, Lori Oglesbee-Petter said Sorrows shared her love of yearbook and visual storytelling to not only her own students, but to workshop students across the country.
"Workshops clamor to secure Margaret Sorrows as a speaker for their students," she said. "Her patient, practical approach guides staffs to understand the importance of photographs and words designed to tell a story. She provides substantive feedback and offers a nurturing environment for them to meet her expectations of excellence."
Mark Murray said Sorrows name needed to be added to the Pioneer wall of fame.
"So why does Margaret need to be added to this pantheon of honorees? If multiple Pacemakers and Crowns weren't reason enough, her journalism program in Bryant, Arkansas was one of the strongest programs in the country. The number of awards, not just in photography, but in all areas of scholastic journalism, that her students received over the years would stretch from here to the moon. Or at least from Bryant to Dallas. Piling students in buses or on planes to go to workshops and conventions, Margaret made sure that the students from Bryant were exposed to the best of scholastic journalism. And they brought those skills back to the school to produce outstanding publications."
In her impact statement, Sorrows said she firmly believes students want to be involved in a program that achieves success, one that pushes them to work harder, one they assume ownership.
"The publications room provides an environment for young people of diverse backgrounds to work together to solve the dilemma, get that photo, quote or perfect headline written and learn to support each other," she said. "Teaching students to strive for excellence and to always find a way prepares them for college and successful careers. My students learned what a deadline was and how to meet it. Excellence required hard work from all involved. Students learned time management, leadership, communication, marketing and conflict resolution, all valuable lessons as they moved forward in their lives. My mission was to give my students a toolbox of collaboration, character and competence.
"Advising student publications also led me to a professional learning community of educators, many who became my lifelong friends. I am so thankful for this community of advisers, colleagues and friends who have supported and collaborated with me over a love of teaching and advising student media."
And one of those lifelong friends, Oglesbee-Petter, said Sorrows was a teacher who changed lives. She makes scholastic journalism meaningful, memorable and most of all fun.
"If she's at the wheel, hop in for a ride you'll never forget," she said. "You'll learn from a legend and have many stories to tell."