Quill and Scroll, the international honor society for high school journalists, will join National Scholastic Press Association,
the nation's largest press association for high school journalists,
on July 1.
The merger brings together two associations with historic service to scholastic journalism.
Since 1921, NSPA has trained, honored and empowered thousands of student journalists, and its Pacemakers are the nation's preeminent recognition for student media.
Since 1926, Quill and Scroll has inducted student journalists into its honor society at more than 11,300 high schools in all 50 states, the District of Columbia and 30 nations.
"We are excited to have Quill and Scroll join the NSPA family," NSPA Executive Director
Laura Widmer said. "We believe this merger will strengthen both organizations. We embrace Quill and Scroll's mission and look forward to helping it reach new student journalists."
Jeff Browne, Quill and Scroll's current executive director, said it took about a year to organize the merger, and NSPA will now help expand visibility for Quill and Scroll.
"For 101 years now, NSPA has been dedicated to serving student journalists and the programs they are part of," Browne said. "Quill and Scroll's mission is to recognize student excellence in journalism. The two organizations can work hand in hand in making sure students have the best experience they can in scholastic media, and that they can pledge themselves to Quill and Scroll's eight guiding principles — and foremost among those is truth."
As part of the merger, services to Quill and Scroll members will continue through the coming year, including school memberships and charters, student inductions, scholarships and competitions. The Quill and Scroll induction ceremony, which honors and recognizes the achievement of individual student journalists, remains a primary mission.
Widmer, who has served as NSPA executive director since 2016, will also become Quill and Scroll executive director. Browne, who has served as Quill and Scroll executive director since 2017, will serve as interim associate director until a search is completed for a new NSPA associate director in charge of Quill and Scroll. Browne will serve as a consultant during the transition.
The two organizations have a rich, shared history. Renowned pollster George H. Gallup Sr. and a group of high-school advisers founded Quill and Scroll in 1926 at the University of Iowa, and, in 1927, Gallup Sr. was one of the first judges for NSPA's new award, the Pace-maker. Both he and George Gallup Jr. were honored with NSPA Pioneer Awards.
Both associations have had headquarters in the Midwest. For most of its history, Quill and Scroll has been at the University of Iowa, and NSPA was founded at the University of Wisconsin in 1921. NSPA's Scholastic Editor magazine moved to the University of Minnesota in 1926, as did NSPA itself in 1928. NSPA headquarters remains in Minneapolis, near the university, and in 2020, its bylaws were amended to have its president and president-elect represent scholastic and collegiate journalism.
Dick Johns, retired Quill and Scroll executive director who has continued to serve on its board, emphasized the complementary missions of the organizations.
"NSPA and Quill and Scroll have a long history of providing a variety of services to strengthen scholastic journalism and to recognize scholastic journalism excellence in scholastic media as well as the achievements of student journalists," Johns said.
"With the merger comes the opportunity to jointly strengthen those offerings as well as reducing any duplication from one organization to the other," he said. "With this merger, NSPA and Quill and Scroll have the opportunity to become 'stronger together' and to provide the best services possible from each organization."
NSPA and
Quill & Scroll
Learn more and get your questions answered
in our July 1 video.
Laura Widmer
NSPA and Quill & Scroll
executive director
Jeff Browne
outgoing Quill & Scroll
executive director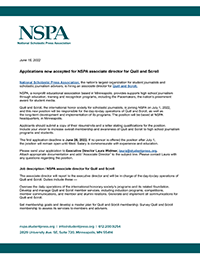 Applications now accepted
for NSPA associate director
for Quill and Scroll
Download the PDF
of the job description.
The position closes July 1, 2022.