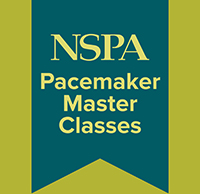 RELATED: Watch the recording of the April 2, 2020, webinar on COVID-19 coverage.
Four veteran advisers whose students have been on the front lines of covering breaking news share how they and their students prepare for the coverage — and continue it.
This 1 hour 30 minute presentation is helpful to both high school and collegiate journalists.
The speakers —
Chuck Clark, Western Kentucky University, Bowling Green, Kentucky

Ellen Austin, The Harker School, San Jose, California
Elizabeth Smith, Pepperdine University, Malibu, California
Mark Witherspoon, Iowa State University, Ames, Iowa
The Pacemaker Master Class is a remote-learning series on coverage, trends and fundamentals across a spectrum of topics.
Future master classes, to be offered for a nominal fee, will focus on the yearbook Pacemaker Award winners and on additional topics including trends and fundamentals.