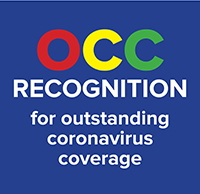 Three major journalism organizations — the National Scholastic Press Association, the Society of Professional Journalists, and the Society for News Design — have joined forces to recognize outstanding COVID-19 coverage by high school media.
The competition has two categories: General Content, and Design, the latter including designs and visuals such as photo illustrations, illustrations and informational graphics.
Print, online and broadcast submissions are welcome. There is no cost to enter.
It is critical, however, that you do not put yourself or others in jeopardy of being infected with COVID-19 through your reporting.
There will be three rounds of the Outstanding COVID-19 Coverage competition, with these deadlines —
Midnight CDT Wednesday, April 15
(for content published before the deadline)
Midnight CDT Thursday, April 30
(for content published after April 15)
Midnight CDT Friday, May 15
(for content published after April 30)
CHECK OUT THE HONOREES from the April 15, 2020, deadline.

Work must be produced entirely by high school students and published by official high school media outlets (broadcast, online, newspaper, magazine, yearbook). There is no limit on the number of entries. NSPA membership is not required.