Gary Lundgren to join ACP as associate director in February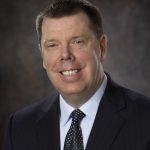 Gary Lundgren has been named associate director at NSPA/ACP and will start work on Feb. 1, 2017. Gary will focus on critiques and contests, as well as programming and innovative services.
"We are excited to have Gary join us as part of the team," Laura Widmer, executive director, said. "His experience makes him a natural fit for what we need to focus on here at NSPA and ACP. His insight will enable us to explore additional member services opportunities."
Lundgren served as the senior marketing manager for Jostens, Inc. since 1997. Before that, he worked as director of student publications at the University of Arkansas and directed the Arkansas High School Press Association from 1988-1997. Prior to Arkansas, he served as executive director of South Dakota High School Press Association at South Dakota State University.
"Journalism has changed more in the last couple of years than it has in the last couple centuries," Lundgren said. "This is such an exciting time to work with student journalists and their advisers as they redefine and reinvent scholastic and collegiate media. Press associations need to evolve and innovate now more than ever, and I am so excited to be part of the NSPA/ACP team."
Lundgren has been awarded the NSPA Pioneer Award, Columbia Scholastic Press Association Gold Key, Journalism Education Association Medal of Merit, South Dakota High School Press Association Founder's Award and Interscholastic League Press Conference Edith Fox King Award.