Royal Purple, Yearbook
Kansas State University 
Each year, the Associated Collegiate Press recognizes excellence in student media with scholastic journalism's preeminent award, the Pacemaker. Pacemakers are awarded in each category of publication — online, newspaper, yearbook, magazine and broadcast.
Teams of media professionals judge entries based on the following criteria: coverage and content, quality of writing and reporting, leadership, design, photography and graphics.
ACP contacted Jacinda Dent, editor in chief of 2015 Yearbook Pacemaker winner Royal Purple, for a Q&A. Royal Purple is the yearbook of Kansas State University in Manhattan, Kansas.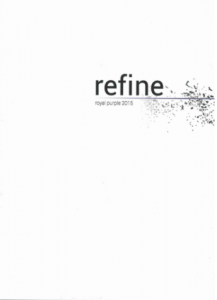 See the full list of 2015 Yearbook Pacemaker winners here.
ACP: What were the goals going into last year, and how did you ensure those goals were met?
Jacinda Dent, editor in chief: The Royal Purple is first and foremost a historic guide to K-State's past. The yearbook provides an insight into what life was like and features highlights, pressing issues and passionate students. It was always the goal of the Royal Purple staff to provide another piece of that history by encapsulating all that we possibly could.
The 2015 Royal Purple staff was a mixture of incredibly talented students with an array of talents. Because of this, we were able to pull together and create a visually pleasing, accurately written publication that stayed true to the values of K-State and the history of the Royal Purple.
ACP: Tell us about a moment you will remember most about this staff.
JD: During my time at K-State, we created a marketing event to increase sales and student involvement. After the books arrived, we spent a few days outside of our student union distributing books. We had giveaways, free locally made ice cream, the student radio station playing music and signings from campus leaders, including head football coach Bill Snyder. To finally have the books in our hands after a year's worth of hard work was incredibly satisfying, but to get to share the book with the entire student body was a wonderfully rewarding experience that I'll never forget.
ACP: What does the Pacemaker mean to you?
JD: The Pacemaker is the pinnacle of my yearbook career. My first and last, I was on yearbook staffs for six years before winning a pacemaker. I love that the last book I worked on won this prestigious award and that the 2015 Royal Purple staff was able to bring the Pacemaker award back to K-State after several nonwinning years. This publication was made by so many talented people — writers, editors, photographers, designers, advisers — and winning a Pacemaker is a wonderful pat on the back to solidify the success of the book.
ACP: What was the toughest moment you faced last year? The most exciting/rewarding?
JD: The hardest moments for any publication come when a deadline is creeping in. My staff was a team of perfectionists and we would spend every second until a spread was due, editing, re-editing, designing and tweaking until we felt we had a perfect page, filled with accurately written words, stunning photos and beautiful design. While those late nights were some of the most stressful ones I endured in my college career, they are also certainly the most rewarding ones as well.