Phoenix Arts and Literary Magazine
Valencia College
Each year, the Associated Collegiate Press recognizes excellence in student media with scholastic journalism's preeminent award, the Pacemaker. Pacemakers are awarded in each category of publication — online, newspaper, yearbook, magazine and broadcast.
Teams of media professionals judge entries based on the following criteria: coverage and content, quality of writing and reporting, leadership, design, photography and graphics.
ACP contacted Emerald Antell, editor in chief of 2016 Magazine Pacemaker winner Phoenix Art & Literary, for a Q&A. Phoenix is the magazine of Valencia College in Orlando, Florida. ACP also heard from Rebekah Rigel, student designer, and Aaron Collado, graphic designer.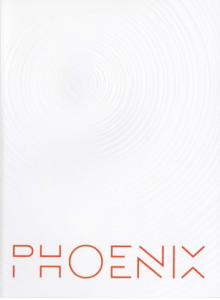 See the full list of 2016 Magazine Pacemaker winners here.
ACP: What were the goals going into last year, and how did you ensure those goals were met?
Emerald Antell, editor in chief: Simply put, we wanted to create something that displayed both what we loved most about student-made art and literature, but also vocalized as many of the voices of Valencia as possible. As a team, we worked together to select pieces that reflected that.
Rebekah Rigel, student designer: We wanted to create an interesting and unique magazine, but still keep it within the budget we had. We tried several ideas and designs and chose the one we felt was most unique and interesting.
Aaron Collado, graphic designer: We built on a concept entirely from scratch, planning, building, we came up with new concepts every single week, we were a group of designers that strived for a clean aesthetic, with a stellar twist.
ACP: Tell us about a moment you will remember the most about this staff.
EA: Every time our team gathered together to work on this magazine will be a memory that stays with me, especially during the selection process. When you're working with a number of different people, you're also working with a number of different personalities and opinions. Everyone was so passionate about the project, and sometimes those passions conflicted. But it only made for more discussion, more collaboration and a more well-rounded publication.
RR: I enjoyed the days when we had meetings with our editors (they chose and edited all of the student submissions). We talked through all of our ideas and checked everything for edits and typos. I enjoyed the collaboration we had.
AC: Bringing in my own ideas and making them even better. The astronomer's page was built around my idea. And I am sincerely proud that we created such a cool-looking page at the spark of a concept I had in mind.
ACP: What does the Pacemaker mean to you?
EA: For me, this was the first project that I had the opportunity to lead as an English major and as someone who hopes to continue to work with literature in the future. The finished product would be a solid, material thing that I could speak to when pursuing my career. To have that very first project receive such an honor was extremely heartening and continues to inspire me on my path.
RR: It is a great honor to me that the judges felt our work was good enough to receive this award!
AC: It's a huge achievement. I am so grateful for this experience, coming in to where I had no idea what the Phoenix project was, but once I really got into it and understood what it was I couldn't be more excited. And the fact that we won a Pacemaker award because of this issue that we designed as a group, I was ecstatic.
ACP: What was the toughest moment you faced last year? The most exciting/rewarding?
EA: My toughest and most rewarding moment are one and the same. The sheer volume of submissions that we had to pore over and pick through with a fine-tooth comb during selection, editing and multiple revisions would often be overwhelming, especially for myself and my fellow editor in chief. This project was really a heart work for the both of us, and we strived to create something that reflected that. We were constantly encouraging one another and providing each other with a support system. It was a real challenge putting so much of ourselves into the project, but it was also highly rewarding.
RR: I think the toughest part of this process was the brainstorming. We had a theme, "Stellar," but we had to figure out what that meant for our publication and how the design would reflect that theme. We had to make sure all of the parts came together as one cohesive book.
AC: Time. Time management was a struggle, but we overcame it.