The Mercury, Newspaper
University of Texas at Dallas
Each year, the Associated Collegiate Press recognizes excellence in student media with scholastic journalism's preeminent award, the Pacemaker. Pacemakers are awarded in each category of publication — online, newspaper, yearbook, magazine and broadcast.

Teams of media professionals judge entries based on the following criteria: coverage and content, quality of writing and reporting, leadership, design, photography and graphics.
ACP contacted Chad Thomas, adviser of 2016 Newspaper Pacemaker winner The Mercury, for a Q&A. The Mercury is the newspaper of The University of Texas at Dallas in Richardson, Texas.
See the full list of 2016 Newspaper Pacemaker winners here.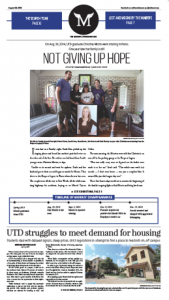 ACP: Tell us a little bit about the editors and staff of your Pacemaker-winning publication.
Chad Thomas, adviser: This Pacemaker-winning group was supportive, professional, hardworking, mature, fun, inclusive, innovative, motivated and talented. It was a crew that drew much of its identity from a dynamic editor who personified charismatic (and servant) leadership. The staff, meanwhile, was highly invested in the organization and in the success of the individuals in it.
ACP: Is there any one issue, story, photo, package, etc. that stood out during the year?›
CT: One issue stands out in particular. A recent graduate of UT Dallas had gone missing, and police suspected foul play. Months had gone by with no arrests and no signs of her whereabouts or body. So the editor, Esteban Bustillos, and a staff writer, Cara Santucci, worked on a pair of in-depth stories that served as the anchors for the back-to-school issue that fall. They spent days with the young woman's family, one of which included a daylong search in rural North Texas where police believed her remains might be found. Their reporting went well beyond what the local media had done — they told heart-wrenching stories about the family members' struggles and daily life. They returned for multiple interviews and search sessions to develop trust and rapport. Their work truly surpassed what one would expect from college journalists.
ACP: What qualities will you remember the most about this Pacemaker-winning staff?
CT: The togetherness of the staff was remarkable. Editors welcomed in new students, promoted diversity and forged or renewed relationships with organizations on and off campus. While it's not wise to become buddies with the sources you cover, it undoubtedly helps to not have a contentious, confrontational relationship. The staff reconnected with student government administration and senators, as well as the campus police and athletics. As a result, coverage of those areas — certainly the sourcing of them — improved. The staff of The Mercury also developed or revived collaborative projects with their fellow media groups, including a radio news show, a TV sports segment and a panel discussion/debate program.
ACP: What does the Pacemaker mean to you and your staff?
CT: We see the Pacemaker in several ways: Outside of reader feedback, it's the single most important affirmation of their work. I'd also think of it as a sort of self-doubt suppressant. Our students are majoring in accounting, psychology, political science, economics or game design — not communication or journalism. Because they receive no classroom support or instruction in journalism, and because few of them want to pursue it in any shape or form in the future, there's an underlying sense of inadequacy, as if their work will forever be inferior to that of their peers at other institutions. The Pacemaker wipes away that residue of doubt and instills a sense of confidence and excitement. Lastly, the Pacemaker acts as a baseline expectation of quality that is high and difficult to reach, yet still realistic and achievable.