Welcome to the 2019 College Media Mega Workshop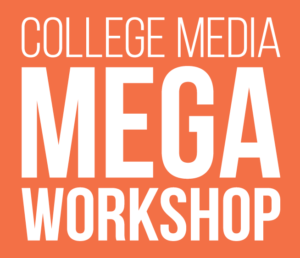 The College Media Mega Workshop starts soon, and we can't wait to meet all of you.
This is an exceptional conference, with a wide variety of tracks, almost 350 attendees and stellar instructors. These four days will make a real, significant effect on you and your publication. Are you ready?
Here's what you need (and what you won't). Pay special attention to the list for your specific track. If your track isn't listed, there is nothing extra for you to bring. Please read to the end of this email so you don't miss any important details.


REGISTRATION

Registration will begin at 10 a.m. Thursday, July 11. The general session begins at 1 p.m. Registration will be in Murphy Hall, and the opening session will be in room 100 of Smith Hall.


PARKING
LODGING

Check-in at the residence halls is 1 p.m., but you can arrive anytime after that. Make sure you have a photo ID when you check in. You can view an interactive map of the campus here. Upon check-in, you will receive your room key, building card access and parking pass (if you purchased one). If you are checking in very late in the evening, please let us know.
Students staying in single rooms will be in Centennial Hall. Students in double rooms will be in Comstock Hall. Students who purchased a parking pass should park in the East River Road Garage. Check in is NOT available at Comstock Hall 4:30-7 p.m. each day. You must check in before 4:30 p.m. or after 7 p.m. Check in is available 24/7 at Centennial Hall.
Advisers who have registered for the dorms will stay in Middlebrook Hall, across the bridge at 412 22nd Ave. South, Minneapolis, MN 55455. You will receive an additional email with information and traveling between the East and West Bank campuses. Advisers who have purchased a parking pass should park in the 21st Avenue Ramp.
If you did not pre-register for parking, you will need to pay the regular daily rate as you enter/exit.


WHAT TO BRING

Everyone
Laptop to work on. Computer lab space is limited.
Money for food. All meals are on your own.
A notebook/pen or laptop for note-taking.
Resumes, portfolios, links to personal websites, etc., if you'd like to have them critiqued.
Extra copies of your publication for exchange throughout the weekend.
Charging cords for your computer and phone.
Light sweater or jacket in case the rooms get cold.
Ad Rep Boot Camp
Copy of your media kit/rate card
Three regular newspaper editions
1-2 special sections
Radio Management
Portable recording device of your choice.
Design/Redesign
Packaged (with fonts and images) InDesign files and PDFs of past published pages.
Font files you are considering for your redesign.
USB flash drive
Laptop with Adobe Creative Suite installed, if you have one.
Digital Journalism
Recording/reporting device(s) you are most comfortable with (smartphone, DSLR camera, audio recorder, video camera, etc.).
Organizational Leadership:
Copies of your publications for critique and to show.
Sports Reporting
Visual Storytelling
DSLR Camera and lenses
Smartphone
Laptop with Adobe Photoshop and Bridge (or other photo editing software) installed.
USB flash drive
Dorm Rooms
A photo ID — needed to check into the dorms.
Personal care items, such as shampoo, conditioner, soap, lotion, etc.
Small carrying case or plastic bucket to carry toiletries
Flip-flops for shower
Clothes hangers
Laundry bag and detergent, if you plan to do laundry.
WHAT NOT TO BRING
Towels, bedding and pillow. These are provided.
Guns, ammunition or any other weapons or firecrackers.
Electrical appliances or cooking appliances.
Multiple outlet (octopus) power strips.
Candles and candle warmers, incense, hookah or any other materials that have the potential for an open flame.