Coppell Student Media
Coppell High School
Each year, the National Scholastic Press Association recognizes excellence in student media with scholastic journalism's preeminent award, the Pacemaker. Pacemakers are awarded in each category of publication — online, newspaper, yearbook, magazine and broadcast.
Teams of media professionals judge entries based on the following criteria: coverage and content, quality of writing and reporting, leadership, design, photography and graphics.
NSPA contacted Chase Wofford, adviser of 2016 Online Pacemaker recipient Coppell Student Media, for a Q&A. Coppell Student Media is the online student news site of Coppell High School in Coppell, Texas. 
See the full list of 2016 Online Pacemakers here.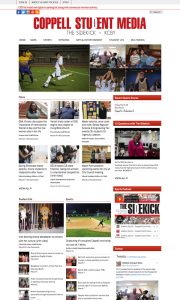 NSPA: Tell us a little bit about the editors and staff of your Pacemaker-winning publication.
Chase Wofford, adviser: This group of editors is just special. Many of them have spent all four years of high school in our newsroom, and having this group lead our program to its first NSPA Online Pacemaker is incredibly satisfying. They worked so hard the past year to achieve this milestone for our program — ranging from attending summer workshops, national conventions, examining what other programs are doing online, trying new things — the list goes on and on. They have talked about winning a Pacemaker since the moment they joined the staff and worked each year to develop a better website for our audience.
NSPA: How did the staff ensure the quality of the publication?
CW: It is hard to find a large group of students with the same expectations and standards as the adviser. However, this staff has such a high level of expectations and put in the work to reach this level. Most of the staff never took a day off, typically putting in more hours at night and on the weekend than the typical high school journalist. In August, during our editor planning days, they established #BeyondWords for the 2016-17 Sidekick newspaper and Coppell Student Media. They wanted to tell students for our campus and community that make an impact. Within #BeyondWords, they talked about never settling for anything but the very best work, getting out of your comfort zone, working as a team and having enthusiasm for our program. They lived up to this challenge each and every day.
NSPA: Is there any one issue, story, photo, package, etc. that stood out during the year?
CW: Like most advisers will probably answer, it is hard to single out just one item from this year. When international travelers were stranded at DFW Airport in February when the president issued his immigration orders, our top reporters quickly arrived at the airport to cover the story. When people from around the state converged in Austin in January for the Women's March, our editor in chief made the 200-mile trip to tell the story. And when one of our writers told her story about an abusive father, which became our Page 1 story in the April issue, I told her I admired her courage and asked if she was ready for the "celebrity attention" she was going to receive with her story placement, she just smiled and said "I just hope I can inspire somebody and make a difference in their lives through my story." That response sums up why this year's staff is special. That is what journalism is all about.
NSPA: Tell us about a hardship or obstacle you felt your staff overcame.
CW: I have talked about how great things have been with an incredible leadership team. Of course, things are not always perfect in any newsroom. With November's presidential election and the many sensitive issues facing our community and nation, this year did have its share of challenges. I try to teach my opinion writers that when writing your column or editorial, do not simply strive to make everybody agree with you. That's not realistic. What you want to do as a columnist is to make people think and simply start a discussion. Start a fruitful discussion. We had a handful of opinions pieces which created tension and arguments among some of our very best writers. While I admired their passion, I used this as a learning opportunity to showcase the platform we have to express ourselves and our opinions, but we must always be respectful of our audience and their reactions. Some of our editorial cartoons pushed the envelope to the point where students inside and outside of our newsroom expressed their disappointment in our news judgement. Good news is we did not let it fracture our staff, allowed readers to respond, and moved on.
NSPA: What qualities will you remember the most about this Pacemaker-winning staff?
CW: I will remember an editor-in-chief who made an effort to connect with each staff member and brought an infectious positive attitude to our newsroom each day. What an amazing leader she has been.
I will remember a news editor who is one of the very best reporters ever to participate in our program. She has the ability to think one step ahead of the adviser and challenges her writers to be better reporters.
I will remember a sports editor who sacrificed so much of his past two years in high school to be on the sideline or in the press box to cover our teams online, social media and in print as well as any sports reporter ever has.
I will remember the dedication of the entire staff and the improvement year to year of this group. As NSPA Online Pacemaker finalists in 2016, they found ways to improve CoppellStudentMedia.com rather than simply sticking to what we had been doing. Pacemaker or not, that's what you want with the kids in your program — a desire to serve your audience better and to improve individually as a student journalist.
Most importantly, I will remember this group for being wonderful journalists but even better people.
NSPA: What does the Pacemaker mean to you and your staff?
CW: I have been blessed to have served as adviser of The Sidekick newspaper at Coppell High School since 2005, and we launched Coppell Student Media online in 2008. I have been so fortunate to have had many incredible students and journalists, as we have been recognized on a regional, state and national level. However, this was the first time to receive a Pacemaker.
For the students (seniors), I believe they feel a "mission accomplished" as they reached their goal of earning a Pacemaker. I hope the sophomores and juniors, while thrilled at the accomplishment, view it as an opportunity to do even better things moving forward and not settling for past accomplishments.
For myself, I was unsure what the Pacemaker would mean to me as it has been a personal professional goal. But since Seattle, I've realized it is about the relationships we have established with this special group of seniors. What I remember about hearing "Coppell Student Media" called in Seattle is how happy the kids were and their reaction. I'll remember them taking pictures and the pure excitement on their faces. I will remember that forever.