NSPA hires Johnson as communications director
A veteran media adviser has been hired as communications director for National Scholastic Press Association and Associated Collegiate Press.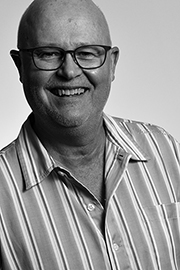 Ron Johnson, former adviser at three universities over three decades, has been named to the position, Laura Widmer, NSPA/ACP's executive director, announced today.
"We are thrilled to have Ron join the team as communications director," Widmer said. "His 30-plus years of experience in student media is such an asset for our members.
"Ron has been a big part of our high school and college conventions, as well as a critique and Pacemaker judge over the years. His knowledge of scholastic media is invaluable."
Johnson will coordinate print, digital and social-media communications, projects and outreach for both scholastic and collegiate press associations. He said his students at Indiana University, Kansas State University and Fort Hays State University (KS) have long benefited from both NSPA and ACP.
"I now have the opportunity to help today's students, just as my students learned and grew through our workshops, conventions and competitions," Johnson said.
His journalism alumni work and have worked in news and communications at entities large and small, including The Washington Post, The New York Times, Los Angeles Times, Associated Press and National Public Radio, as well as regional and local outlets and organizations.
"Now more than ever, it's important to tell the stories of student journalists and their advisers," Johnson said. "They're on the front lines in a fast-changing industry, and, to be honest, they are key contributors to our democracy."
National Scholastic Press Association is incorporated in Minnesota as a non-profit educational institution and based in Minneapolis. Its NSPA high-school division and its ACP collegiate division educate and recognize student journalists, media advisers and educators across the United States and abroad. Their conventions are the nation's largest gatherings of student journalists, and their Pacemaker Awards are recognized as one of the top prizes in student journalism. It celebrates its centennial in 2021.
"We have a lot of reader services we want to add for our members, and having Ron on board will enable us to reach those goals," Widmer said. "We are excited to have his insight and ideas as we look at membership services and opportunities."