Roars and Whispers, Magazine
Providence Senior High School
Each year, the National Scholastic Press Association recognizes excellence in student media with scholastic journalism's preeminent award, the Pacemaker. Pacemakers are awarded in each category of publication — online, newspaper, yearbook, magazine and broadcast.
Teams of media professionals judge entries based on the following criteria: coverage and content, quality of writing and reporting, leadership, design, photography and graphics.
NSPA contacted Hannah Magraw, publicity editor of 2016 Magazine Pacemaker winner Roars and Whispers, for a Q&A. Roars and Whispers is the magazine of Providence High School in Charlotte, North Carolina. NSPA also heard from staff member Emma Carter and business editor Paige Thomas. 
See the full list of 2016 Magazine Pacemaker winners here.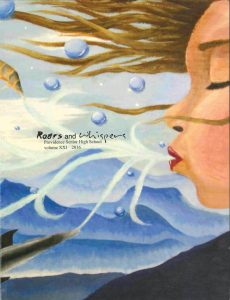 NSPA: What were the goals going into last year and how did you ensure those goals were met?
Hannah Magraw, publicity editor: I wanted to do my part in pairing the best of our school's writing and art and tying it together with my own graphic design. I made sure that for all the spread I worked on that I tried tons of different ideas and designs both in and out of class.
Emma Carter, staff member: Our goals last year were to overhaul and modernize our design. To meet these goals, we worked a lot on design in class.
Paige Thomas, business editor: One of my biggest goals for last year was to improve myself as a writer. I always was inspired by all of the seniors who had amazing, stylistic pieces; however, I always found myself writing the same thing: a cliche, angst-comprised poem. So I decided to improve my writing. Not only did I go home and begin writing new pieces almost daily, but I also started writing in different genres and exploring my creative voice. It wasn't until this year that I found my true niche: comedy writing. Now, not only do I feel prideful of my writing, but I also feel that I have developed my own creative voice, something that I never thought I could do.
NSPA: Tell us about a moment you will remember the most about this staff.
HM: When we finally submitted every page of the magazine thoroughly checked after seven months of hard work, my copy editor picked up the massive 3-inch final check binder and spun around the room grinning. He then went around and hugged everyone on staff.
EC: I remember when we finished the magazine, our copy editor sat with our giant 3-inch editing binder for 20 minutes. We put so much work into editing the magazine, staying after school daily for hours during our crunch time.
PT: I will never forget the day that all the editors and I came in on a teacher workday to work on our magazine for over five hours. This was one of the first times that I felt as if I was contributing to something important, or better yet, one of the first times I felt as if I was truly part of a caring family.
NSPA: What does the Pacemaker mean to you?
HM: It means continuing a tradition of excellence to make our readers, patrons and former staff proud. It's a confirmation of our hard work and how this program continues to grow.
EC: The Pacemaker represents the work that we put into last year's magazine, the work we put in to give it a new look and the work we put in to the editing to make sure everything was perfect.
PT: Two years ago, if someone was to ask me what a Pacemaker is, I would be left absolutely clueless. But after working on my staff for two years, I have learned that a Pacemaker means much more than a title or plaque. A Pacemaker is an atonement to the hours of diligence, days of perfecting, and months of pure dedication alongside a family who is just as passionate about the success of your magazine as you are. A Pacemaker is a symbol of the endless passion that coexists with creating a publication. Today, I am so proud to announce that my family and I have earned a Pacemaker.
NSPA: What was the toughest moment you faced last year? The most exciting/rewarding?
HM: The toughest time was March: For us, it is a long stretch of copy, design and final checks in which we try and catch any minuscule problem. Editors each typically put in 20 hours before and after school as well as spending every moment of class focused and working hard. This last push toward perfection is stressful, but in the end, it is quite rewarding.
The most exciting moment was when the editors stayed after school waiting for the magazine boxes to be delivered. After hauling upstairs the hefty boxes, we got to open them and see all of our work in print. It was better than Christmas morning!
EC: As a newbie last year, I faced a lot of difficulties because I had to learn not only the basics of magazine production but also how to contribute to the major redesign of the magazine.
PT: I believe that one of the hardest moments that I had to overcome was dealing with the vigorous and tedious process of copy editing our magazine; however, I am more than cognizant of its necessity to perfecting our magazine. In fact, I have grown to love copy editing, even finding it stress-relieving.