The Rubicon, Online
St. Paul Academy and Summit School
Each year, the National Scholastic Press Association recognizes excellence in student media with scholastic journalism's preeminent award, the Pacemaker. Pacemakers are awarded in each category of publication — online, newspaper, yearbook, magazine and broadcast.
Teams of media professionals judge entries based on the following criteria: coverage and content, quality of writing and reporting, leadership, design, photography and graphics.
NSPA contacted Kathryn Campbell, adviser of 2016 Online Pacemaker recipient The Rubicon, for a Q&A. The Rubicon is the online newspaper of St. Paul Academy and Summit School in St. Paul, Minnesota.
See the full list of 2016 Online Pacemaker winners here.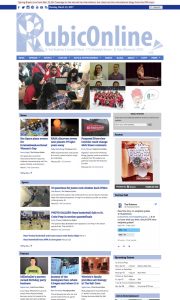 NSPA: Tell us a little bit about the editors and staff of your Pacemaker-winning publication.
Kathryn Campbell, adviser: This is the first year that the online staff has run as a class independent from the print staff, so this was a new leadership format for us. During interviews last spring, I was struck by the exemplary vision for how we could grow, and this group of editors realized so many of those goals and continued to develop more as the year went on. They were risk takers, venturing into Facebook Live and Snapchat stories and Twitter polls … while also figuring out how to use the tools available within our website to best showcase stories. They reveled in each others' company and ideas, and it was just crazy fun.
NSPA: How did the staff ensure the quality of the publication?
KC: Our top leadership all focused on something different: Director of RubicOnline was responsible for all aspects of web news, while production manager ensured that staff morale and workflow stayed on point. The creative design manager played with on-site interactivity and the look of stories (using SNO Design options and embeds), and the social media manager facilitated community engagement. Section editors took a high level of responsibility for asynchronously assigning content, while also working as a collaborative team to create continuity across the site.
NSPA: Is there any one issue, story, photo, package, etc. that stood out during the year?
KC: The online staff plans for conversations across sections, and I love that. It's not uncommon for a story to go up in news that is then linked to a story in Opinion. In April, the staff decided to plan half their stories on a theme, so we had this strand on big data that ran for the month with one to two stories going up across sections all month on an aspect of data privacy, internet and legislation.
NSPA: Tell us about a hardship or obstacle you felt your staff overcame.
KC: Not being bound to column inches meant that we set really lofty release goals at the beginning of the year, and if our little staff of 13 had continued racing the clock like that, everyone would've been burned out by December. So we recalibrated; we figured out how to ensure strong content delivery while also ensuring there was time for quality, for experimentation and for homework. They're all students, too, after all!
NSPA: What qualities will you remember the most about this Pacemaker-winning staff?
KC: Their independence. Their creativity. Their motivation. Their willingness to test limits. Their tremendous support of each other.
NSPA: What does the Pacemaker mean to you and your staff?
KC: We were in Seattle when the Pacemaker was announced, and I remember sending Kelby Wittenberg, our photojournalist, up to get the award and I don't think anyone's feet touched the ground for another day or two.
It's an honor to know that the judges recognized what we do and saw it as excellent and inventive. When the students are doing the work, they aren't thinking about awards — they're thinking about the community, the best way to tell a story, the issues and events that matter, how to build in entry points for readers. An award like this validates their choices as journalists while challenging them to keep taking it further.
---
NSPA also heard from Mimi Geller, acting director, and Kelby Wittenberg, chief visual editor.
NSPA: What were the goals going into last year and how did you ensure those goals were met?
Mimi Geller, acting director: Goals our publication had was to ensure new staffers understood how to make our stories increasingly interactive. We taught each other how to use HTML code to program features on our pages, and we added things like quizzes and Twitter poles to routine content we publish.
Kelby Wittenberg, chief visual editor: Last year, one of our main goals was to teach the staff basic coding in order to grant them the ability to have a lot more freedom in how they could structure their stories. Our EIC ensured this happened by signing us all up for Khan Academy so we could teach ourselves how to code.
NSPA: Tell us about a moment you will remember the most about this staff.
MG: I will never forget when I published my first video about a local bike tour. In the video, I used a GoPro as I biked to provide viewers firsthand images of what the tour is like. The video was simple, yet the staff was so supportive of its fruition and encouraged me to continue making videos, which I have.
KW: At the end of last year, the entire staff got together to have lunch and socialize at a local park. It allowed me to really get to know who I was working with, so it felt very special.
NSPA: What does the Pacemaker mean to you?
MG: Our staff works incredibly hard to raise the standard of student journalism at our school, and we continually strive to explore new ways of reporting. Earning the Pacemaker allows me to believe our hard work is truly meaningful. The Pacemaker further invokes our staff to strive to work harder, dig deeper and explore student journalism in increasingly more depth.
KW: It means that the work my peers and I have put into our paper is being recognized. I know people that prioritize the paper over most other extracurricular activities, and to see them ecstatic about winning something that shows how hard they work is truly special.
NSPA: What was the toughest moment you faced last year? The most exciting/rewarding?
MG: My toughest moment was completing a video with difficult footage to edit, yet my peers were supportive and helped me tremendously. My most exciting experience was earning my position as the new Director of RubicOnline, voted by my staff and adviser. I realized just how impactful my work had been, and I am incredibly excited to serve my new role come next year.
KW: As a photographer, sometimes the events I was shooting in happened in less than ideal weather. I got a friend from staff to help me though, and he held an umbrella over me while I used both hands to simultaneously take pictures and shelter my camera from the rain. I find the most rewarding moments are when I publish a photo story that I feel exceptionally good about. It's nice to feel good about your work, and it makes me feel proud to share it.