The Stampede, Yearbook
J.W. Mitchell High School
Each year, the National Scholastic Press Association recognizes excellence in student media with scholastic journalism's preeminent award, the Pacemaker. Pacemakers are awarded in each category of publication — online, newspaper, yearbook, magazine and broadcast.
Teams of media professionals judge entries based on the following criteria: coverage and content, quality of writing and reporting, leadership, design, photography and graphics.
NSPA contacted members of 2016 Yearbook Pacemaker winner The Stampede, for a Q&A. The Stampede is the yearbook of J.W. Mitchell High School in New Port Richey, Florida. NSPA heard from editor in chief Alexa Rosenberg and staff member Mileen Meyer.
See the full list of 2016 Yearbook Pacemaker winners here.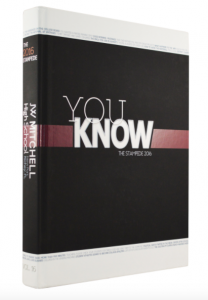 NSPA: What were the goals going into last year, and how did you ensure those goals were met?
Alexa Rosenberg, editor-in-chief: Our goals for last year were to expand and improve our skills as an overall staff and ensure everyone's talents were used fully to create a book our student body identified with. Our goals were met by the hard work of the editors and staffers constantly working together on every little detail of the book and making sure it was all top quality before being submitted.
Mileen Meyer, staff member: My goals were to complete my assignments on time and provide the best possible work. I did this by setting dates for when to go out and take pictures at sporting events and then using my class time to write stories, captions, etc.
NSPA: Tell us about a moment you will remember the most about this staff.
AR: My favorite moment right before one of our major deadlines was trying to get the main photo for one of our division pages. We had 30 seniors drive back to school at 8 at night to stage a water gun fight in the parking lot. It started off harmless and then everyone was getting soaked, including the photographers (but not the cameras). We didn't end up using the pictures but it was a fun moment.
MM: I will most remember the hours of hard work that everyone put in. Redoing spreads time and time again gets very stressful, but working together and pushing through helped us to create an award winning book.
NSPA: What does the Pacemaker mean to you?
AR: This Pacemaker means the absolute world to me and I don't think I can express it enough. All four years of high school I poured everything I had into all my yearbooks, and then receiving the honor of being EIC was huge for me. I loved all the editors, my staff and especially my adviser for helping with the book and the pride I have for our product reaches no boundaries. Getting rewarded for the long hours, occasional breakdowns and gallons of coffee we consumed just topped off the amazing year we had.
MM: The Pacemaker is a very important award to me since it shows that our book was one of the best in the nation.
NSPA: What was the toughest moment you faced last year? The most exciting/rewarding?
AR: The toughest moment I think was a personal one for me. I was balancing a band leadership position, AP classes, as well as being the only EIC. It was a huge adjustment because our staff has always had at least two, and sometimes I was faced by the sheer overwhelmingness of what I had to do, especially because I didn't want to let anyone on my staff or the school down; I felt I owed them an amazing book. But my staff and my adviser helped me in so many ways I'll never be able to repay them. So the most awarding had to be getting the Pacemaker award because it was the third time our staff had ever received one and I felt all the hard work and stressing meant something in the end.
MM: The toughest moment I faced was having to work with students who did not give interesting quotes for my stories, etc. The most rewarding was completing all the content for a spread and being able to see the final design with my work and pictures.