Wings, Yearbook
Arrowhead Christian Academy
Each year, the National Scholastic Press Association recognizes excellence in student media with scholastic journalism's preeminent award, the Pacemaker. Pacemakers are awarded in each category of publication — online, newspaper, yearbook, magazine and broadcast.
Teams of media professionals judge entries based on the following criteria: coverage and content, quality of writing and reporting, leadership, design, photography and graphics.
NSPA contacted Crystal Kazmierski, adviser of 2016 Yearbook Pacemaker winner Wings, for a Q&A. Wings is the yearbook of Arrowhead Christian Academy in Redlands, California.
See the full list of 2016 Yearbook Pacemaker winners here.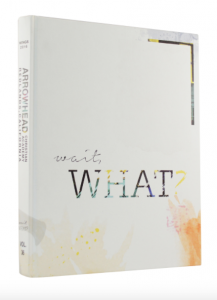 NSPA: Tell us a little bit about the editors and staff of your Pacemaker-winning publication.
Crystal Kazmierski, adviser: Editors were experienced, intelligent and very committed to the project.
NSPA: How did the staff ensure the quality of the publication?
CK: Their goal was to get things done ahead of time in order to spend more time proofing and adjusting things.
NSPA: Is there any one issue, story, photo, package, etc. that stood out during the year?
CK: The San Bernardino shooting page was a reflection of a scary few days, given that the terrorists' apartment was two blocks from our school. The reality hit hard, and the desire to cover that event in a meaningful way was very strong.
NSPA: Tell us about a hardship or obstacle you felt your staff overcame.
CK: Editors had strong personalities and voices, which meant a few clashes along the way. It was good to see them work out their differences and pick their battles.
NSPA: What qualities will you remember the most about this Pacemaker-winning staff?
CK: They were so, so talented, and we had a lot of fun making this book. Loved how they infused the book with their personalities and work ethic. This was a great team!
NSPA: What does the Pacemaker mean to you and your staff?
CK: It means validation in so many ways. These kids work just as hard as our sports teams and fine arts groups. Being nationally recognized means a lot to them.
---
NSPA also heard from Cassidy Brown, editor in chief of Wings.
NSPA: What were the goals going into last year, and how did you ensure those goals were met?
Cassidy Brown, editor in chief: We wanted to utilize our staff's talent to the best of their abilities, maintain traditional yearbook format by writing full, worthwhile stories with meaningful content, create a balance between lighthearted and thought-provoking, teach the staff to become better writers, artists, photographers, designers and creative thinkers, produce something that has not been seen before, and simply create the best book we could.
NSPA: Tell us about a moment you will remember the most about this staff.
CB:  I will always look back fondly on our work night dinners. After hours of hard work after school every Thursday, five of us would pile into my car and sing at the top of our lungs until we arrived at dinner. We would sit at a huge table as a staff and eat, laugh, tease, brainstorm, discuss and use our creativity to have some extremely interesting conversations. It was a time where we could all unwind together after a long day of work. It's what I miss the most about Wings after graduating.
NSPA: What does the Pacemaker mean to you?
CB: A Pacemaker is proof of all the late nights, the passion, the arguments, the long hours and the heart that went into our book. We worked our tails off for almost a year to produce our "baby," and the Pacemaker is a symbol of how much we cared about producing the best book we could.
NSPA: What was the toughest moment you faced last year? The most exciting/rewarding?
CB: My toughest moment last year was at the Elite Workshop at the beginning of fall. The editors in chief were working together on theme copy, which is an aspect of the book that we all felt very strongly about. I wrote a piece of copy that I was very proud of, but my co-editor in chief was not quite as impressed. Because we were both so passionate about making our book as perfect as it could be, it turned into quite the conflict. Between the three editors and our adviser, we decided that a "majority rule" method of conflict resolution would lead to a much smoother year, considering we had some very passionate and stubborn people on our editorial team. We established the phrase, "I win — moving on" to keep ourselves productive and minimize conflict for the remainder of the year.
The most rewarding part of creating this book was not the awards or the praise. It was the experience of seeing everybody flip through the book for the first time. Seeing the newbies on staff sniff the pages when they receive the physical evidence of their hard work for the very first time. Watching students flip through the stories and laugh at the silly picture of their friend on the basketball page. Hearing the teachers comment on the stories that moved them the most. Holding my book in my hands for the first time gave me a sense of pride, but seeing my year's work bring a smile to somebody's face gave me satisfaction.