2020 magazine Pacemaker finalists announced
NSPA honors 17 literary arts magazines
REGISTER to watch the live awards ceremony, at 1 p.m. CT Saturday, April 10.
WATCH the NSPA Live! presentation of the finalists from March 19, 2021.
March 19, 2021
MINNEAPOLIS — Honoring the nation's best, the National Scholastic Press Association has named 17 scholastic literary arts magazines as finalists in its prestigious Pacemaker competition.
Pacemaker winners will be announced at 1 p.m. CT Saturday, April 10, as part of the virtual JEA/NSPA Spring National High School Journalism Convention.
"The Pacemaker is the association's preeminent award," Executive Director Laura Widmer said. "NSPA is honored to recognize the best of the best."
The NSPA Pacemaker, one of the oldest awards for scholastic journalism, has a rich tradition. The association started presenting the prestigious award to high school newspapers soon after the organization was founded in 1921. Throughout the years, yearbooks, magazines, online sites and broadcast programs were added to the competition.
The 17 Pacemaker finalists represent 12 states. Texas led with four finalists, followed by Florida with three.
"The literary arts magazines selected by the judges reflect both classic and contemporary formats," said Gary Lundgren, associate director and coordinator of the Pacemaker competition. "The quality of the art, photography, poetry and prose showcased on the pages of these magazines is amazing."
To reflect trends in scholastic publishing, a specialty magazine category was added in 2018 to recognize niche magazines devoted to in-depth reporting on a single topic. Five specialty magazines were recognized in November.
NSPA awards ceremony
1 p.m. Central
Saturday, April 10, 2021
Pacemaker Award winners for 2020 yearbooks and literary magazines and 2021 online will be announced at this ceremony, as will winners in the convention's Best of Show competition.
To view the virtual ceremony, register for the JEA/NSPA Spring National High School Journalism Convention.
LINKS
2020 Yearbook Pacemaker Award finalists
2021 Online Pacemaker Award finalists
2020 Literary Magazine Pacemaker Finalists
Past award winners
Awards information
Contest information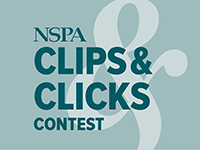 Enter NSPA's newest competition, Clips & Clicks.