Humans of Dementia contest winners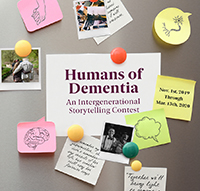 National winners in the Humans of Dementia: An Intergenerational Storytelling Contest have been announced in both high school and collegiate divisions.
NSPA and Associated Collegiate Press joined main sponsor Hilarity for Charity, a national Alzheimer's nonprofit organization, in promoting the competition, with additional co-sponsors AARP, Generations United, Memory Well and USAgainst Alzheimer's.
The competition began in November 2019 and concluded April 1, 2020.