OCC: Recognition for Outstanding Coronavirus Coverage
Congratulations to our honorees in the OCC recognition program.
National Scholastic Press Association, the Society of Professional Journalists, and the Society for News Design are partners in recognizing outstanding COVID-19 coverage by high school media.
The competition has two categories: General Content, and Design, the latter including designs and visuals such as photo illustrations, illustrations and informational graphics. Because of the overwhelming number of entries for April 15, we also subdivided General Content into broadcast, online and print.
Print, online and broadcast submissions are welcome. There is no cost to enter.
If you choose to participate in this recognition program, it is critical that you do not put yourself or others in jeopardy of being infected with COVID-19 through your reporting. Safety first.
Honorees from the three rounds of the Outstanding COVID-19 Coverage competition are posted below as they are announced. The deadlines, for content published before the deadline —
Midnight CDT Wednesday, April 15
Midnight CDT Thursday, April 30
Midnight CDT Friday, May 15
Submit entries through this page.
Work must be produced entirely by high school students and published by official high school media outlets (broadcast, online, newspaper, magazine, yearbook). There is no limit on the number of entries. NSPA membership is not required.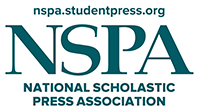 April 15, 2020, recognition
Design / visuals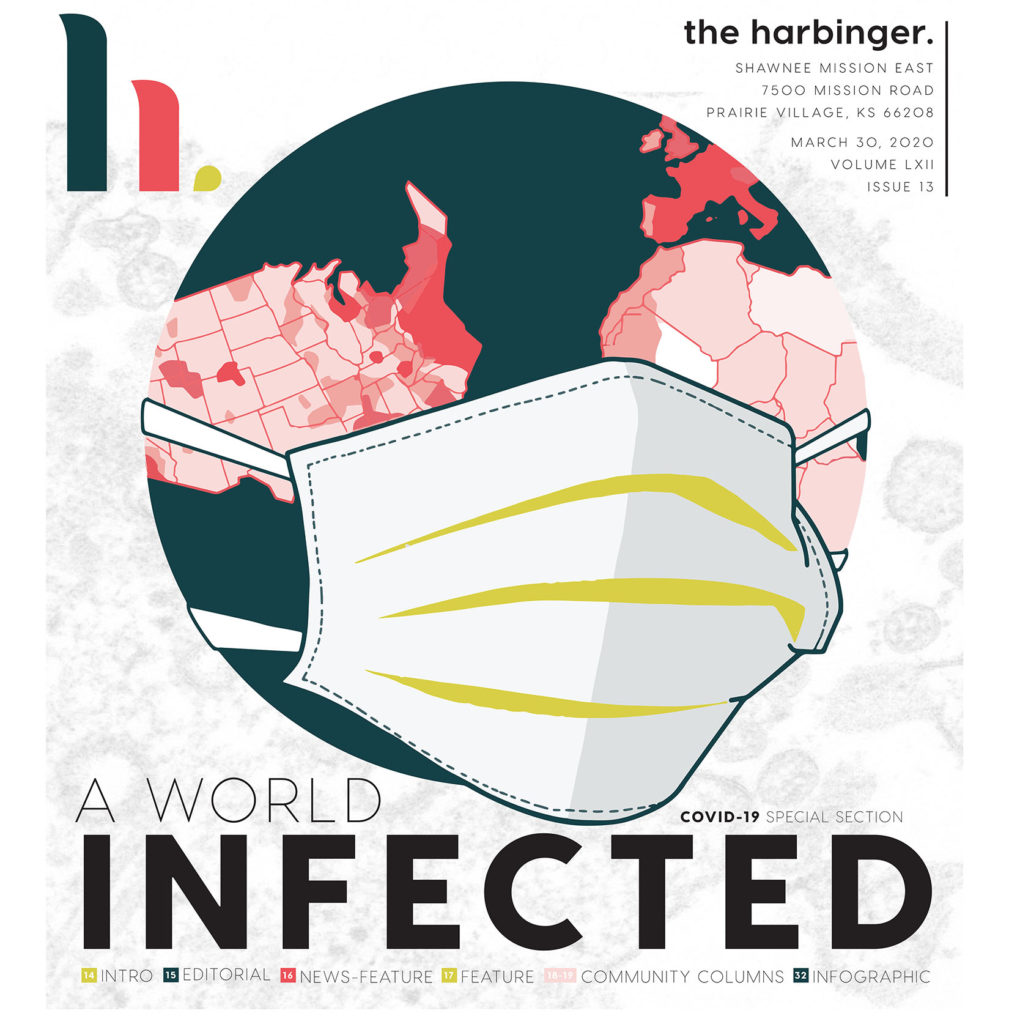 First
Lila Tulp, The Harbinger, Shawnee Mission East High School, Prairie Village, Kansas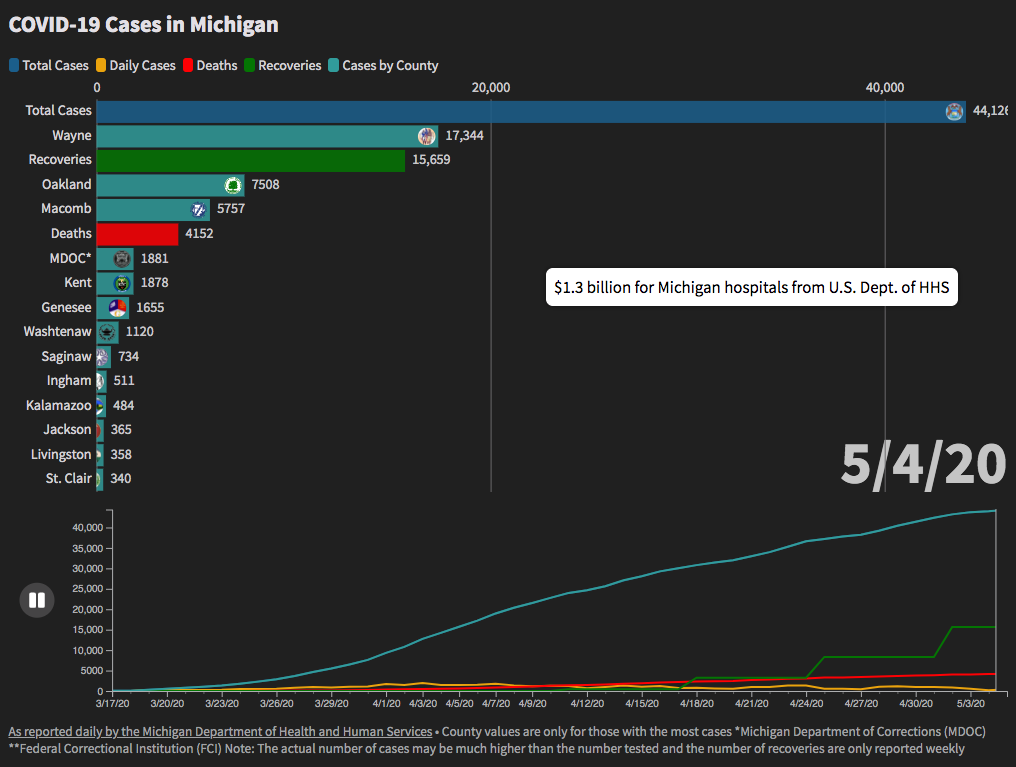 Second
Mori Ono, The Communicator, Community High School, Ann Arbor, Michigan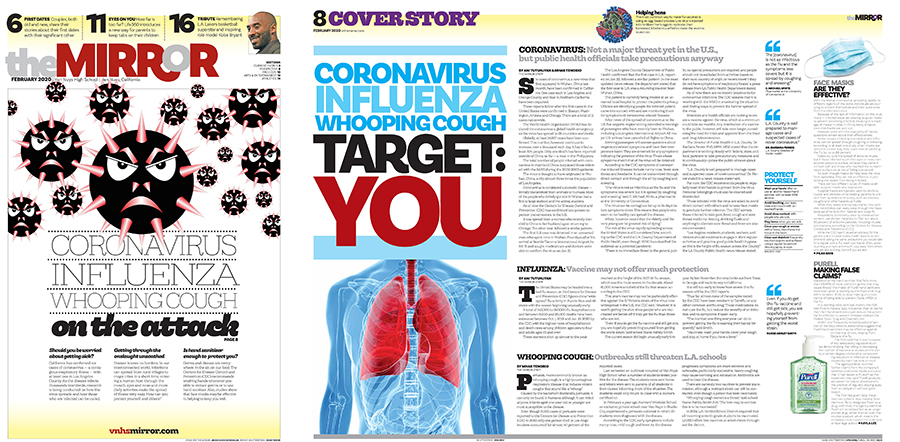 Third
Kayla Lee, Pilar Sims, The Mirror, Van Nuys High School, Van Nuys, California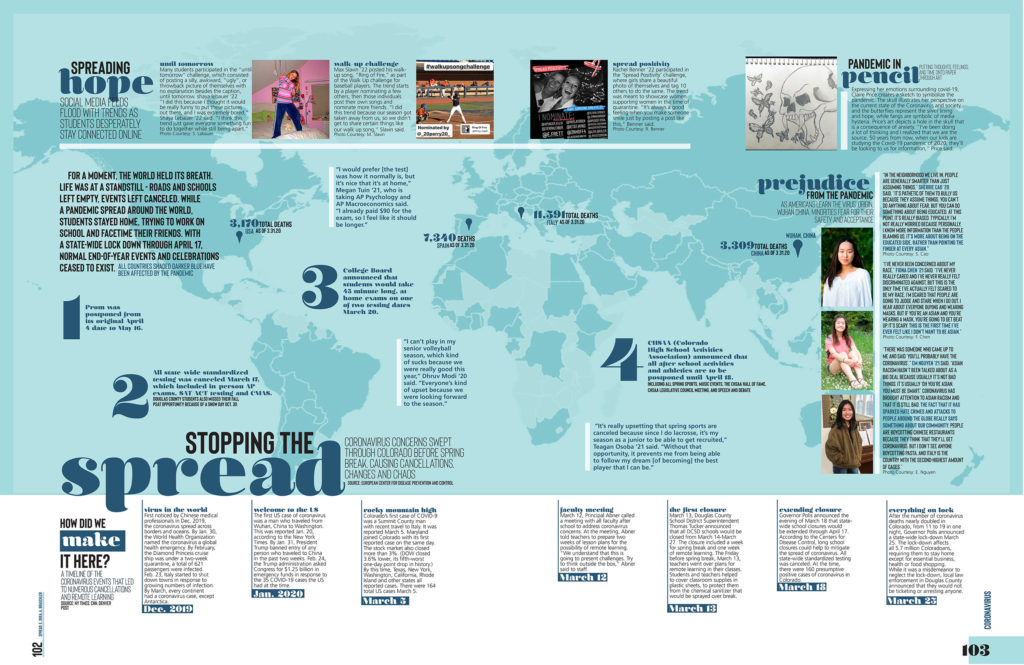 Fourth
Emma Shea, Black and Gold, Rock Canyon High School, Highlands Ranch, Colorado
Fifth
Mariah Barsotti, Grace Conlan, Lone Star, James Bowie High School, Austin, Texas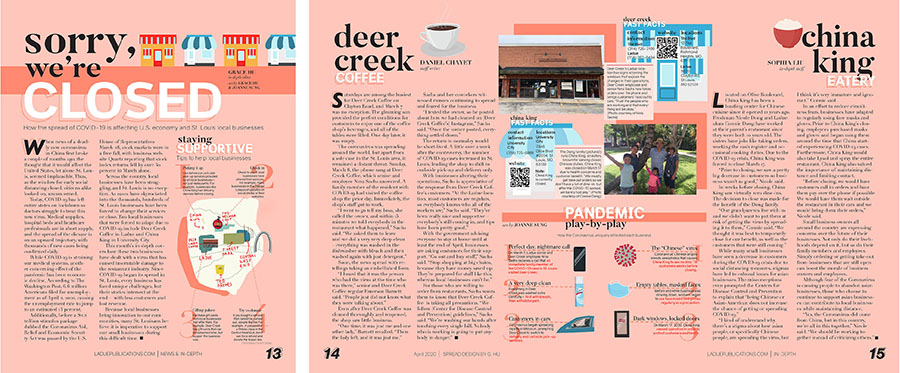 Sixth
Grace Hu, Sophia Liu, Joanne Sung, Panorama, Ladue Horton Watkins High School, St. Louis, Missouri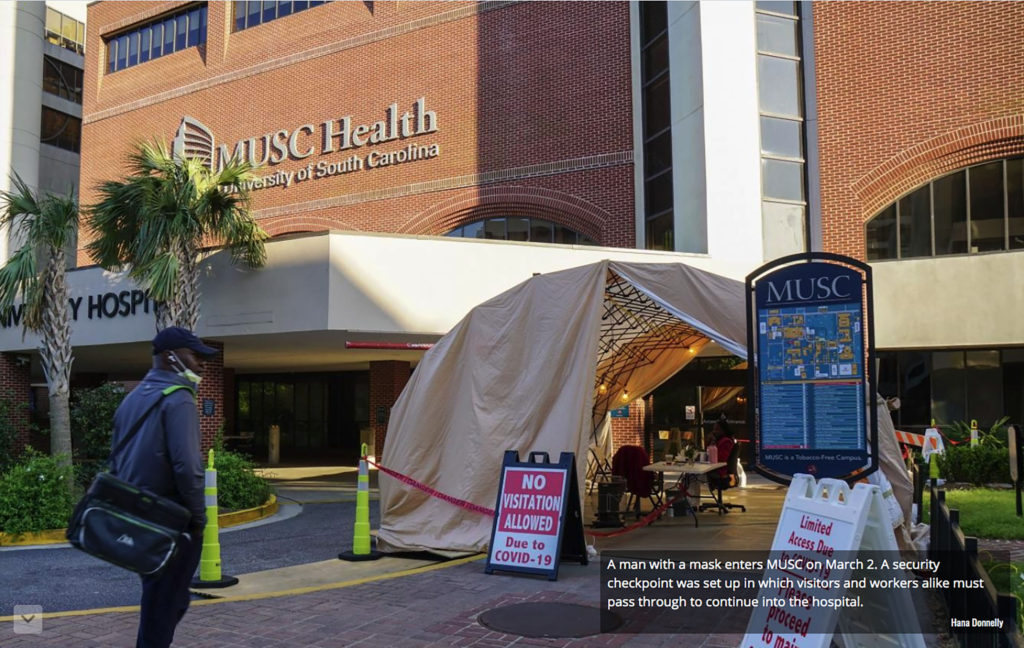 Seventh
Hana Donnelly, Tribal Tribune, Wando High School, Mt Pleasant, South Carolina

Eighth
Mila Barry, The Gillnetter, Gloucester High School, Gloucester, Massachusetts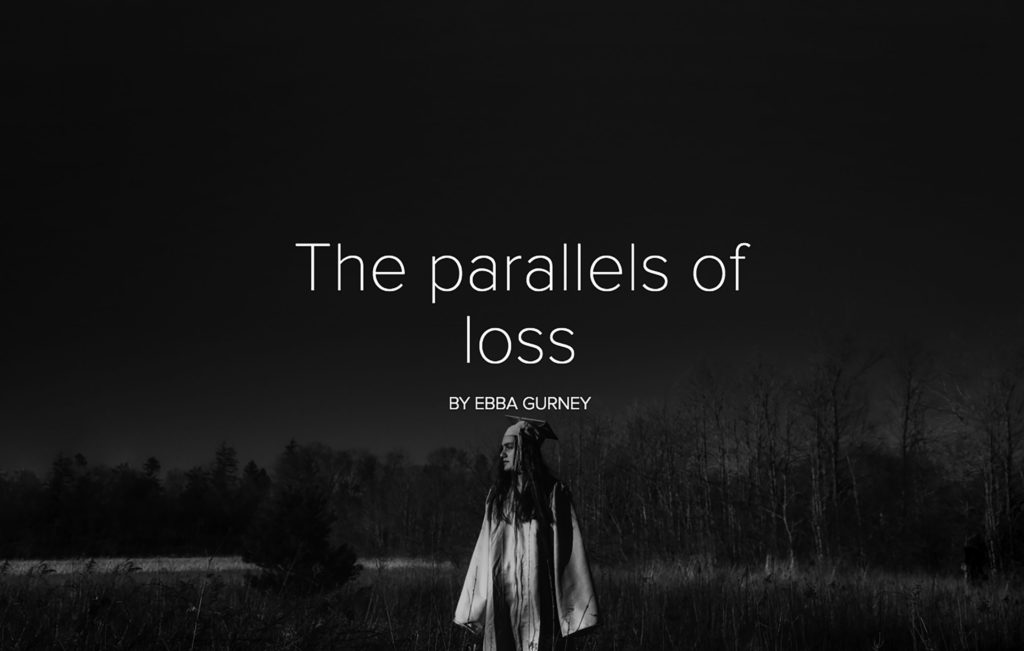 Ninth
Ebba Gurney, The Communicator, Community High School, Ann Arbor, Michigan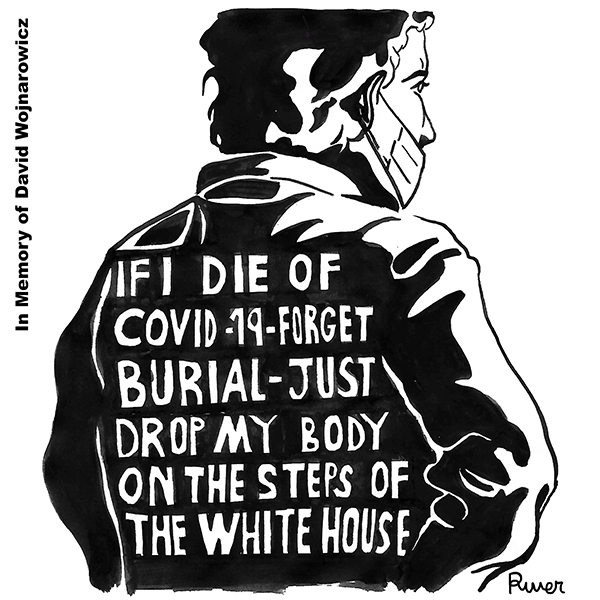 Tenth
River Julianna Hennick, The Harbinger, Shawnee Mission East High School, Prairie Village, Kansas
---
General content / broadcast
First
Phoebe Gulsen, Scot Scoop, Carlmont High School, Belmont, California
Second
Brenna Gibbons, Eagle Nation Network, Prosper High School, Prosper, Texas
Third
Cristina Folsom, Grant Johnson, Eagle Nation Network, Prosper High School, Prosper, Texas

Fourth
Camille Radhakrishnan, Ella Williams, PLD Lamplighter, Paul Laurence Dunbar High School, Lexington, Kentucky

Fifth
Cory Tennison, Eagle Nation Network, Prosper High School, Prosper, Texas
---
General content / online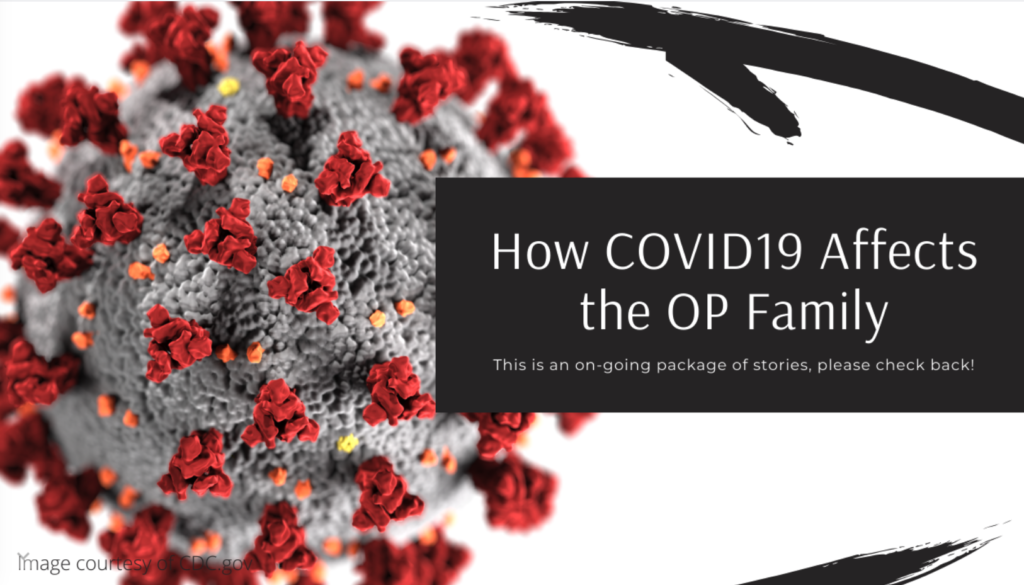 First
Staff, Northmen News, Oak Park High School, Kansas City, Missouri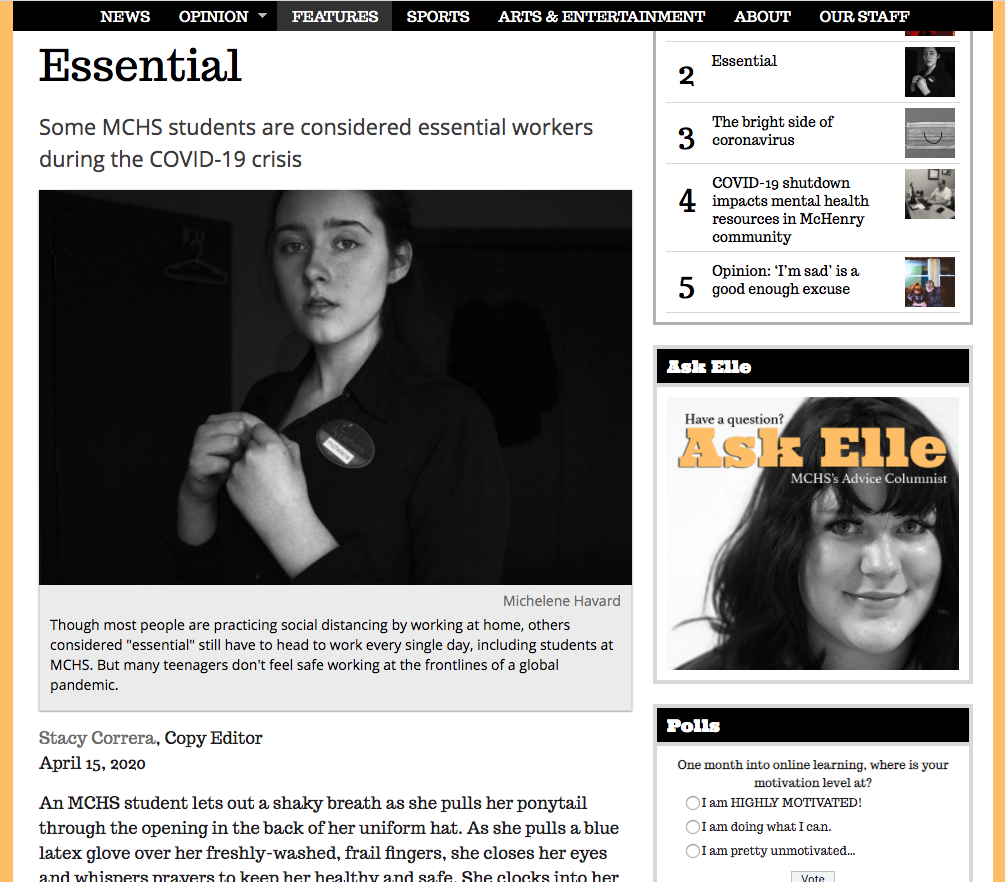 Second
Stacy Correra, The McHenry Messenger, McHenry High School, McHenry, Illinois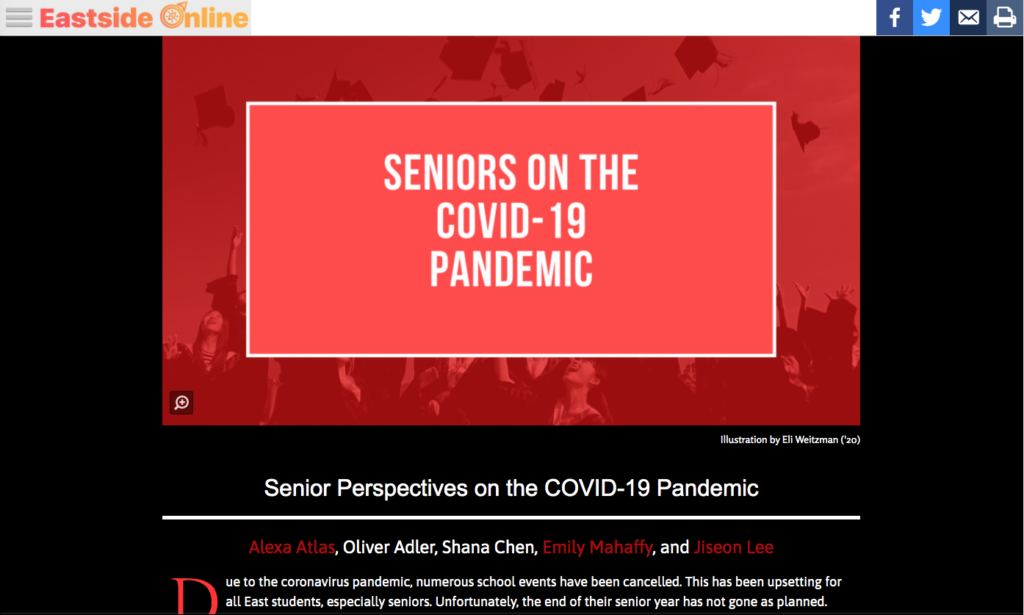 Third
Oliver Adler, Alexa Atlas, Shana Chen, Jiseon Lee, Emily Mahaffy, Eastside Online, Cherry Hill High School East, Cherry Hill, New Jersey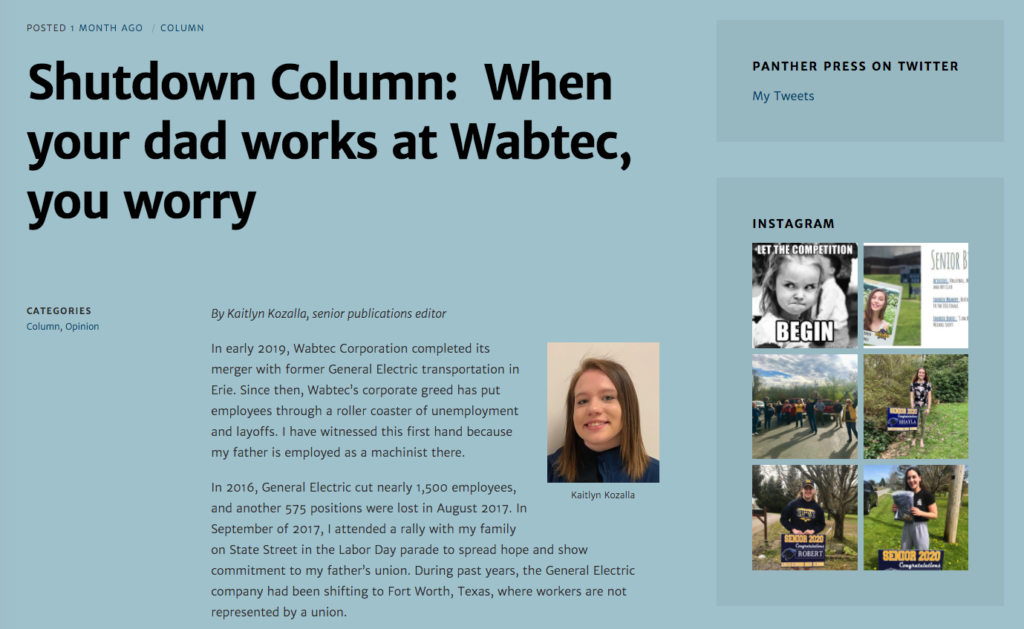 Fourth
Kaitlyn Kozalla, The Panther Press, Saegertown Junior/Senior High School, Saegertown, Pennsylvania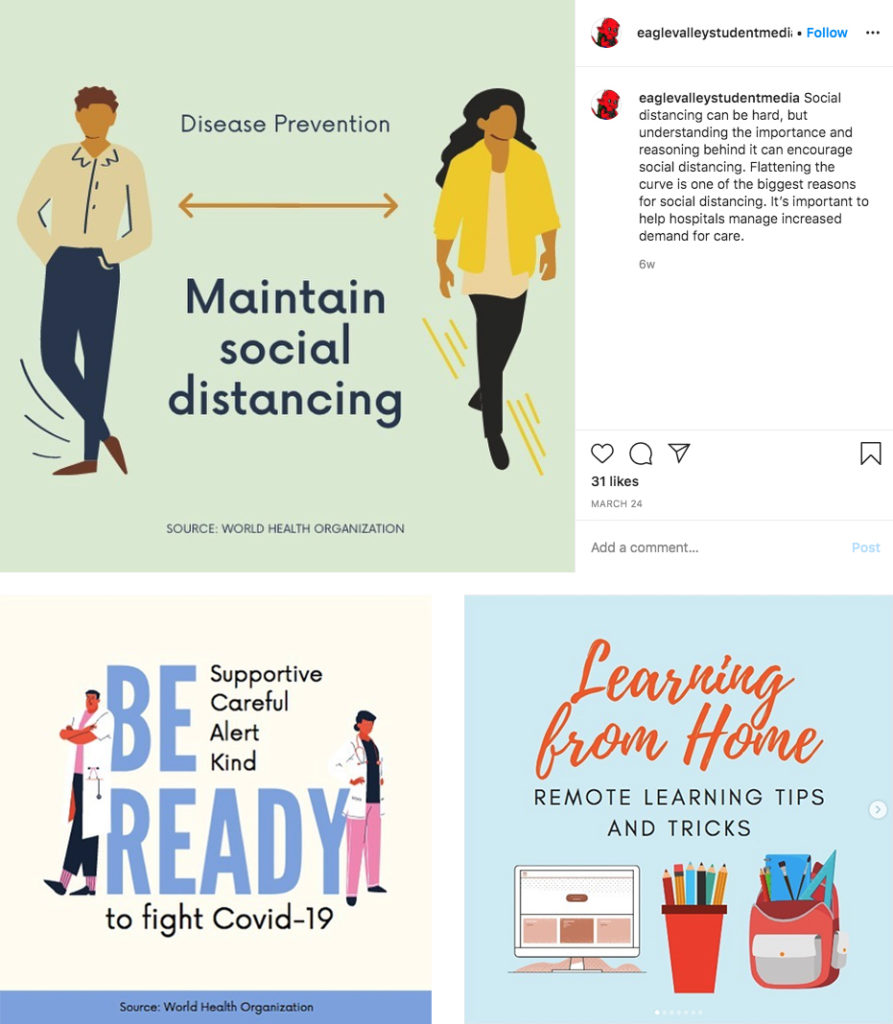 Fifth
Taylor Rippstein, Eagle Valley Student Media, Eagle Valley High School, Gypsum, Colorado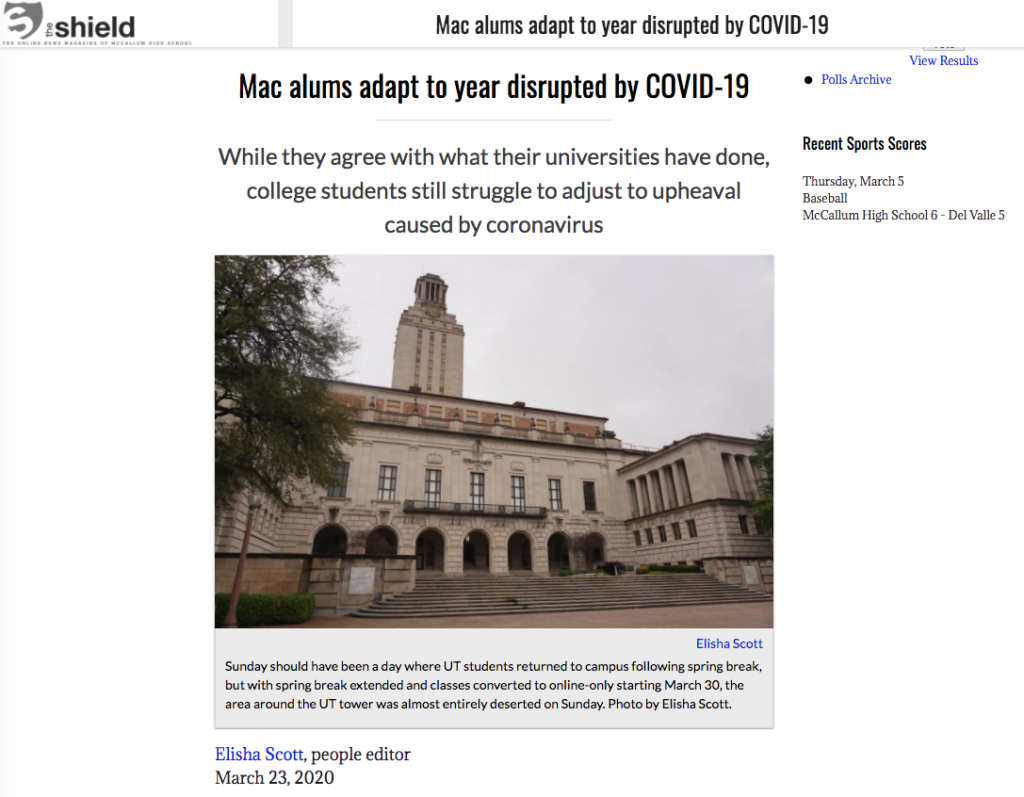 Sixth
Elisha Scott, The Shield, McCallum High School, Austin, Texas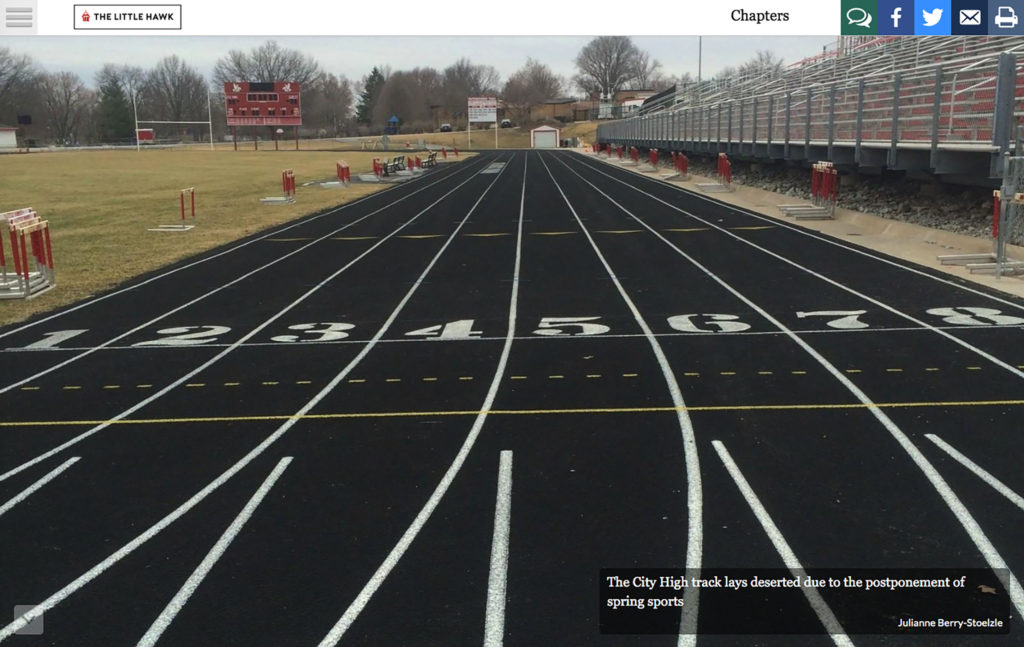 Seventh
Julianne Berry-Stoelzle, The Little Hawk, Iowa City High School, Iowa City, Iowa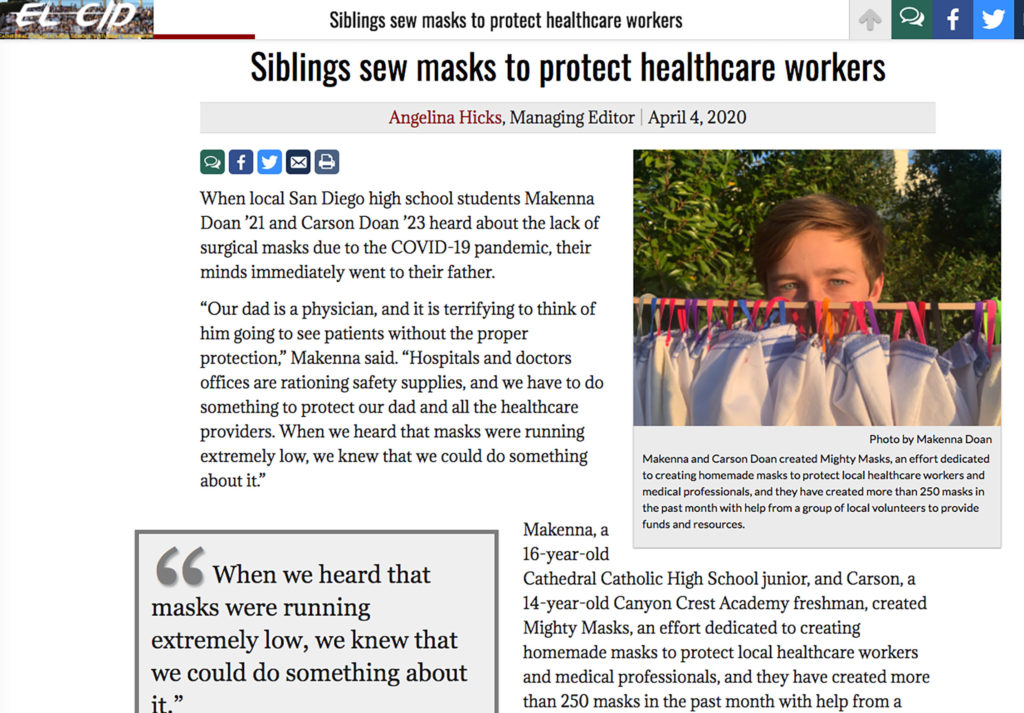 Eighth
Angelina Hicks, El Cid, Cathedral Catholic High School, Del Mar, California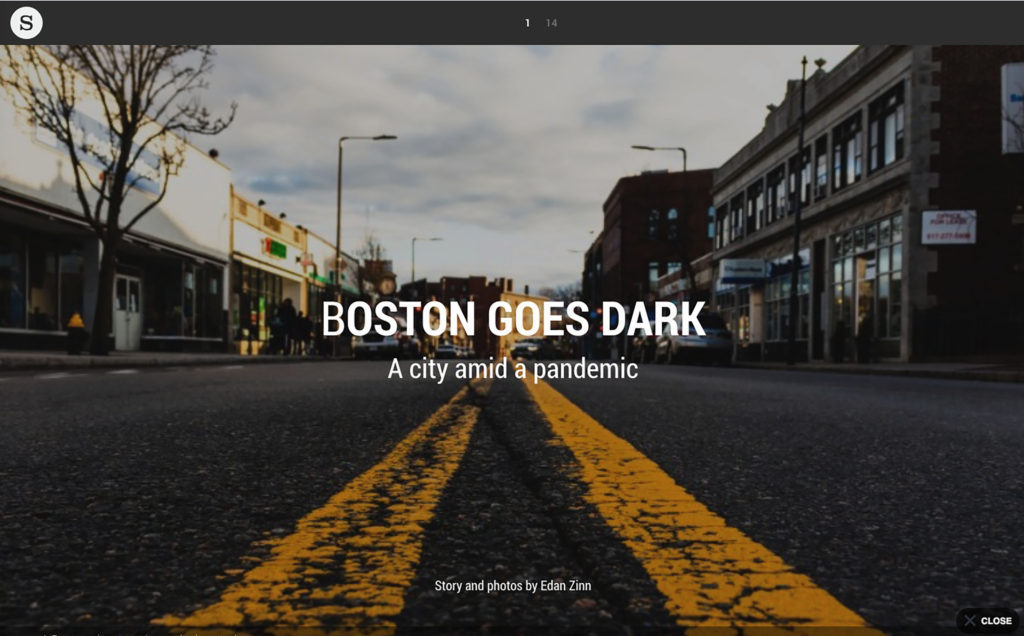 Ninth
Edan Zinn, The Gator, Brimmer and May School, Chestnut Hill, Massachusetts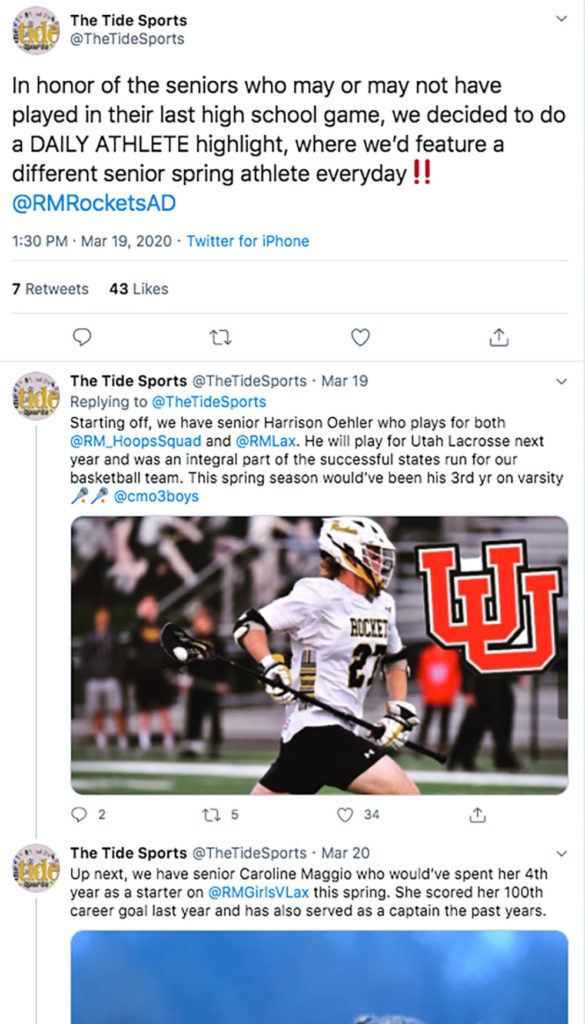 Tenth
Kyra Wisnewski, Eileen Zhang, The Tide, Richard Montgomery High School, Rockville, Maryland
---
General content / print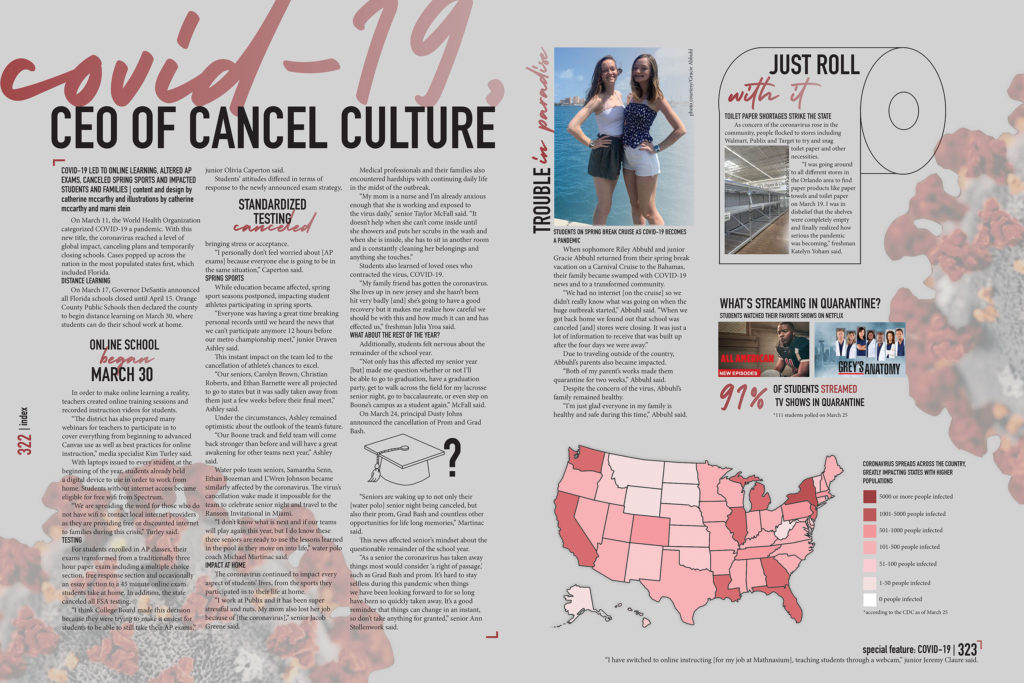 First
Catherine McCarthy, Legend, William R. Boone High School, Orlando, Florida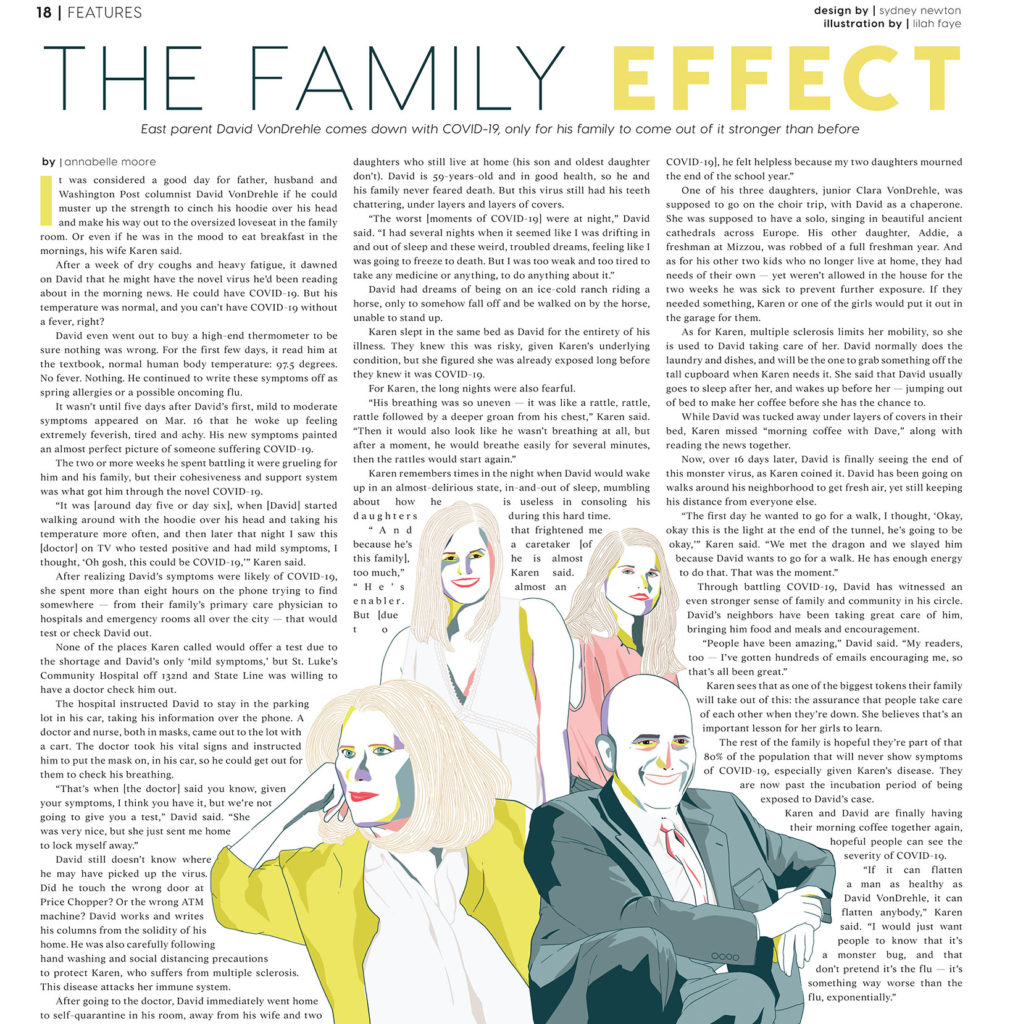 Second
Annabelle Moore, The Harbinger, Shawnee Mission East High School, Prairie Village, Kansas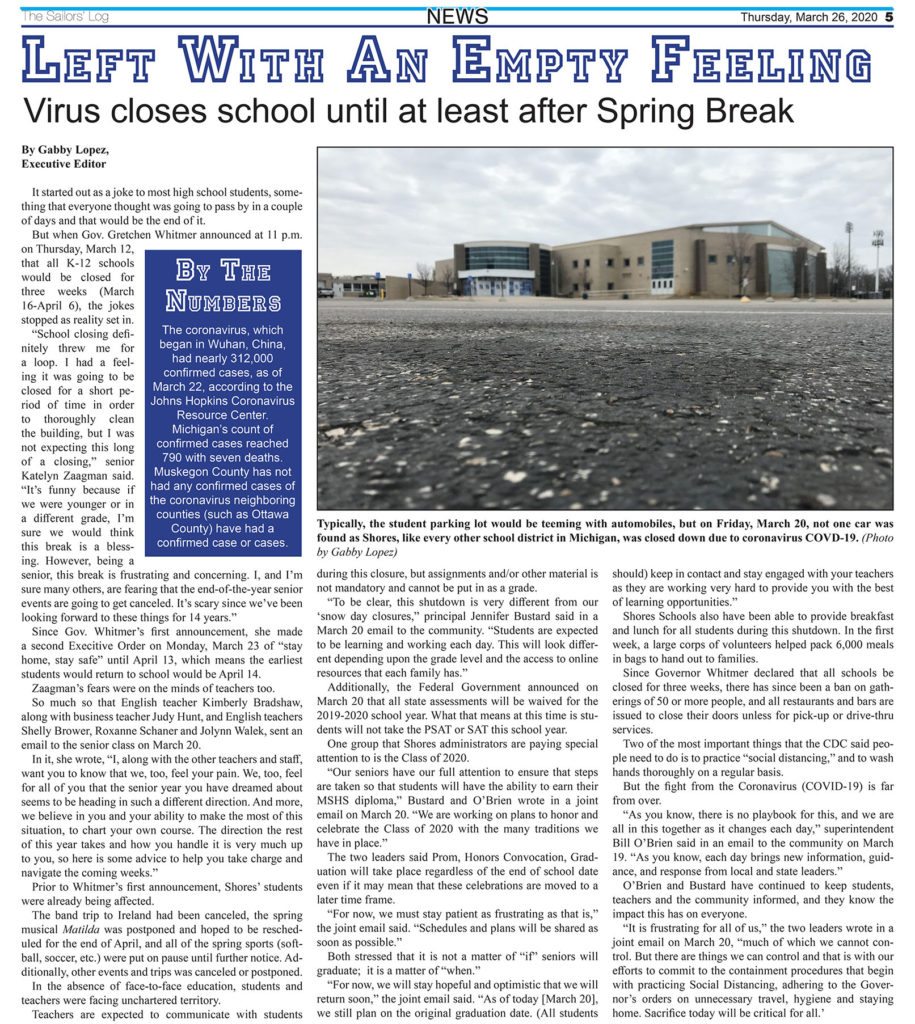 Third
Gabby Lopez, The Sailors' Log, Mona Shores High School, Norton Shores, Michigan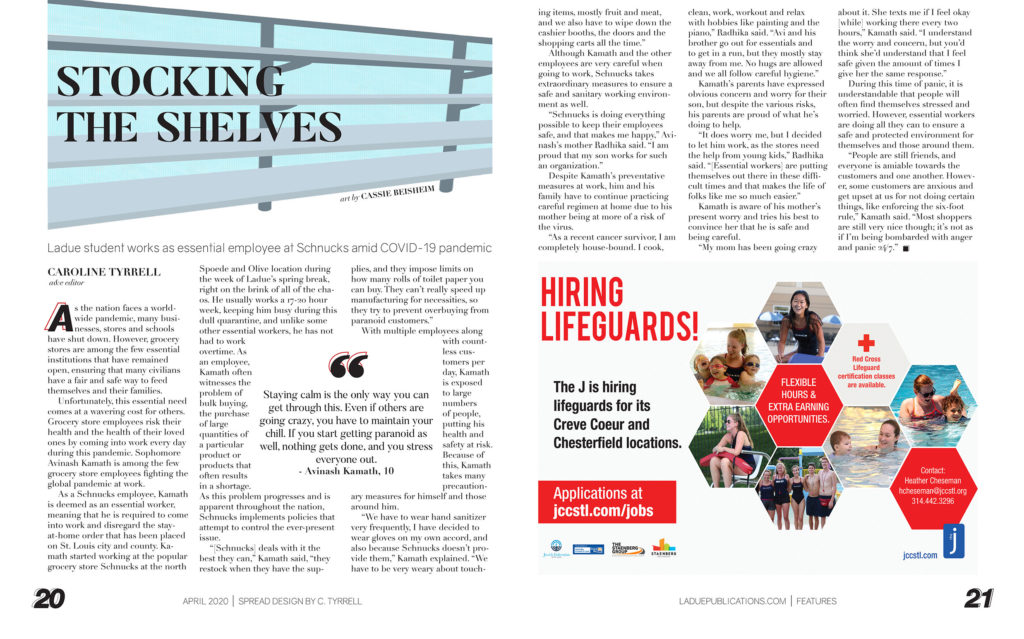 Fourth
Caroline Tyrrell, Panorama, Ladue Horton Watkins High School, St. Louis, Missouri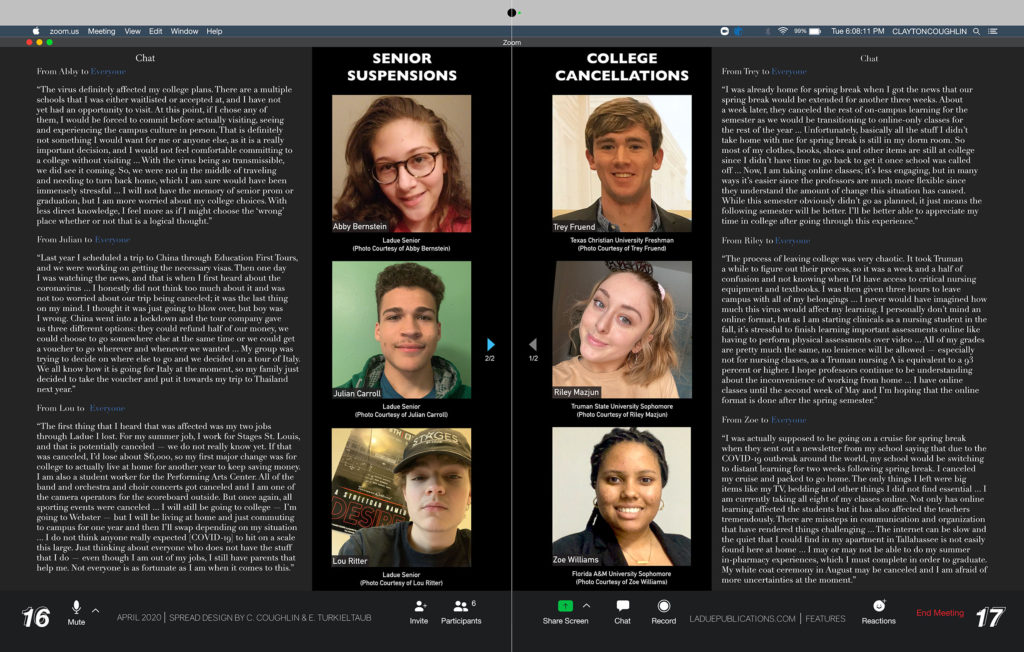 Fifth
Clayton Coughlin, Erin Turkieltaub, Panorama, Ladue Horton Watkins High School, St. Louis, Missouri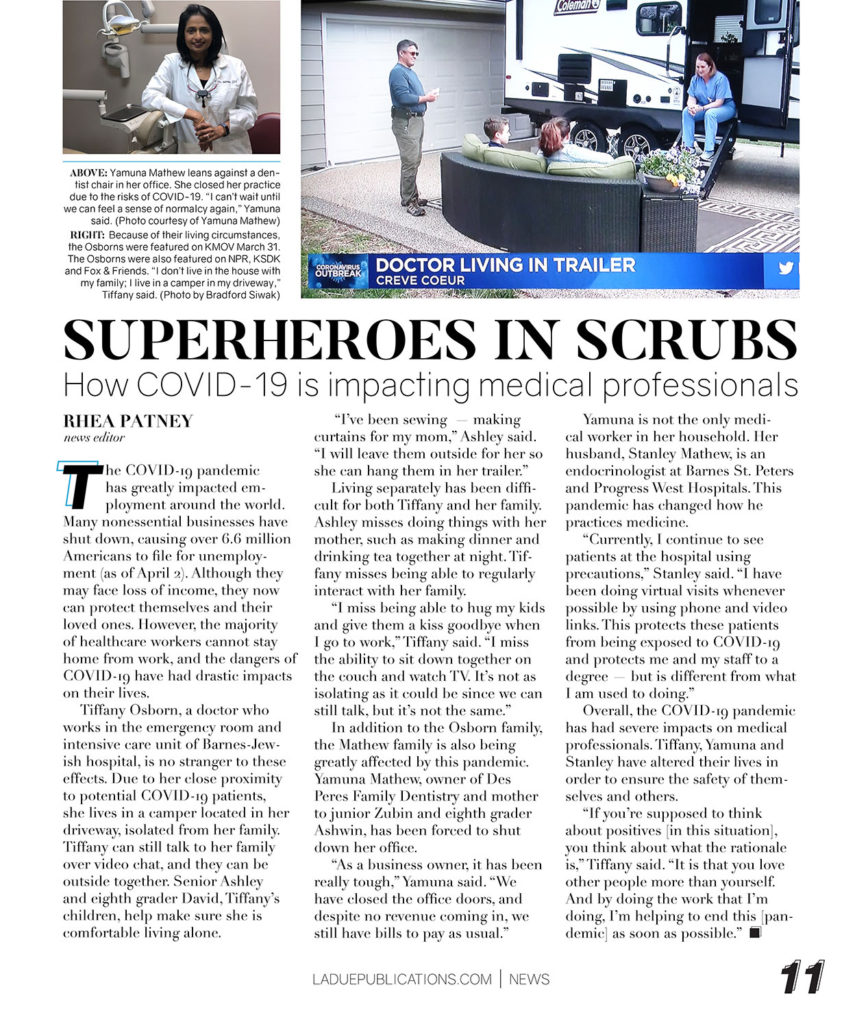 Sixth
Rhea Patney, Panorama, Ladue Horton Watkins High School, St. Louis, Missouri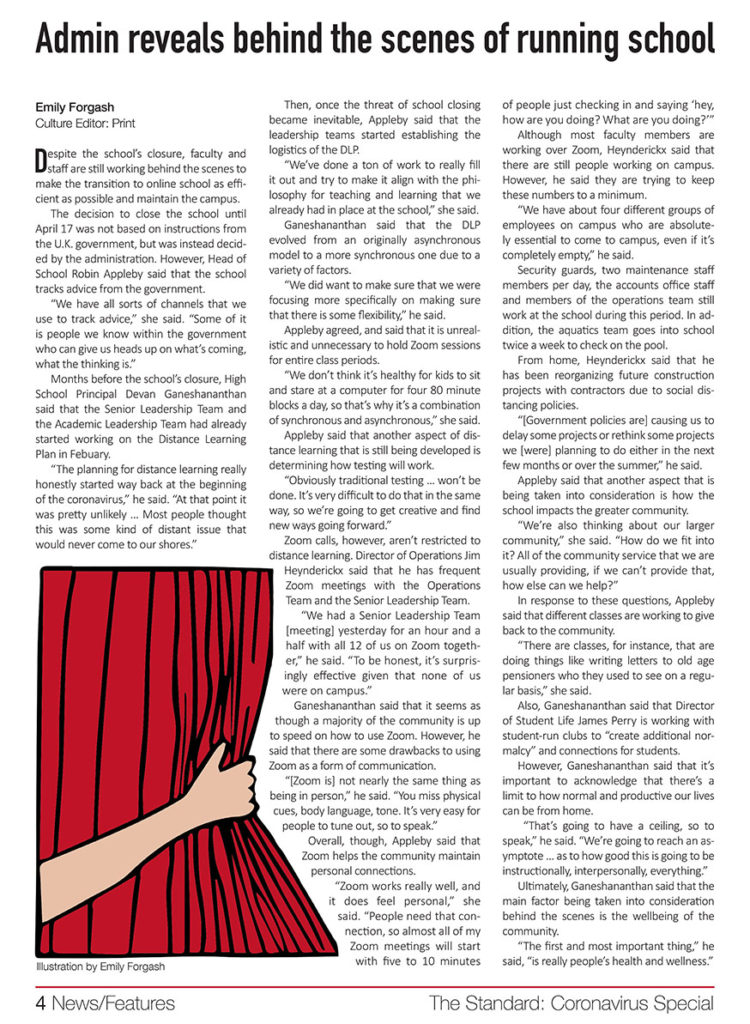 Seventh
Emily Forgash, The Standard, The American School in London, London, England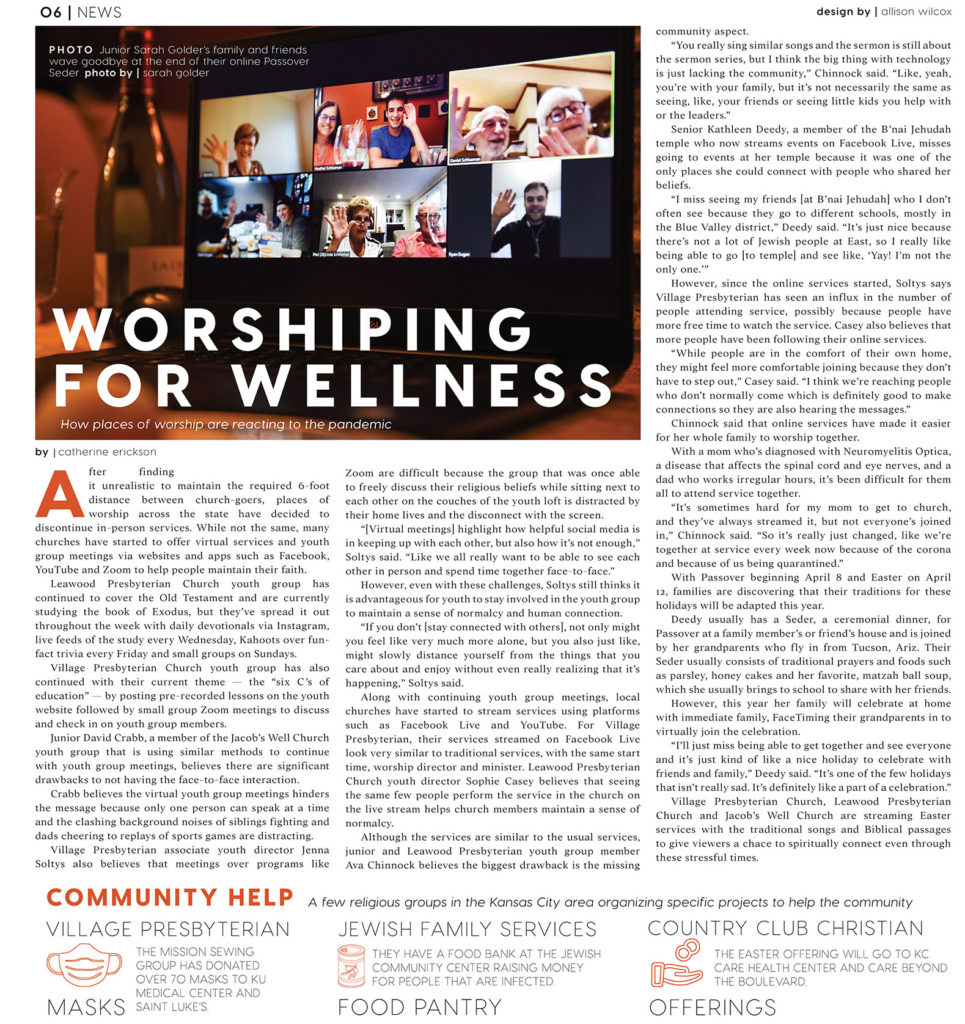 Eighth
Catherine Erickson, The Harbinger, Shawnee Mission East High School, Prairie Village, Kansas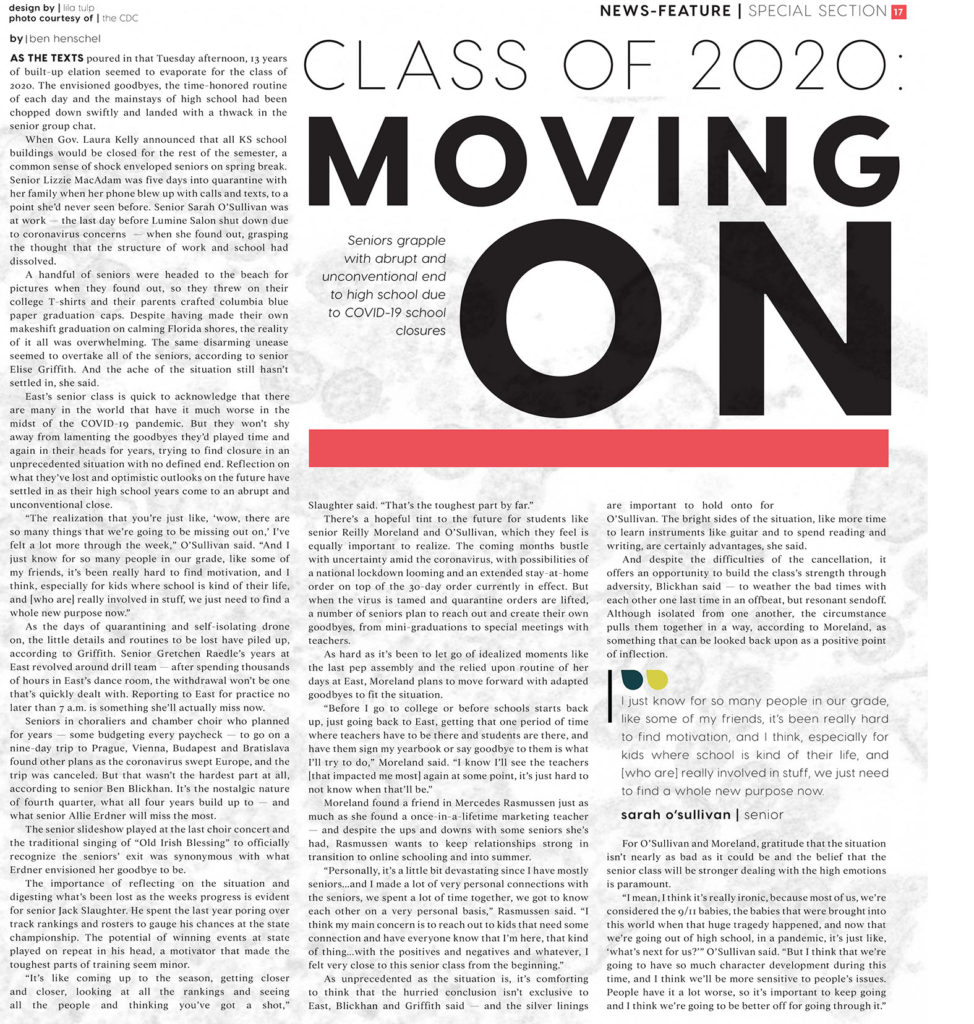 Ninth
Ben Henschel, The Harbinger, Shawnee Mission East High School, Prairie Village, Kansas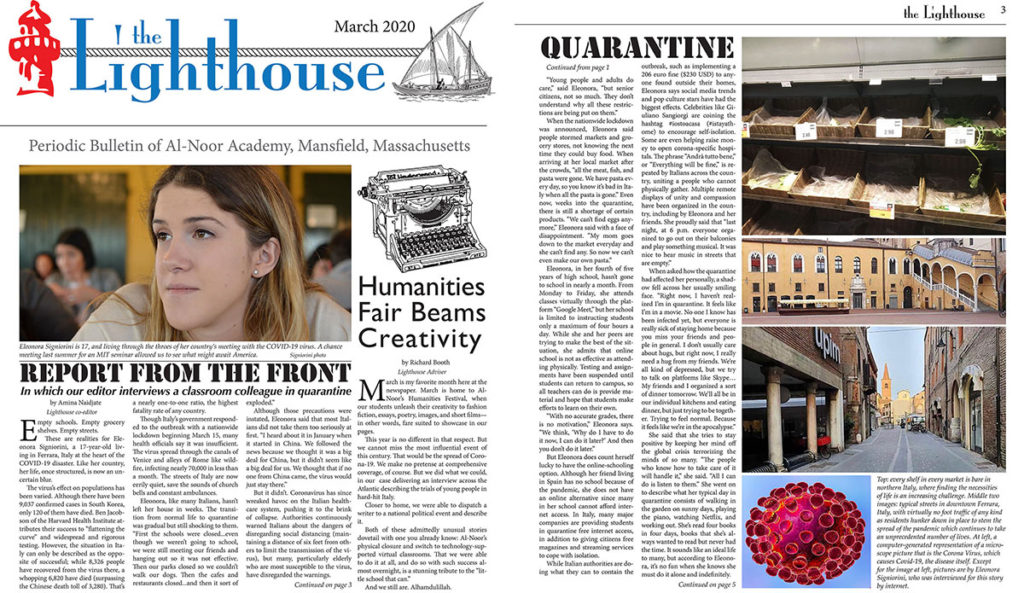 Tenth
Amina Naidjate, The Lighthouse, Al-Noor Academy, Mansfield, Massachusetts